Listening to God Workshop & Concert - Tracy Williamson & Marilyn Baker
Description
Burniston Methodist Church will be hosting an afternoon workshop and an evening concert with blind singer/songwriter, Marilyn Baker, and her ministry partner, Tracy Williamson.

3pm-5pm - Listening to God Workshop led by Tracy Williamson
7pm-9pm - Marilyn Baker In Concert
Admission is by Free Ticket available online through Eventbrite

Those attending the workshop and concert are advised to bring a packed tea, the church will provide drinks.
Donations towards costs and to support the work of Marilyn and Tracy (MBM Ministries) will be received at the church.
Marilyn Baker Ministries
Marilyn Baker Ministries is a dynamic itinerant ministry of music, teaching and prayer. The heart of Marilyn Baker Ministries is to see people entering into joy instead of mourning, beauty instead of ashes, praise instead of despair; to enable people to understand the intimacy of God's tender Father's love and be empowered by it to reach out to others that they too may be healed and changed.

Find out more at: http://mbm-ministries.org/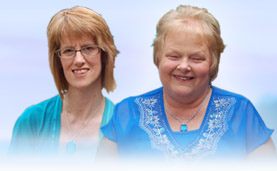 Marilyn Baker
Marilyn became blind as a child, but soon demonstrated a gift for music, which took her to the Royal College of Music and on into a teaching profession. She had a longing to communicate her faith and began writing anointed songs. Her deep desire to help others discover the love that has so changed her life led her into Christian Ministry through music.
Tracy Williamson
Author and speaker Tracy Williamson is Marilyn's partner in this work, and her personal assistant. Early in life she suffered an illness, which affected her hearing and sight. This did not, however, stop her from taking a BA (hons) degree. For many years Tracy has spoken at Marilyn's concerts bringing testimony and prophetic insights, helping people to understand the love of God in a more personal way.