Event Information
Location
Impact Hub Birmingham
58 Oxford Street
Birmingham
B5 5NR
United Kingdom
Refund policy
Contact the organiser to request a refund.
Eventbrite's fee is nonrefundable.
An all-day event exploring what it might mean to decolonise literature, through performances, workshops and conversations.
About this event
Literature Must Fall is not your typical literature festival; it is not about celebrating literature or placing writers on a pedestal. Instead this event intends to demystify literature, challenging it head-on, questioning the values we pour into books and the authority we give to writers, confronting the power that the publishing industry holds. Through critique, discussion and self-reflection we will explore what it could mean to decolonise literature today.
We want to support radical thought, create space for experimental and heartfelt storytelling, and encourage readers and writers to speak their truth. We believe that in order to do this we must confront the reality as we see it. We've witnessed how radical ideas like decolonising get drawn upon as sexy and increasingly profitable labels, a source of funding and publicity, but there is little attempt to understand what it might really mean to decolonise. In this era of the radical-chic, words like 'decoloniality' and the idea of wokeness have become increasingly fashionable and increasingly meaningless. This is no coincidence; movements, books and individuals are routinely co-opted and instrumentalised, and thus the status quo is maintained.
Seeing things as they are and moving forward is complex. Can we still continue to talk about what we do as decolonisation or has the term been taken away from us completely? Are such labels alienating anyway? Can these conversations happen outside of university structures? Can we have conversations within, rather than performing always for the mainstream? Can our politics engage with layers of oppression rather than binaries? Is there any space or possibility for collective conversation and resistance? Can we go beyond the individualism, celebritification and commodification of our time and our selves, (the time is money, money is time approach, the pressure to turn ourselves into brands), whilst also considering the exploitation of POCs' time, ideas, and resources? Although social media has enabled the connections, the decolonial wave, giving a voice to so many, is it now becoming a tool for individual branding, complicit with white structures in the creation of decolonial celebrities? Is all this talk of labels actually distracting us from the important work?
The day will explore all these questions through performances, workshops and conversations about literature that foreground the white supremacist, hetero-normative, classist, and patriarchal world we are all embedded in. Focusing on themes such as fantasy, mental health and trauma, Islamophobia and class, we will hear from writers, academics, activists who are based in Birmingham and beyond, including Suhaiymah Manzoor-Khan, Courttia Newland, Jennifer Makumbi, Talha Ahsan, Hudda Khaireh, Aliyah Hasinah, Siana Bangura, John Siddique, D Hunter, Hafsah Aneela Bashir, Jasmine Lee Jones, Sham Murad, Darren Chetty and Demi Nandhra. We intend the day to be an opportunity to meet like-minded people and continue the lines of resistance that Birmingham is known for. Our hope is that everyone who participates will take away at least one thought, idea or question that they didn't arrive with.
The cost of tickets will go towards the hosting of this day. If you would like to come but the ticket cost is a barrier to your attending, there will be a limited number of scholarship tickets available. Please drop us an email via literaturemustfall@gmail.com telling us why you would benefit from attending this day and we will do our best to accommodate everyone.
#LitMustFall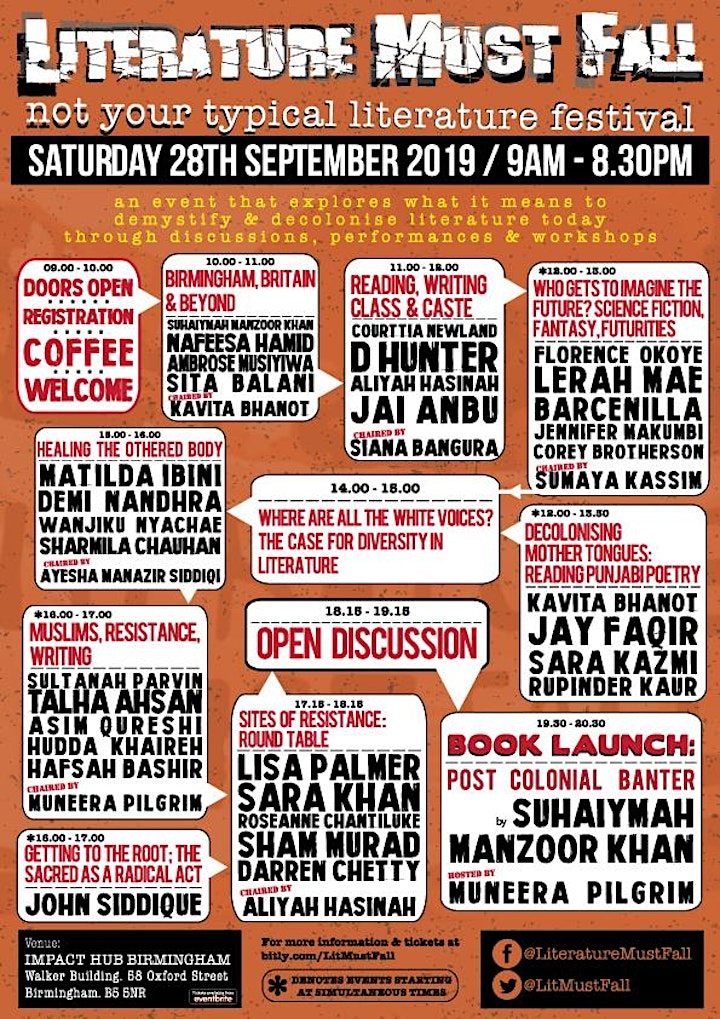 Date and time
Location
Impact Hub Birmingham
58 Oxford Street
Birmingham
B5 5NR
United Kingdom
Refund policy
Contact the organiser to request a refund.
Eventbrite's fee is nonrefundable.