Description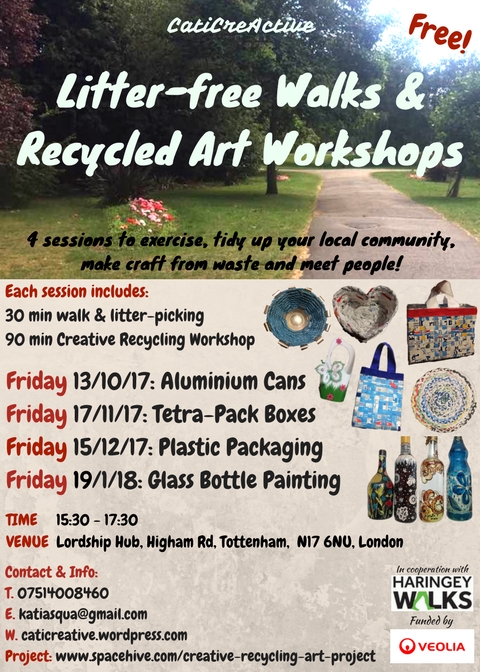 4 sessions of the project "Litter-free Home with Creative Recycling", funded by Veolia.
www.spacehive.com/creative-recycling-art-project
The project includes exercise, education to sustainability and environmental problems, looking after the local community and craft activity.
We will walk around the venue litter-picking for 30 minutes, then we will make creative recycling craft activities focussing on a specific household waste material each time.
1st session - 13/10/17: turn aluminium cans into candle-pots, ashtrays and baskets.
(Please bring along thin cans - those thinner and easier to cut such as from beer).
2nd session 17/11/17: turn plastic containers and carrier bags into hangers, baskets, carpets and more (Please bring along containers e.g. from shampoos and soaps & carrier bags)
3rd session 15/12/17: turn Tetra-pack boxes into handbags, wallets, place-mats and more.( Please bring tetra-pack cardboard e.g. alternative milk and juice, washed and squeezed)
4th session 19/01/18: painting glass bottles (please bring a clean bottle)
The project lasts 4 months, one session per month on Fridays. Participation is FREE. Booking preferred.
Litter-picking walks might be cancelled last minute in case of very bad weather.


For more info and booking contact Cati:
W:caticreative.wordpress.com/workshops/
FB: https://www.facebook.com/events/1328185040563575
E: katiasqua@gmail.com
T: 07514008460