Celebrate Little Hands Design 20th Birthday! A demonstration of what we're all about, hands on workshops, sustainability education and more!
About this event
To celebrate our 20th Birthday Little Hands Design is hosting a festival to launch our Book 'Look Good & Feel Good without Harming the Environment' !
Join our exciting day we have planned to demonstrate the UN's Sustainable Development Goals in ACTION and giving people agency in the face of the Climate Crisis- building 'Paradise Regained' Post Covid-19.
-10am-3.00 pm A Series of Lectures from Educators, Designers & Professionals
10 -11am – SDGs in Stories - Embedding the SDGs into the Curriculum
Astrid Jacoby Sustainability Coordinator & Mike Jacoby Senior Academic From Haileybury Almaty International School
11am-12pm- Creativity in Education and the Community
David Tootill- Director of London School of Mosaic
12 -1pm- Fashion's Future in Second Hand Clothing
Steve Lyons Director of Re-Fashion and Zaqiya Cajee Founder and CEO Swop It Up
1.15-2.00pm- Journey of a Sustainable Fashion Designer
Shilpa Bilimoria -Founder and Creative Director of House of Bilimoria interviewed by aspiring Sustainable Fashion Designer Ridi Santilal member of Fashion Revolution Portugal
2.00-3.00pm Science and Fashion
Original Speaker Aruzhan Ak -Central Saint Martin's Graduate and Fashion Revolution Kazakhstan member. Standing in speaker Astrid Jacoby with guest Emilie Burfeind Designer of Sneature- The compostable trainer.
-10-3.30pm Workshops
Waste as a Resource Workshops
10-11-Wallet from a Carton
11-12-Sandwich Wrap& Leftover food cover
12-1-Water Bottle Pencil Case
1.15-3 Carnival decorations from waste for Mother Canteen
-Reduce Plastic Pollution Survey
-Guess the weight of the Jar Competition!
We Care Shop
- Clothes Swap with Made in Camden , Mending and Revamping
- UN's Sustainable Development Goal Community Textile Project
- 4.pm- Book Launch Performance
Performance of SDG 11 Sustainable Cities and Communities
With See Through Theatre Company
- 4.30pm- Fashion Presentation
Of Our Students Work
Including our Book and Games for Sale!
Refreshments
Refreshments are available to purchase from Mother Canteen they have made special Cupcakes and Birthday Cake for the occasion!
Looking forward to celebrating with you and putting talk into action!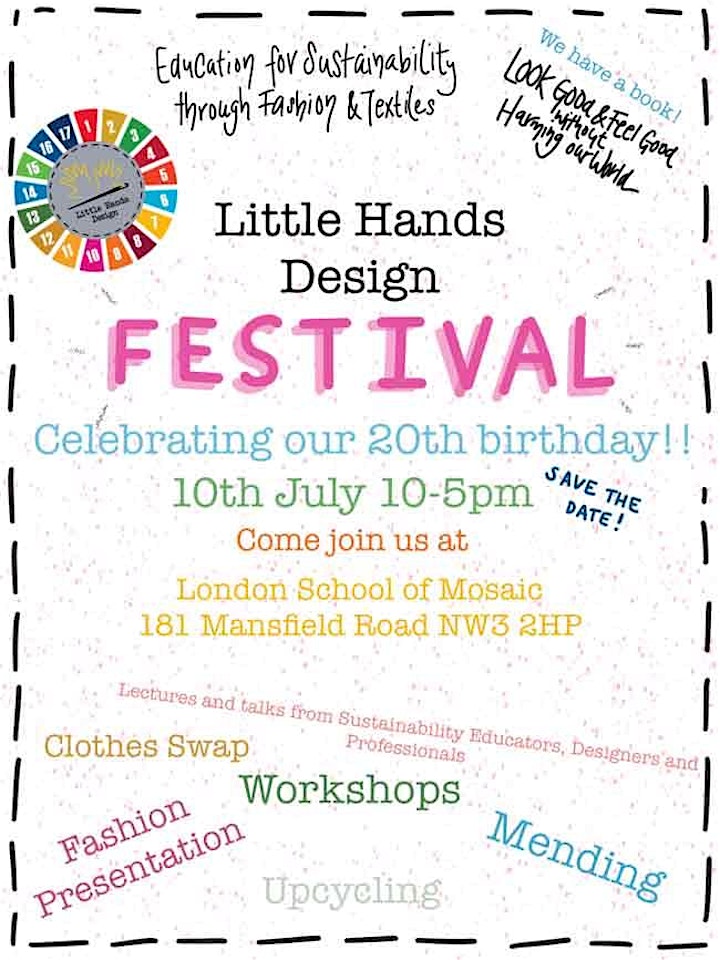 Organiser of Little Hands Design Festival- 20th Birthday Celebration!
Little Hands Design CIC is a charity based in North London. Teaching climate chnage and sustainabilty through hands on designer skills, through Sustainable Fashion After School, Saturday and Holiday Clubs. We are a design mad team running a small fashion design and dressmaking school in NW3 since 2001. We run classes for children, teenagers and ADULTS from very young (6+yrs) to very wise (no limit!) teaching dressmaking, fashion, crafts and all things textiles. We are a group of fashion designers, dressmakers and a Design and Technology teacher.  
Kids and teenagers come to us just for fun, after school, saturdays and holidays; to get support for their GCSE and A-level Art, Design and Textiles, to prepare for a creative career or to work towards their Duke of Edinburgh Awards. Adult students are looking for a relaxing hobby, some personal me- and social-time. Schools are impressed by our experimental approach and come to us for our inter-curricular projects from 'Historic Costume Making' to 'Monster and Fairy'; 'Science for Fashion'; 'Recycling' etc..
To find out more about us, please visit http://littlehandsdesign.com