Join us in person or online on Wednesday 10 November to share and learn about fair trade in Glasgow and beyond
About this event
Photo credit: Scottish Fair Trade Forum
Glasgow Fair Trade Co-op is a small voluntary group that started life in 2006 and it is structured as a cooperative to reflect the way that most fair trade growers and producers organise.
From the outset in 2006 GFTC has attempted to show the link between fair trade principles, practices and environmental sustainability.
This is underscored by the use of the fair trade premium, where growers and producers collectively use their premium to invest in the health and well-being of their communities.
The main event
We have invited our eight fair trade twin towns to join us for an afternoon where we can share and learn. We will be joined virtually by three of our twin cities - Havana, Bethlehem and Marseilles. In addition to this, Scotland's umbrella group, the Scottish Fair Trade Forum in conjunction with the Fair Trade Foundation (UK) will be hosting fair trade farmers and producers, some of whom are formally accredited by the COP26 organisers. We are very happy to announce that few of those producers will be able to join us in person for the event. The event is attracting interest from fair trade growers, producers and support groups as far afield as Finland, Cuba, Uganda and Lebanon.
The event will take place on Wednesday 10 November. Doors will open at 15.40 and the event will start at 16.00 (UTC+1, UK time) and finish at around 17.30.
Those of us here in Glasgow will attend physically at Websters Theatre, with our guests and invitees joining via Zoom.
As well as hosting the event The Glasgow Fair Trade Co-Operative will give a short overview of the history of fair trade in the city as well as a brief eye witness account of life here during COP26.
The event will then be open to each of our twin city/town groups to tell us about their campaigning, its relationship to environmental sustainability and how we further engage our fellow citizens. We wish to finish up with some time to summarise how we best continue to promote our work in the spirit of international co-operation.
We look forward to meeting you all.
Speakers
Basma from Bethlehem, Palestine (www.hlhcs.org) - Glasgow's twin city since 2007
Havana Fairtrade Rum producers - Glasgow twin city since 2002
Fairtrade group from Marseilles, France - Glasgow's twin city since 2006
Jatta Makkula from Helsinki, Finland representing Fairtrade Finland (reilukauppa.fi) and Fairtrade Towns (http://www.fairtradetowns.org)
Benoit Berger from Beirut, Lebanon representing Fairtrade Lebanon (www.fairtradelebanon.org) and Fairtrade Towns (http://www.fairtradetowns.org)
Jenipher Wettaka from Uganda representing Jenipher's Coffi (jenipherscoffi.wales) and Mt ELgon Agroforestry Communities Cooperative Enterprise (www.mtelgoncoffee.com)
Muniraju Shivanna from India representing Fairtrade Newtork of Asia & Pacific Producers (www.fairtradenapp.org)
Bismark Kpabitey from Ghana representing Kuapa Kokoo Farmers Union (kuapakokoo.com)
Lindsay Jacobs, Scott Erwin and Mark Langdon from Glasgow, Scotland representing Glasgow Fairtrade Co-op
Linda Okhuoya-Ologe from Paisley, Scotland representing Rainbow Turtle (www.rainbowturtle.co.uk)
Background
With COP26 coming to town we want to take the opportunity to demonstrate that fair trade provides one of the routes out of climate chaos. However small our voice, we are determined to be heard. We will not be lectured to by representatives of visiting governments. Governments who are themselves the cause of climate chaos. At a local level, Glasgow has no physical signage anywhere in our city to indicate its status as a fair trade city.
For the last fifteen years GFTC has worked tirelessly to promote fair trade and has enjoyed great support across the city. This includes the many diverse elements of civic society (more than a hundred of our schools, colleges, universities, businesses, trade unions and faith groups) as well as so many of our citizens who put their hands in their pockets to purchase fair trade goods in their weekly shop.
As recently as August this year we were able to renew our status as a fair trade city with accreditation from the Fair Trade Foundation – this is worth celebrating.
Below: Fair Trade lights up Glasgow's George Square
Photo credit: Craig MacLean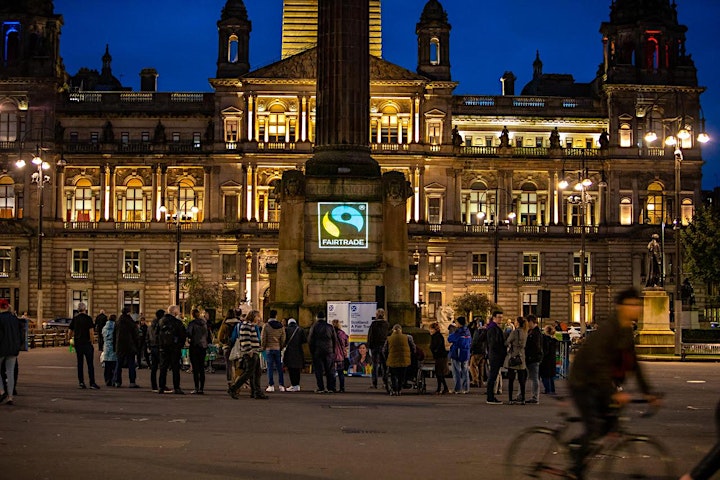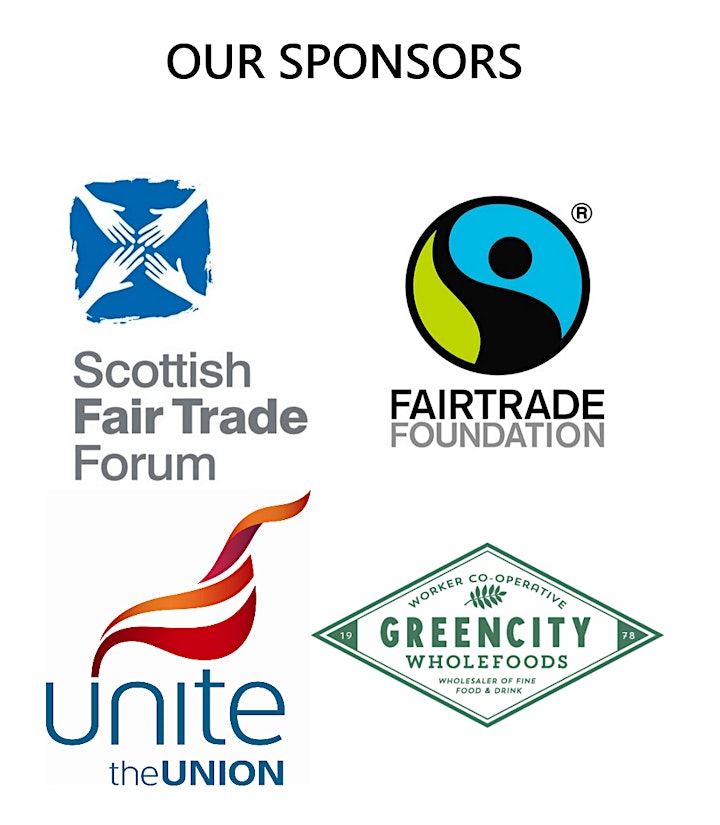 Organiser of Little Voices v Big Heads: Fair Trade and COP26