Little Woolden Moss Companion Planting Visit
Find out more about the companion planting trail taking place on Little Woolden Moss
About this event
The Little Woolden Moss Companion Planting Pilot is a pioneering project to restore the carbon storage capacity of peatlands. A former commercially extracted bare peat site has been planted with a combination of specialist lowland bog species to investigate the impact on the site's carbon function and how it can contribute to peatland restoration techniques.
We would like to invite you to a tour of this Care-Peat project to find out more
------
Further information
Location
Little Woolden Moss, then Cadishead Band Hall
Minibus transport provided to/from Little Woolden Moss. Pick up points at
Irlam train station
Cadishead Band Hall, Locklands Lane, Irlam, Manchester, M44 6RB
Format
Minibus travel to Little Woolden Moss (pick up at 9.30am)
Companion planting site visit - to include Innovate UK Sphagnum farming trial and overview of the Little Woolden Moss nature reserve restoration.
Return travel to Cadishead Band Hall for refreshments.
Presentation and discussion on the wider Care-Peat project, including the Winmarleigh carbon farm and pilot site monitoring.
Buffet lunch.
Return minibus to Irlam train station if required
Other
Wellies or strong waterproof boots are advised due to potentially wet and uneven ground surface. Please dress for the weather as the site is exposed. Biting insects may be present, so use of insect repellent is advised
Please note that there are no toilet facilities at Little Woolden Moss.
Please advise of any mobility, dietary or other requirements that could improve your visit upon booking.
Covid-19
All attendees are requested to maintain social distancing during the event. Additional space will also be provided within minibuses to allow for this. Wearing of face coverings is encouraged during minibus travel and in the band hall unless you are seated. Attendee details will be collected for NHS Track and Trace purposes.
Any questions?
Please contact jbennion@lancswt.org.uk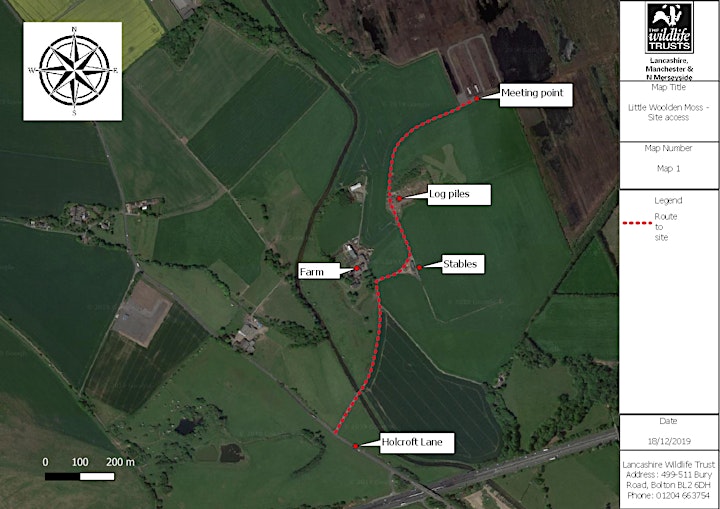 Organiser of Little Woolden Moss Companion Planting Visit
The Wildlife Trust for Lancashire, Manchester and North Merseyside was founded in 1962 by people like you who knew they needed to take action.
Since then we have grown to be the largest nature conservation body in the area. We are uniquely positioned to lead change our region, working at a grass roots, local level whilst also being part of a strong cohesive movement.
We provide a whole host of different events for all ages to ensure everyone has the opportunity to enjoy the great outdoors and learn more about nature and wildlife while having fun at the same time!