Little Woolden Moss Guided Walk
Join us for a guided walk around Little Woolden Moss Nature Reserve, examining the impact peat extraction had on this precious habitat
About this event
Up until 2017 areas of Little Woolden Moss were still being commercially extracted to use the peat in horticulture - filling bags of compost and growing the plants that you can buy in the garden centre.
Join us for a guided tour of Little Woolden Moss, where we will take you through the process of restoring this vital site to a healthy lowland raised peat bog. We'll look at the amazing wildlife that calls our peatlands home, why we need to protect these precious habitats and how they can help us to fight climate change.
The walk is expected to last approx 1.5 hours, but this may be subject to change.
How to get there
Meeting point at the metal container at the west side of Little Woolden Moss, which is accessible from Holcroft Lane, WA3 5AR (please see attached map for full directions).
Car parking is available at the meeting point.
What else do you need to know?
Please wear suitable footwear, some paths are surfaced but some areas can be uneven. Also please dress for the weather, the site can be exposed.
Unfortunately not all paths are fully wheelchair accessible, although we are looking to source funding to address this.
Please note that 2m social distancing must be maintained between members of different households, and for NHS Track & Trace purposes we will require the names and contact information of each person attending.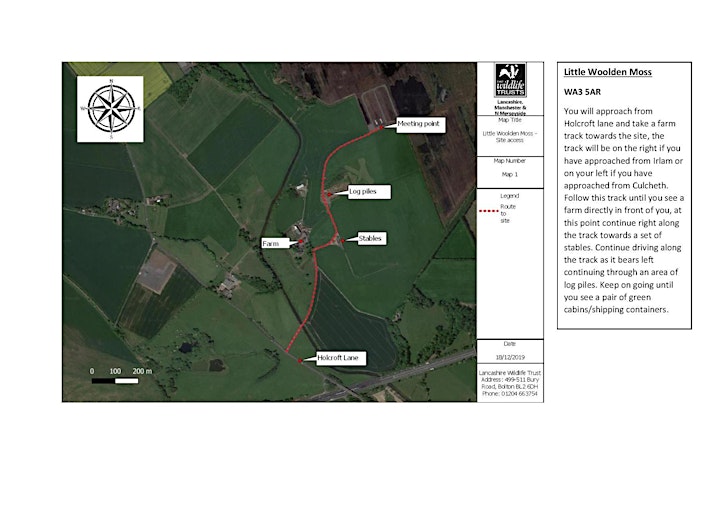 Organiser of Little Woolden Moss Guided Walk
The Wildlife Trust for Lancashire, Manchester and North Merseyside was founded in 1962 by people like you who knew they needed to take action.
Since then we have grown to be the largest nature conservation body in the area. We are uniquely positioned to lead change our region, working at a grass roots, local level whilst also being part of a strong cohesive movement.
We provide a whole host of different events for all ages to ensure everyone has the opportunity to enjoy the great outdoors and learn more about nature and wildlife while having fun at the same time!