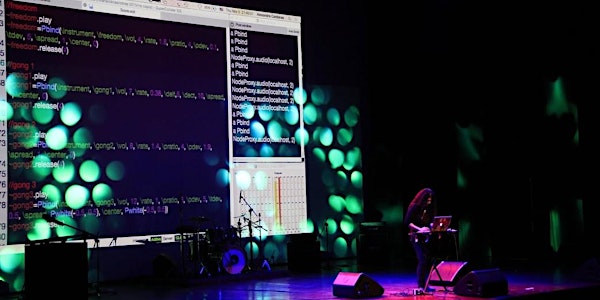 Live Coding with TidalCycles: the patterns of music with Alexandra Cardenas
Description
Catalyst: Festival of Creativity presents "Live Coding with TidalCycles: the patterns of music" with Alexandra Cardenas
Please note: this workshop is for women and girls only.
TidalCycles (or Tidal for short) is a language for live coding pattern. It allows you to make musical patterns with text, describing sequences and ways of transforming and combining them, exploring complex interactions between simple parts.
In this workshop, students will learn the basic functioning of TidalCycles, discover what Live Coding is and think about music creation in a new way. We will analyse some musical examples approaching their pattern thinking to discover techniques and ideas for creating music. We will then proceed to apply these techniques to the practice of Live Coding and make performances where composition, improvisation and programming join to create music.
Details:
Sunday 21st August 2016, 10:00-17:00

Venue: Dina, Cambridge St, Sheffield

Number of participants: 15

Age of participants: 16+

Level: Beginner.
We will have computers available for you to use, but if you have your own laptop then please bring it along. That way you can leave the workshop with your own machine all set up and ready to go.
It would also be helpful if you could bring some headphones – but again, don't worry if that's not possible.
We will be in touch closer to the time with information on any software you will need to install.
About Alexandra:
Composer, programmer and improviser of music born in Bogotá, Colombia in 1976. She studied composition at the Universidad de los Andes where she also carried studies in mathematics and classical guitar. Her works have been played in diverse venues in America, Europe and Asia. In 2003 she obtained an Artistic Residency at the Centro Nacional de las Artes (CNA) in Mexico City. In 2010 she was part of the program Prácticas de Vuelo at the Centro Mexicano para la Música y las Artes Sonoras (CMMAS). In 2011she was granted an Artistic Residency at the Tokyo Wonder Site in Japan, where she wrote a piece for Nanae Yoshimura (koto), Suzuky Toshiya (flute) and live electronics.
Using open source software like SuperCollider and TidalCycles, her work is focused on the exploration of the musicality of code and the algorithmic behaviour of music. An important part of this exploration consists of the practice of live coding. Having an intense activity as teacher and performer of live coding, Alexandra is among the pioneers of live coding in electroacoustic music and part of the forefront of the Algorave scene. Currently she lives in Berlin, Germany, and is doing her masters in Sound Studies at the Berlin University of the Arts.
Organiser of Live Coding with TidalCycles: the patterns of music with Alexandra Cardenas
Sheffield Hallam University has a strong heritage of creative arts, design and culture. Catalyst: Festival of Creativity is an opportunity to celebrate this creative activity, through a series of events, performance, projects and exhibition. The festival will run concurrently with Sheffield's 'Year of Making'.
This event is co-ordinated in conjunction with Yorkshire Sound Women Network Sheffield: