Description
SONGS OF THE LIGHT
This December, we'll be installing 'The Light', a giant illuminated globe in Salisbury Cathedral. To launch the art installation, we'll be performing an immersive concert of pop & choral music called Songs Of The Light.
Experience Salisbury Cathedral lit up like never before! An evening of music and light performed by artist Richard McLester and over 150 local singers.
An immersive experience of live music, film and light will take you on a spectacular journey from darkness to light. The performance will be punctuated with films exploring what "light" means to people. There will be projections across giant screens around Salisbury Cathedral with a huge illuminated globe as the centrepiece hanging in the Spire Crossing.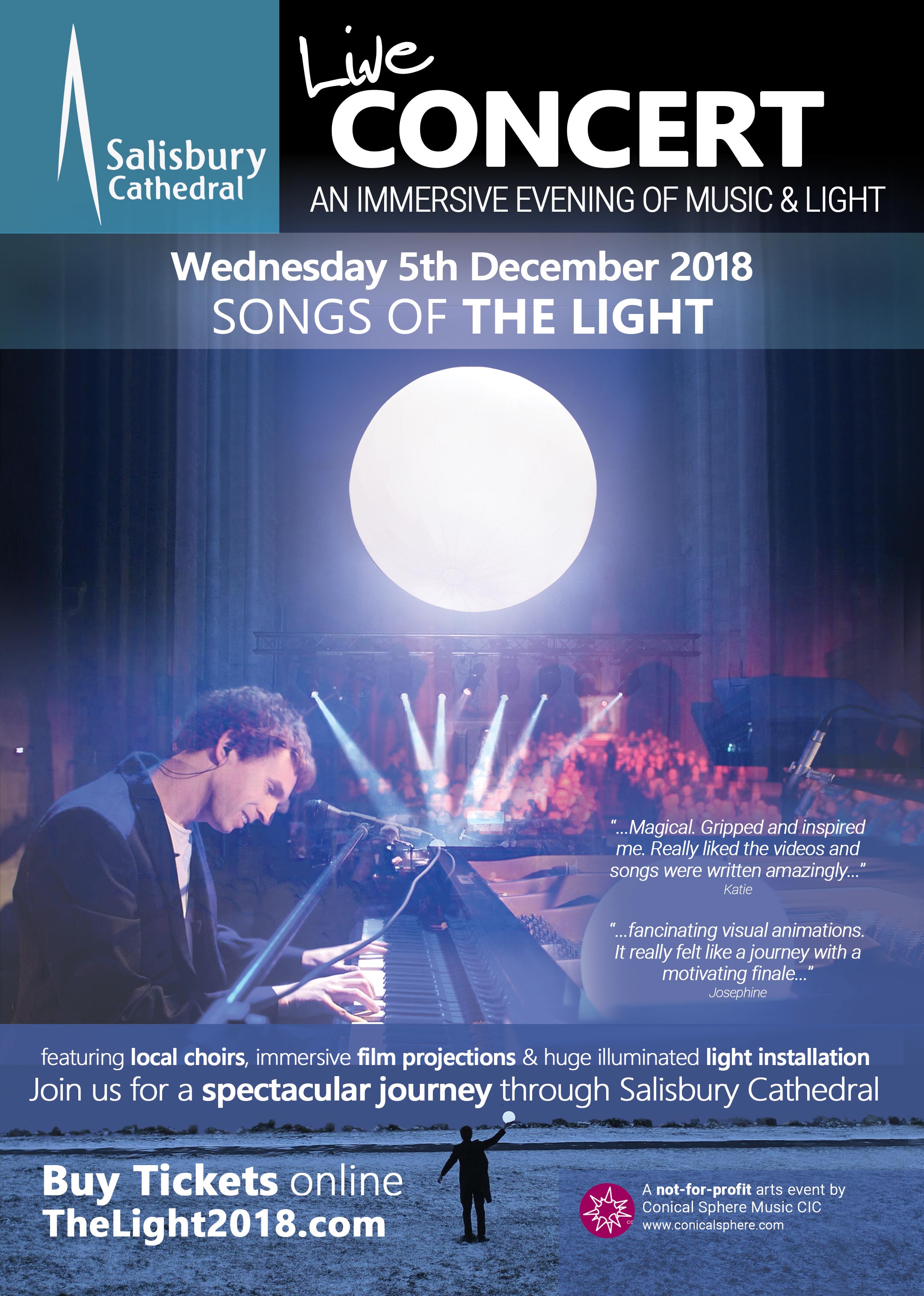 Performances
There will be 1x Performance at 7.30pm on Wednesday 5th December 2018.
Tickets
LIMITED SPACES AVAILABLE - PLEASE BOOK EARLY
Prices range from £10 - £20* (*family discounts are available).
*** Please note that if you buy the tickets through Eventbrite you will be charged an admin fee. ***
If you would like to buy your tickets for their actual cost then go to https://thelight2018.com
Venue
Salisbury Cathedral is one of the Uk's most iconic landmarks attracting some 500,000 visitors each year. All ground level areas in the Cathedral are wheelchair accessible.

The concert will be disabled friendly, with carers going free of charge.
Address:
6 The Close, Salisbury Wiltshire SP1 2EF
Phone: 01722 555120

Website: https://www.salisburycathedral.org.uk

--
ABOUT THE PROJECT - SALISBURY CATHEDRAL
The Light is an art installation coming to Salisbury Cathedral this Christmas. A huge illuminated globe designed by artist Richard McLester and built by students from Poole, Dorset.
This has involved building a giant lightbulb with over 80 metres of LEDs, a suspended projector system that allows for wireless 360deg projections from inside the globe, as well as the globe itself.
About Conical Sphere Music
The event is hosted by Conical Sphere Music CIC (Community Interest Company). We are a not-for-profit organisation based in Poole, Dorset. For more information, please visit our website: https://music.conicalsphere.com.