Live Demonstration of Medical Tracker at Campsbourne Primary School
Sales Have Ended
Registrations are closed
Thanks for joining us!! Please find details of the event below: Live Medical Tracker Demonstration at Campsbourne Primary School Nightingale Ln | N8 7AF | United Kingdom Wednesday, 27 February 2019 from 09:30 to 10:30 (GMT) Find out how quick it is to record an incident on Medical Tracker by following this link: https://www.youtube.com/watch?v=6N2QcZcrjs4 You can contact me directly on luke@medicaltracker.co.uk or 020 3743 9599. Thanks! Luke
Sales Have Ended
Registrations are closed
Thanks for joining us!! Please find details of the event below: Live Medical Tracker Demonstration at Campsbourne Primary School Nightingale Ln | N8 7AF | United Kingdom Wednesday, 27 February 2019 from 09:30 to 10:30 (GMT) Find out how quick it is to record an incident on Medical Tracker by following this link: https://www.youtube.com/watch?v=6N2QcZcrjs4 You can contact me directly on luke@medicaltracker.co.uk or 020 3743 9599. Thanks! Luke
Description
Join us and James Keane of Campsbourne Primary School to find out how his school has transitioned to Medical Tracker, an online application, to record, track and manage first aid incidents and medication.
Find out how your school can:
Eliminate first aid and medication paperwork (no more first aid slips!)

Reduce administrative time

Notify parents electronically of incidents

Decrease serious incidents

Analyse which students visit your first aid room most often

Track medication and first aid qualification incidents

Receive automated alerts when serious incidents occur

Adhere to GDPR guidelines

And much more...
Date and Venue info:
27 February 2019 09:30am to 10:30am- Campsbourne Primary School: N8 7AF

Pricing:

Medical Tracker pricing is based on student numbers and ranges from £295 to £995 depending on student roll size*.

Example: For a primary school with 351-400 students it would cost £595 per year which includes:

- Remote training
- Automated link to management information system
- All modules
- Communication module for parent notifications
- Full support
*Covers schools from 1-1249 students

Joing us:
Select 'Register' to join us.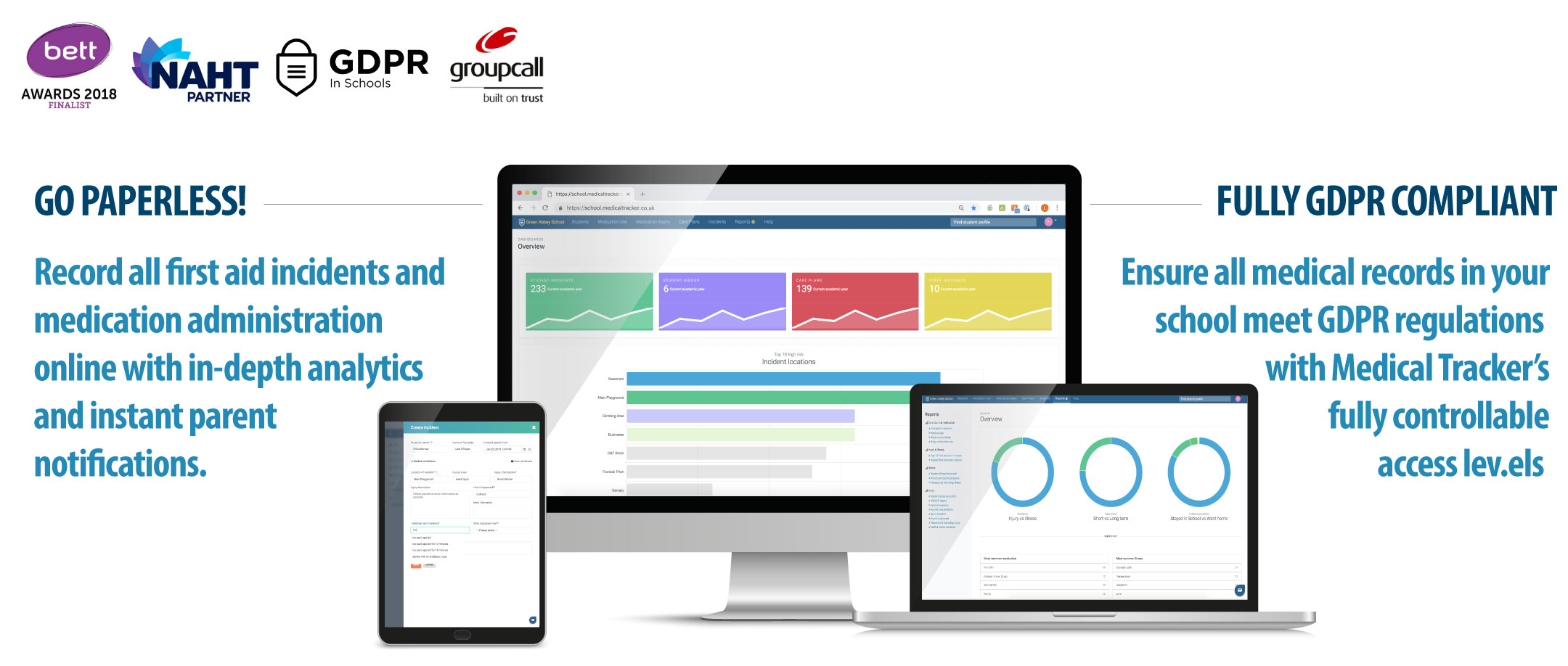 Contact details:

E: luke@medicaltracker.co.uk or theteam@medicaltracker.co.uk

P: 020 3743 9599

W: www.medicaltracker.co.uk