Sales Have Ended
Ticket sales have ended
Thank you for your booking. Access to this course will be emailed to you within 24 Hours. Regards Acumen Envision
Sales Have Ended
Ticket sales have ended
Thank you for your booking. Access to this course will be emailed to you within 24 Hours. Regards Acumen Envision
Includes: 5 Courses, Over 200 Hours of Virtual Live Instructor Led Training, 52 Hours Self-Paced Study, Real World Projects, Certificates
About this Event
Distance Learning Azure Cloud Architect MasterClass Program
Limited places available at an exceptional price.
Usual cost of this program is £ 2,250
Includes: 5 Courses, Over 200 Hours of Virtual Live Instructor Led Training, 52 Hours Self-Paced Study, Real World Projects, Assessment & Certification
Duration: 4-6 Weeks (Based on part time study)
Global Access: Virtual Live Classroom Courses available in multiple time zones weekday & weekend
Instant Access Enrolment
Select Invoice Payment Option when booking. Get 7 days to pay and save on booking fee.
Overview
This Azure Cloud Architect Master's Program will help you master the Azure infrastructure by understanding Azure Cloud Architect Technology Solutions, implementing workloads and security in Azure, creating and deploying apps in Azure, and securing data in Azure.
This Azure certification program will make you an expert in Azure applications and architecture. Through this training, you will understand the main principles of cloud computing and how they have been implemented in Microsoft Azure. Additionally, you will learn how to manage subscriptions, billing, and role-based access control regarding Azure users and groups; implement use cases and configuration options for Azure app services and app service environments; design an Azure app service web app by using Azure CLI, Powershell, and other tools; and manage security and identity for Azure solutions.
What you will Lean
By the end of the program, you will be able to accomplish the following:
Understand the main principles of cloud computing and how they have been implemented in Microsoft Azure
Manage subscriptions, billing, and role-based access control regarding Azure users and groups
Implement use cases and configuration options for Azure App Services and App Service environments
Design an Azure app service web app by using Azure CLI, Powershell, and other tools
Manage security and identity for Azure solutions
Industry-recognized certification: Upon successful completion of the Azure training program, you will earn an industry-recognized course completion certificate
Learn from the best in the industry: Learn core cloud computing concepts from leading industry experts with content structured to ensure industry-specific relevance
How it Works
Once you enrol for the course you will receive a link giving you access the Learning Management Systems.
You will then be able to review each module in the leaning path and start to plan your study time and book your Live Class room session.
All of the project based session have virtual lab access setup will all software and tools pre installed.
Help is available 24/7 should you require any assistance.
Why Take the Course?
One skill that can significantly increase a candidate's chances of getting hired in the cloud computing domain is a certification in Microsoft Azure.
The opportunities for Microsoft Azure certified aspirants have drastically multiplied in recent years, owing to the growing demand:
As per reports from Microsoft, over 1,000 new customers sign up to Azure daily. That's 365,000 new companies adopting MS Azure every year!
MS Azure is being used by over 57% of Fortune 500 companies.
Through Azure, Microsoft's commercial cloud revenue has increased by 104%, with an annual run rate of £6.3 billion in revenue.
Microsoft Azure has received official accreditation from the UK government.
There is even a Microsoft Azure Government offering, backed by the US Government.
Cloud Computing in Different Industries
The field of Cloud Computing and related technologies are drastically changing the way business is done across all industry sectors. Cloud computing has gained immense traction in the past years, bringing about transformational changes, and faster processes across sectors.
Banking
Cloud computing opens up an opportunity for banking professionals to connect with their users and customers directly. The various digital services can help them maintain and build customer relations anytime and anywhere through the cloud. Services like storing, managing and accessing the information have become easier for both the bankers and the customers. Deploying and integrating bank systems and services have become seamless with cloud computing, resulting in a decrease in the time and effort of users.
Healthcare
The healthcare industry has highly sensitive, personalised information, which makes it even more challenging to control, access, and handle such data. This is where the power of the cloud comes in: Cloud computing is changing the way medical practitioners, hospitals, and clinics deliver quality, cost-effective services to their patients. The cloud has revolutionised healthcare, making it efficient through a decentralised approach, and improving the patient experience by providing services at significantly lower costs.
Education
The benefits of cloud computing are being recognised in businesses and educational institutions across the board, with more and more organisations currently using some kind of cloud-based application. The immediate benefits: cloud-based applications reduce infrastructure and IT costs, increase accessibility, enable collaboration. Cloud computing has potentially changed how education works, both in online courses and in traditional classrooms, and has given students the opportunity to study by connecting to a virtual classroom anytime, anywhere, and with any device.
You are in Control of your Schedule and Courses
Plan you time and book onto the Live Instructor Led courses when you are ready via your Learning Management Systems Login.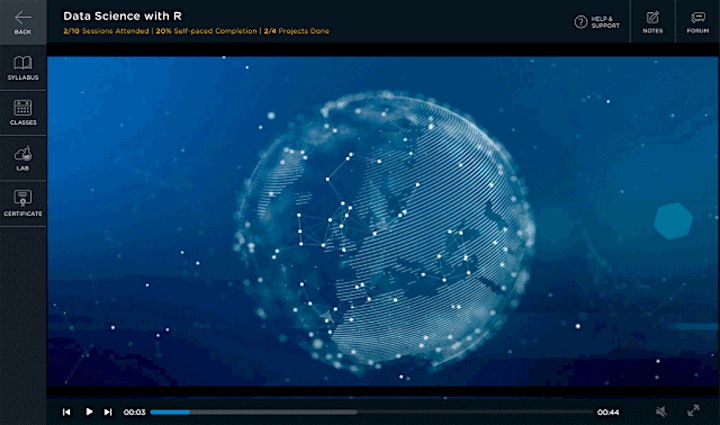 Structured Learning Path
All live Courses, Self Study and Projects are Planned in Sequence to ensure you are taking the course in the correct order and building up your skillset.