Sales Have Ended
Ticket sales have ended
Thank you for your booking. Access to this course will be emailed to you within 24 Hours. Regards Acumen Envision
Sales Have Ended
Ticket sales have ended
Thank you for your booking. Access to this course will be emailed to you within 24 Hours. Regards Acumen Envision
Learn by Doing not Just by Watching.
About this Event
Distance Learning Full Stack Web Developer MEAN Stack MasterClass Program
Limited places available at an exceptional price.
Usual cost of this program is £ 2,250
Includes: 9 Courses, Over 100 Hours of Virtual Live Instructor Led Training and 90 Self-Paced Study, 7 Real World Projects, Assessment & Certification
Duration: 4-6 Weeks (Based on part time study)
Global Access: Virtual Live Classroom Courses available in multiple time zones weekday & weekend
Instant Access Enrolment
Select Invoice Payment Option when booking. Get 7 days to pay and save on booking fee.
Overview
Take your career as a web developer to the next level with this Full Stack Web Developer Master's Program, where you'll become an expert at the front and back-end JavaScript technologies of the most popular MEAN (MongoDB, Express, Angular and Node.js) Stack. Learn to create applications from the ground up and start down one of the most lucrative and fast-growing web development career paths.
This Full Stack Developer course will establish you as an expert web developer in the MEAN stack. The term MEAN stack refers to a collection of JavaScript-based technologies used to develop web applications. MEAN is an acronym for MongoDB, Express, Angular, and Node.js. Mongo DB is a database system; Express is a back-end web framework; Angular.js is a front-end framework, and Node.js is a back-end runtime environment. The MEAN Stack Developer program is a structured learning path recommended by leading industry experts and ensures your mastery of full MEAN stack development.
The Full Stack Developer training program begins with Node.js and Express.js, which provide a solid foundation to understand and build web applications with the help of JavaScript. Next, you will gain a comprehensive understanding of Angular to help master front-end web development. Finally, you will receive training in MongoDB to learn all of the features of NoSQL database technology. We have included JavaScript, HTML, and CSS as electives to give you a further edge in becoming a full stack developer.
This full stack developer course provides access to 100+ live instructor-led online classrooms, 90+ hours of self-paced video content, 7+ industry-based projects, 10+ simulation exams, a community moderated by experts, and other resources that ensure you follow the optimal path to your dream role of a MEAN stack developer.
What you will Learn
This Full Stack Developer Master's Program is designed to give you a thorough understanding of MEAN stack technologies, including MongoDB, Express.js, Angular, Node.js, JavaScript, HTML, and CSS. The MEAN Stack learning path ensures that you gain expertise in the various components of MEAN stack, from designing and building RESTful APIs using Node.js, Express, and MongoDB to developing modular, maintainable Single Page Applications using AngularJS. The overall objective of the full stack developer course is to enable you to build superior applications using MEAN stack. As electives, the learning path comprises JavaScript, HTML, and CSS, which are all additional skillsets helpful in becoming a MEAN stack champion.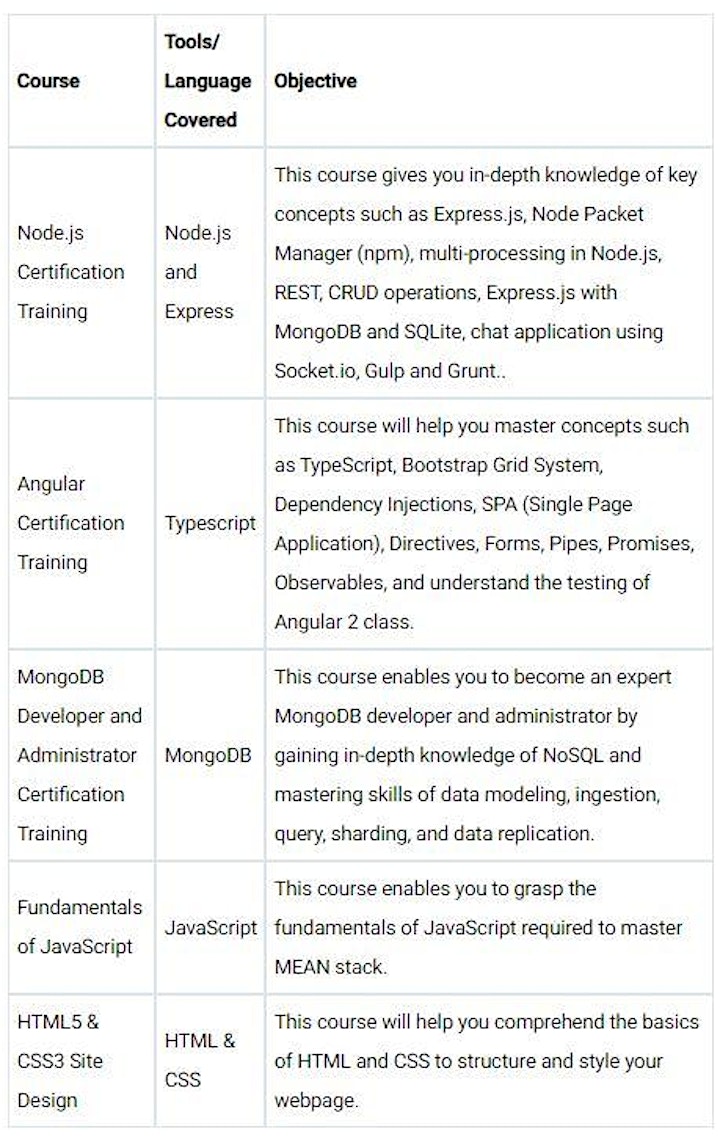 You are in Control of your Schedule and Courses
Plan you time and book onto the Live Instructor Led courses when you are ready via your Learning Management Systems Login.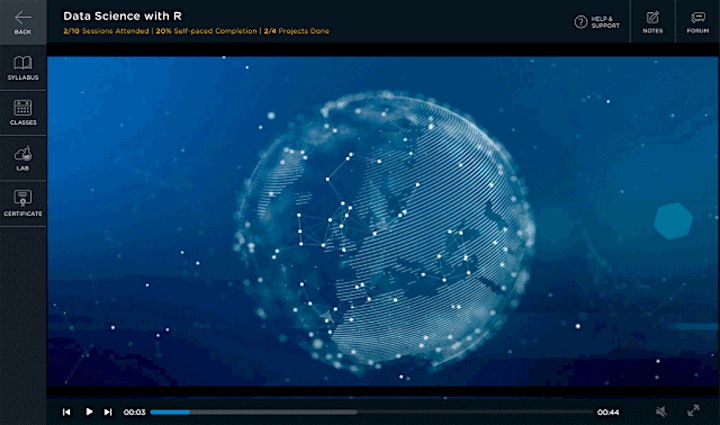 Structured Learning Path
All live Courses, Self Study and Projects are Planned in Sequence to ensure you are taking the course in the correct order and building up your skillset.
Course 1 : All-in-One Javascript Development Suite
● Fundamentals Of JavaScript ● JavaScript for Beginning Web Developers ● JavaScript for Absolute Beginners ● Fundamentals of jQuery ● Fundamentals of Ajax Development ● Create a node.js Real Time Chat Application ● Advanced JavaScript
Course 2 : All-In-One HTML/HTML5 And CSS/CSS3 Suite
● All-In-One HTML/HTML5 And CSS/CSS3 Suite ● Applying Designs to WireFrames with HTML5 and CSS3 ● Build Your Own HTML5 Video Player ● Building Responsive Websites with HTML5 and CSS3 ● HTML5 and CSS3 Site Design ● HTML5 Mobile Game Development by Example - Educational Game ● HTML5 Mobile Game Development by Example -Veggies vs Zombies ● Make HTML5 Games with No Coding Required ● Understanding HTML5 Input Types ● Website Wireframing with HTML5 and CSS3
Course 3 : Node.Js Training
● Introduction and Foundation ● Node Projects ● Working with shrink-wrap to lock the node modules versions ● Working with asynchronous programming ● Building a HTTP Server with Node.JS using HTTP APIs ● File System ● Buffers, Streams, and Events ● Multi-Processing in NodeJS ● ExpressJS ● Express JS with MongoDB and Sqlite ● Socket.io, The Front-end, and A Chat App ● Introduction to Task Managers with unit testing
Course 4 : Angular Training
● What is a SPA? What is Angular? ● Preparing for TypeScript ● Angular-4 new features ● Building with A4 Components ● Bootstrap Scaffolding ● Angular 4 Binding and Events ● Dependency Injection and services ● Directives ● Pipes ● Forms ● HTTP, Promises, and Observables ● Testing
Course 5 : MongoDB Developer and Administrator
● Course Introduction ● Introduction to NoSQL databases ● MongoDB A Database for the Modern Web ● CRUD Operations in MongoDB ● Indexing and Aggregation ● Replication and Sharding ● Developing Java and Node JS Application with MongoDB ● Administration of MongoDB Cluster Operations
Course 6: Docker Compose in Depth
● Introduction ● Compose Basics ● Networks ● Volumes ● Logging ● The Compose CLI ● Composing Compose ● Compose in Production
Course 7: React.js
● Welcome to Starting with React ● React Components ● React State and Props ● React Event Handling ● Routing in React React flux ● Styling React ● Course Conclusion
Course 8 : Linux
● Installing Linux ● Getting To Know The Command Line ● It's All About The Files ● Working With Command Line ● More Advanced Command Line And Concepts
Course 9 : SQL
● Rational Databases ● SQL Querying ● Your First Queries ● Filtering Your Results ● Consolidating Your Data ● Grouping Your Data ● Joining Tables ● Subqueries ● Manipulating Your Data ● Transaction Control ● Creating Database Objects And Adding Business Logic
Tools used in this Program

How do I Gain the Certification