Book Aid International is hosting a live interview and Q&A with novelist Isabel Allende - one of the most widely read authors in the world.
About this Event
In Book Aid International's second Books Change Lives event of 2021, Isabel Allende will discuss her approach to writing, her own relationship with reading, and the books that have inspired her throughout her life.
During the interview Isabel will look back at a selection of the books she has written including The House of the Spirits, City of the Beasts, A Long Petal of the Sea, and her 2021 memoir The Soul of a Woman. The Los Angeles Times described the latter as "a gift to younger generations", and Kirkus Reviews as a "pithy, upbeat memoir by a self-described romantic feminist."
The author will also touch on HBO's recent biopic Isabel - an intimate and moving portrayal of her life as a writer, feminist and mother. "Like her writing, 'Isabel' is personal and political, mixing the two to tell the story of a human being who faces a harsh world bravely but imperfectly." - Cristina Escobar.
Ticket and event information
Through our 2021 Books Change Lives events programme, we are aiming to raise £20,000 to send 10,000 books to people in some of the world's poorest and most marginalised communities. Amidst the pandemic, books have proven to be a vital lifeline for people across the world, and your ticket donation, whatever you choose to give, will help us send more brand new books to the people that really need them.
We kindly ask that you give an amount of your choice to support our important and urgent work - for every £2 donated, we can send another brand new book.
£10 could help send 5 brand new books to support a child's education in Kenya. £40 could help send 20 new medical books to under-resourced midwives in Sierra Leone. £100 could send 50 educational books to a primary school in Zambia.
Please note there is a minimum donation amount of £1. Once registered you will receive confirmation of your booking by email and your access link will be sent two hours in advance of the live event, which will be hosted on Zoom. Please email iona.rowland@bookaid.org if you have any issues registering for this event.
About Book Aid International
Millions of people live in a world without books. Book Aid International is committed to creating a world where everyone has access to the books they need to enrich and improve their own lives. The charity supplies books to schools, refugee camps, public and community libraries, prisons and hospitals in over 25 countries around the world, helping people of all ages and from all walks of life.
About Isabel Allende
Isabel Allende - novelist, philanthropist, and feminist - is one of the most widely read authors in the world. Born in Peru and raised in Chile, Isabel Allende is the author of twenty-four bestselling and critically acclaimed books which have been translated into more than 42 languages, including The House of the Spirits. Her most recent novel, A Long Petal of the Sea, was both a Sunday Times and New York Times bestseller and was published in paperback in March 2021.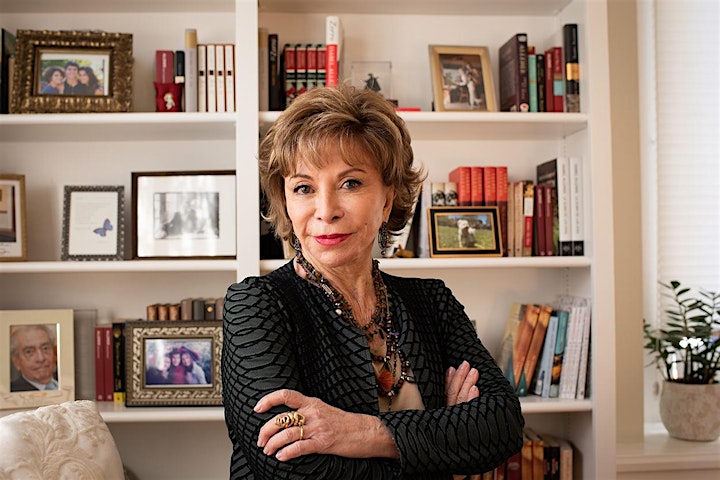 With thanks to players of People's Postcode Lottery for generously supporting this special event.