Sales Have Ended
Ticket sales have ended
Thank you for registering your booking preferences. We will publish the links to your sessions 48 hours prior to the event and send details of how to log-in and access the sessions. We look forward to seeing you there!
Sales Have Ended
Ticket sales have ended
Thank you for registering your booking preferences. We will publish the links to your sessions 48 hours prior to the event and send details of how to log-in and access the sessions. We look forward to seeing you there!
Welcome to the 'Live Life Well Weekender 2.0', the UK's best virtual wellbeing festival helping you to Live Life Well.
About this event
Welcome to the second Live Life Well Weekender running from the 11th – 13th September 2020 to help you Live Life Well!
This three-day virtual festival will provide a range of expert talks, workshops, events and resources, offering support, sparking discussions whilst providing the practical tools people need to better cope with these challenging times.
We are excited to welcome an incredible community of speakers including; BBC commentator and wellbeing campaigner  Dr. Radha Modgil,  Embarrassing Bodies host and Media Doctor, Dr Dawn Harper, Psychotherapist Dr Aaron Balick, PTSD expert Dr Claudia Herbert.
We also welcome, fitness expert James Golden, Happiness expert Steph Peltier, Parenting Mental health campaigner Suzanne Alderson,  Founder and Editor of Motherdom Anna Cessay, nutritionist and women's health expert Le'nise Brothers, Life-changing motivational speaker Kirsty Hulse,   Empowerment speaker and coach  Presenter, host and Coach Kevin Duala, Wholeman Academy Founder Anthony Astbury, ex professional Boxer and mentor Johnny Nelson among many others to be announced.
JUST SOME OF THE TALKS TO EXPECT....
HEALTH - The festival will explore a variety of topics from; 'Long Covid: the long-term health impacts of the disease with Dr Dawn Harper'
PSYCHOLOGY - 'This Too Shall Pass: The Lessons Learnt from Lock-down', the psychological impact, as well as how to build resilience and make decisions for the future with psychologist Dr Aaron Balick and Psychologist and stress and trauma specialist Dr Claudia Herbert.
CONNECTION - Dr Radha Modgil will be joined by Presenter Kevin Duala to discuss 'Ordinary People, Extraordinary Times' – a look at how we have adapted and what we can do to empower ourselves to look after our own wellbeing, connect and re-build as a community and individuals for the future.
PARENTING - Suzanne Alderson, founder of Parenting Mental Health, Anna Ceesay, founder of Motherdom and psychologist Dr Andrew Mayers will be discussing the pressures on parents throughout lock-down and all things parental mental health.
MONEY - Clever with Cash writer Andy Webb will join financial well-being expert Darren Laverty to talk about 'Beating the Money Blocks: and how to better manage your money in times of uncertainty.
MINDFULNESS - Suzy Reading will be offering a relaxation and mindfulness session on 'Self-Care for Tough Times'
RELATIONSHIPS -'Relationship Dynamics in A Pressure Cooker: How to cope with the intense emotions and change' with Tracey Cox.
HAPPINESS - Steph Peltier who will offer her ' No Bullshit Guide to Finding Happy'.
MEN'S HEALTH - We will also be talking about 'How Men Can Live Life Better' with Anthony Astbury of the Wholeman Academy, Ed Draper from Sky Sports and ex professional boxer Johnny Nelson.
DIET & NUTRITION - 'The War on Obesity' with What the Health Events, 'Gut & Brain benefits of Baking Bread' with Vanessa Kimbell, and 'Hormone Health' with Le'Nise Brothers and Dr Shahzadi Harper.
WORKPLACE & CAREER - There will also be dedicated workplace talks for business on; 'How to find work After Redundancy' with Alexa Shoen, 'How to Get Back into Work and the Real World' with Motivational speaker Kirsty Hulse, and 'Beat the Money Blocks' and managing your finances in times of uncertainty, as well as how to 'Set Goals and Find your Purpose' post lockdown with international business lead and motivational speaker Kemi Nekvapil.
WORKSHOPS - There will also be a range of practical workshops on creativity, self-expression, dance, fitness and health, including; how to manage physical 'Ware and Tear in Lock-down', 'Hormone Workouts' to balance the body, fitness sessions with Daylsford's PT and fitness trainer James Golden, and much much more, all to support you and your family emotionally and physically.
Our festivals have one goal - to make wellbeing accessible to all and provide the information and resources you need to better cope in these extraordinary times.
Come and join us today to feel inspired, educated and informed.
Tickets ate just £12.00 per household with bonus content on demand. Profits made will go towards the COVID-19 Appeal.
FREE Tickets are available for frontline workers, carers, students, the vulnerable and those on low income. Please email us for your dedicated FREE Ticket code hello@cheltenhamwellbeingfestival.com.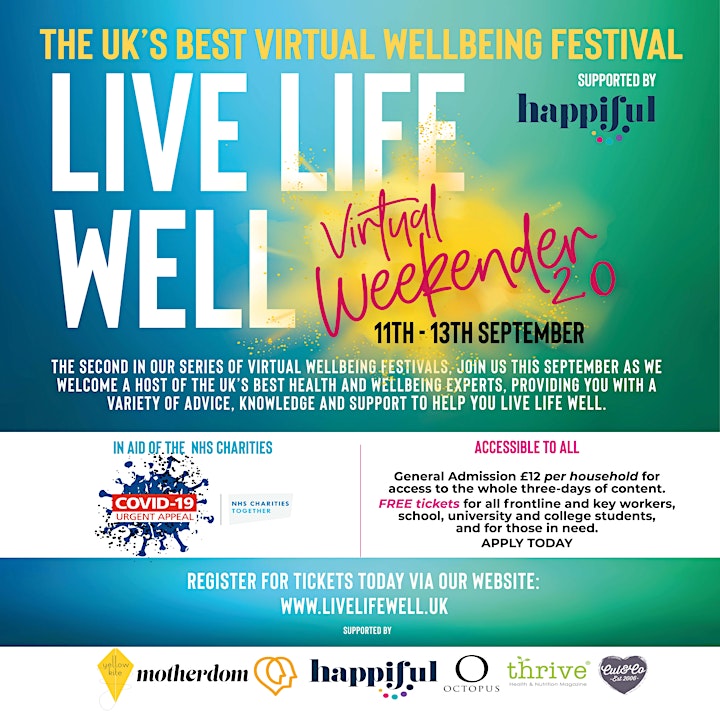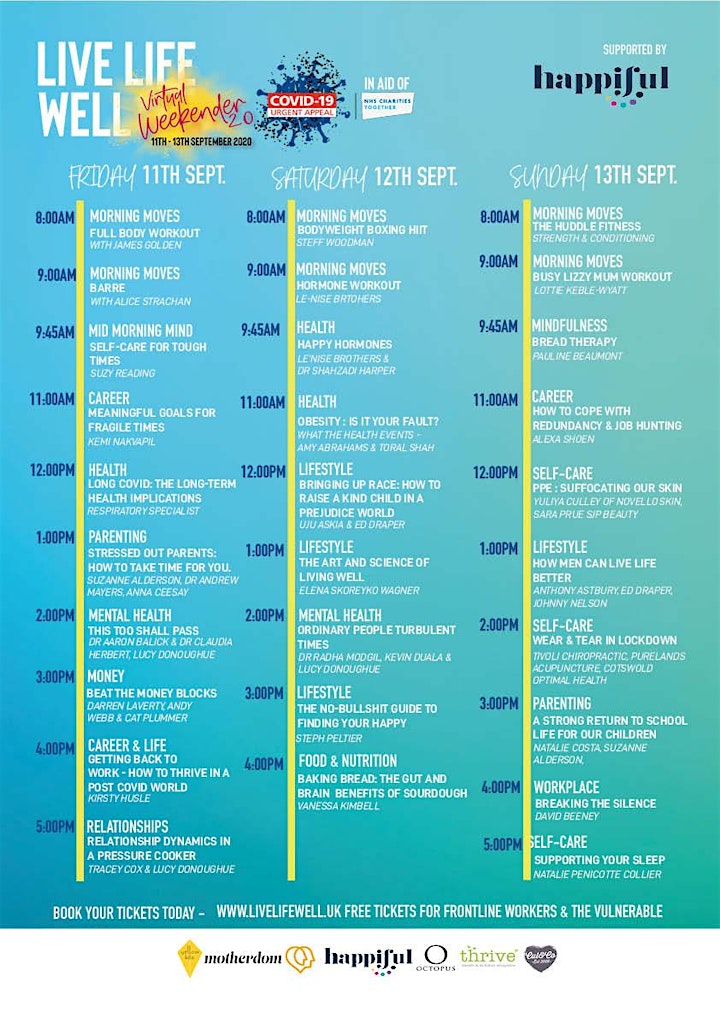 Date and time
Location
Refund policy