Live Networking for Health & Wellbeing - In Sunbury
About this event
It's a live meeting!
Welcome to our first 'live in person' meeting for 2021
Go on, say it...It's been a long 15 months!
We feel the same, and we have missed the fantastic energy that radiates throughout our live network meetings. This meeting will be no exception. We truly deserve to come together and celebrate our respective businesses.
So let's do this - book now
In conjunction with Spelthorne Council 'NEW' business incubator, we are delighted to bring you our first live network meeting of 2021.
Where: Summit Centre. 33 Hanworth Road. Sunbury. TW16 5DALocated on the A316 opposite Costco
When: Monday 26th July
Time: 7.30pm - 9pm
Tea and coffee are included with your pre-booked entry ticket.
Eventbrite fees, we take care of, so add ons.
Agenda:
1. Welcome Introduction: Diane Mitchell. Founder of Wonderful World of Wellbeing
2. Guest speaker: Tracey Carter: Senior Economic Development Officer, Spelthorne Business Council.
3. Guest speaker: FSB: Federation of Small Business.
4. Open networking
5. Business card drop box - prize draw
6. 9 pm - Close of meeting
We are working with Government guidelines for group indoor gatherings
We recommend wearing face masks throughout the event.
* Please note; Should the government guidelines affect this event, will return online, and ticket holders will be notified by email.
This is your time to shine!
Engage, Explore, Create meaningful connections with like-minded professionals in the world of wellbeing and associated support services for our industry.
We have a fabulous group of individuals who consistently transact B2B and beyond. We are pretty relaxed and casual on coming together, yet a very supportive group of business people. This is an evening like no other, an opportunity to share your offerings, collaborate, build solid business relations, and cultivate the possibilities of integrating your unique offerings with other professionals from around the region.
Ticket sale ends 5.00 pm Monday 26th July
Future live meetings are TBA will always be in accordance with Government guidelines.
All future meetings will be marked Online or Live.
Summer break: meetings will resume on 14th September after our summer break.
We thank you in advance for celebrating your business with us and also your attention to awareness of self and others adhering to current covid recommendations at all times.
We look forward to meeting you here...
Diane & Team WWoW
Get Social with us:
www.wonderfulworldofwellbeing.com
Facebook Business Page: https://www.facebook.com/wonderfulworldofwellbeing
Facebook: Networking closed group Health & Wellbeing:
https://www.facebook.com/groups/1143018099078125/
Facebook open group: all-inclusive where you can connect with members of the public and view our showcasing guest businesses from WWoW-Online. https://www.facebook.com/groups/891616110941411/
Insta: dianemitchellwwow
Twitter: @WWoWellbeing
Email: wwowellbeing@gmail.com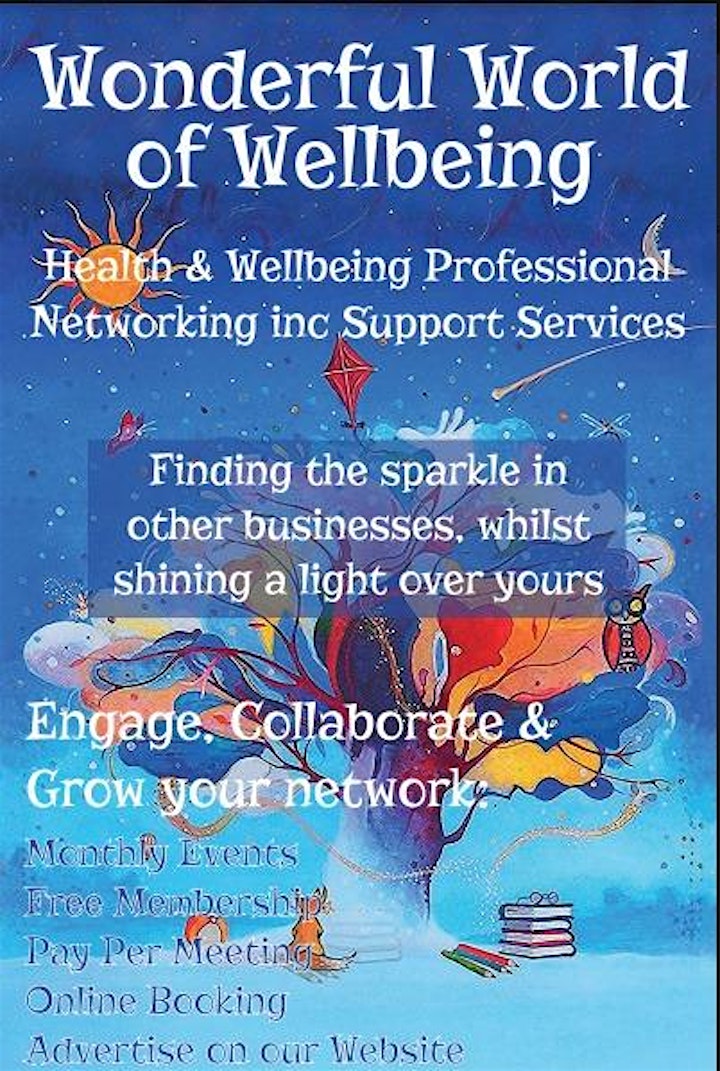 Organiser of Live network meeting for health & Wellbeing
Helping people in three unique ways, 
Wonderful World of Wellbeing includes, networking for health and wellbeing professionals and hosting the Wonderful World of Wellbeing Festivals. Diane empowers individuals and groups alike to learn, develop and empower themselves to live a life of holistic wellness. 
Diane Mitchell is a well-being expert. Working with individuals and groups, facilitating instand change of mindset, mindfullness and meditation.
Whether you're interested in meeting Diane in person, partaking in a one-on-one therapy, attend their online networking it's safe to say that you're in great company. 
With an undivided drive to help individuals overcome their limiting beliefs, remove undermining thoughts, uplift their overall life and business:, enabling positive change is what Diane and her collective does best.