Sales Have Ended
Ticket sales have ended
Thanks a lot for signing up for the event. We will send you an email notification with more information.
Event Information
Refund policy
Refunds up to 1 day before event
Sales Have Ended
Ticket sales have ended
Thanks a lot for signing up for the event. We will send you an email notification with more information.
Start Your Journey to 3D Model Your Parts for 3D Printing and Manufacturing using SOLIDWORKS 3D Modeling| A 3 Weeks, 12hrs online Live Class
About this event
3D Printing is a powerful tool for both hobby and work. However, without 3D modeling, you are left with a making tool that you can not make your own designs with it. This is why you would want to learn 3D modeling.
***The class will have a maximum of 12 learners on a first-come, first-served basis ***
Class Details:
Dates: 17 Aug to 2 Sept (In the American continents) = 18 Aug to 3 Sept in EU, Africa, Asia, and Australia.
Sessions Every Tuesday and Thursday from 7 PM to 9 PM US Central Time (UTC - 5).
Session duration: 2 hours including a break
Note that time and days might vary according to your location. ​
Instructor - Tayseer Almattar, author of Learn SOLIDWORKS 2020
Tuition Fee
USD 329 (early bird - before 10th Aug)
USD 349 (regular)
What to expect from the class:
This is an elementary class aiming at people with no prior experience with 3D modeling. By the end of the class, you will be able to 3D model simple objects. You can check the capstone project below, which you will be able to build from scratch.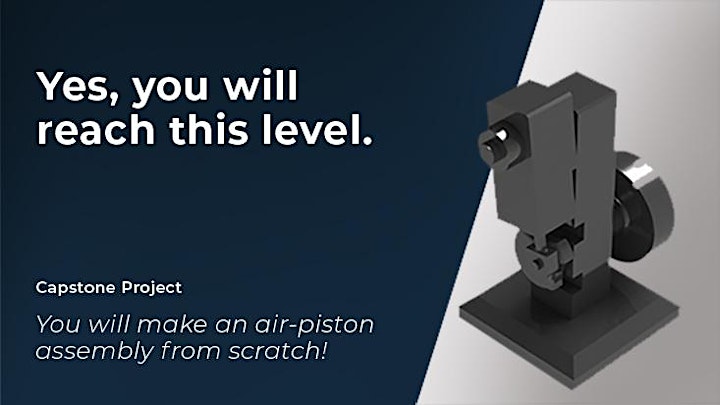 What do I need to bring with me to class?
You will need to have a computer and access to SOLIDWORKS 2016 or newer.
It is recommended to have two screens: one to view the class and another with SOLIDWORKS open to follow up. However, it is not necessary.
Why Do you want to learn SOLIDWORKS, not another software?
There are many different 3D modeling software out there. Here are some points to keep in mind before going on this journey. SOLIDWORKS is good if you:
You are looking to 3D model functional parts. For example, modeling a replacement bracket for a broken car side mirror, 3D modeling a hinge, broken pieces in furniture or anything else that have a function.
You are looking to 3D model a product you are inventing and trying to manufacture or prototype.
You are looking to 3D model parts with geometric features and shapes
SOLIDWORKS might not be your best option if:
You are looking to 3D model for artistic applications like 3D modeling characters such as baby Yoda, dogs, cats, etc.
You are looking to create high-end animations like those of Pixar.
How can I access SOLIDWORKS?
If you don't have access to SOLIDWORKS already, you can consider getting the maker version now available for USD 99.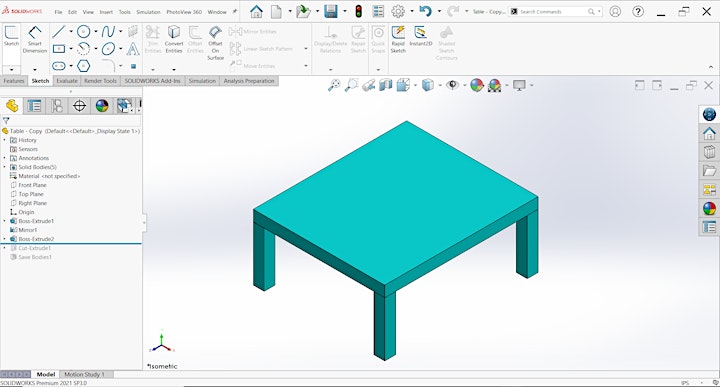 What is covered in this class:
Introduction to parametric modeling
SOLIDWORKS interface and navigation
2D sketching
Building 3D models using a variety of features
Building assemblies
Lots of exercises and a capstone project
This class is perfect for individuals who don't have first-hand experience with SOLIDWORKS and people who don't have a background in 3D modeling.
What do people think about learning with TforDesign?
Here are of what people think learning SOLIDWORKS with TforDesign. You can find more reviews on our Public TrustPilot account.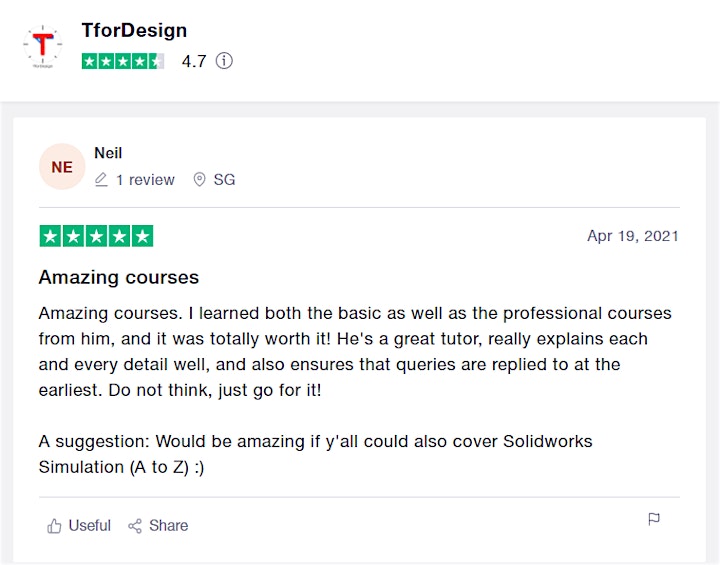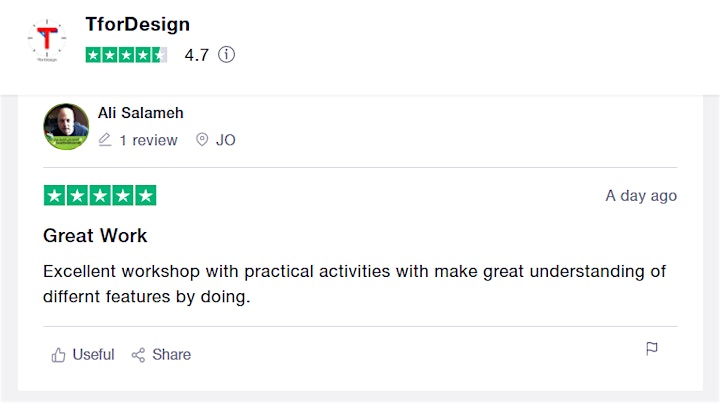 Frequently Asked Questions:
Will the class sessions be recorded?
Yes, the sessions will be recorded and available to you for review throughout the class duration. However, you will not be able to access them once the class duration end.
Is the class confirmed to run?
The class will run if seven learners sign up by the day before the class starts. If not, the class will be canceled, and we will refund you the ticket price.
Can I request a refund after I paid?
You can request a refund max one day before the start of the class.
Is there a Certificate of Completion?
Once you complete the class, you will receive an electronic certificate of completion. However, more importantly, you will be able to 3D model your own designs.
Have more questions?
If you have any questions or concerns, don't hesitate to contact us here or through our contact page.
More about the instructor:
Tayseer Almattar is the founder of TforDesign and the author of Learn SOLIDWORKS 2020. He is passionate about how human-centered design can add value to organizations. When it comes to prototyping or designing physical prototypes, SOLIDWORKS is his software of choice.
Tayseer has been training people on how to use SOLIDWORKS since 2015.
About the hosting organization:
TforDesign school houses a number of learning experiences catering to designers and creators to enable them to design/create the future.
Those include different levels of SOLIDWORKS courses, 3D Printing, Portfolio Building, Simulations, and Sustainability. You can check out the TforDesign School for more info.
Date and time
Location
Refund policy
Refunds up to 1 day before event
Organiser of Live Online 12-hours Class: 3D Modeling for 3D Printing using SOLIDWORKS
TforDesign is an organization dedicated to designing engaging and relevant learning experiences.
The TforDesign School is run by TforDesign and aims to enable individuals to create the future by preaching Design. It also houses online courses on Design subjects ranging from SOLIDWORKS 3D modeling, 3D Printing, Simulations, Sustainability, and more.