Learn all about Amazon product research, product launch strategies, SEO and advertising.
About this event
HOW DOES THIS WORK?
We have been delivering training courses throughout the UK for the past 5 years and the same courses are now available online. You can choose between a scheduled course or book a bespoke session for you or your team.
Each session is customised and well suited for individual or small groups. All sessions are practical and save you the cost and time of travelling.
4 hours live online workshop
Training course recording available for 1 month
Delivered in a small group of 4
Interactive sessions and you can ask questions
Training content will be shared with you after your session
1-to-1 optional consultation after the course to answer any specific questions
WHAT WILL I NEED?
Online conferencing set-up. We will send you the link to join the course.
Speakers and a microphone
OPTIONAL – A webcam
If you prefer to book online training other than the date scheduled, we can help with that too. Get in touch to discuss. 
═══════════════════════════════════════
COURSE INFORMATION
In the UK, the marketplace industry is dominated by Amazon and eBay – and Amazon is a huge force throughout Europe and the rest of the world. Selling on marketplaces can be a cost-effective way to attract new business, as the marketplaces already have an active customer base looking for your products.
This comprehensive course is aimed at new and early-stage sellers and will give you excellent tips that you can implement immediately in your business. Each session is tailored to the experience and sectors of the attendees, giving a truly personalised training session. At the end of it, you will take away an action plan to help you grow your business.
We'll cover how to establish a successful supply chain in the UK, and we will connect you to our trusted sourcing partners here in the UK and abroad.
Who is this workshop suited to?
New Employees, New Sellers and Startup sellers
What will you learn?
Product Research
Getting started with product ideas
Finding products with a high demand
Learning more about the competition
Calculating profitability
Initial Setup
Amazon Store Setup FAQs
Getting Amazon Category Approval
Listing Product
Creating a new product listing
Listing existing products on Amazon
Amazon bulk listing via CSV file
Product listing best practices
Product Launch
Amazon products launch best practices
Improving product ranking
Product reviews best practices
Account Health
Amazon policies and avoiding suspensions
Amazon account health check
Reporting and Analytics
Understanding Amazon business reports
Using business reports to improve sales
Product Promotions / Sale
Product Promotions – vouchers, lightning deals
Product offers
Alternative Amazon Business Models
Retail arbitrage – can you build a sizable business?
Dropshipping - can you trust your suppliers?
Fulfilment by Amazon (FBA)
Creating Amazon FBA listings
FBA and FBM – know what's best for you
Multi-Channel Fulfilment – sell on a website and fulfil via Amazon
Amazon Advertising
Keyword Research
Sponsored Ads Setup Live Demo
Automated vs Manual Ads
Understanding Amazon Advertising Metrics
Optimising your Campaigns
4 ways to improve your Advertising Cost of Sales (ACoS)
Creating your own Amazon advertising plan
Selling Internationally
Amazon Global Selling – listing your products on Amazon EU and the USA
Shipping settings – UK and international
Multi-Channel Fulfilment – sell on a website and fulfil via Amazon
Product Sourcing
Product sourcing best practices locally and Internationally
Introduction to logistics – FOB, CIF, Ex Works
Introduction to tariff codes, import duty, taxes and restrictions
Prerequisites for this course
This course is aimed at Amazon sellers with a little experience of selling on Amazon though it is not essential. Typical attendees are retailers, digital marketers, company directors and managers.
________________________________________________________________________________________
Looking for a bespoke course? We are happy to provide online or in-house Amazon training for you and your team.
Call us on 0161 3272 923 or 0751 88 39629 Please note by booking a ticket to this event, you agree to our event T & Cs ( Please read )
 * Register as an Individual, if you are not VAT registered.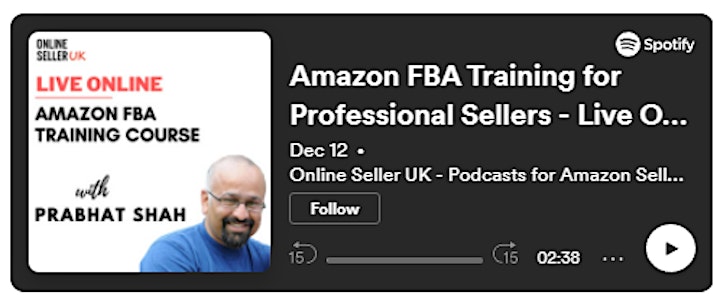 TESTIMONIALS  
| Thomas Thorman, Private Label Seller
I found the course to be very beneficial, Prabhat really helped to outline key factors that a new start-up like myself, may overlook when starting to sell on Amazon. He clearly has a very high level of experience within this field, which he shares in an interesting and interactive format.
| D Copiz, Serelyspharma
Prabhat has a wealth of experience and information to share with novices and experienced professionals alike regarding Amazon. There was time to address all open questions and to go through the course material in a very flexible and helpful manner. Thanks again
| Daniela Rho, Vivonabrands
I really enjoyed the Amazon training with Prabhat and feeling more confident now with a bag full of knowledge. I will definitely recommend a session to a colleague.
Just a few of the fantastic organisations who've attended our previous training.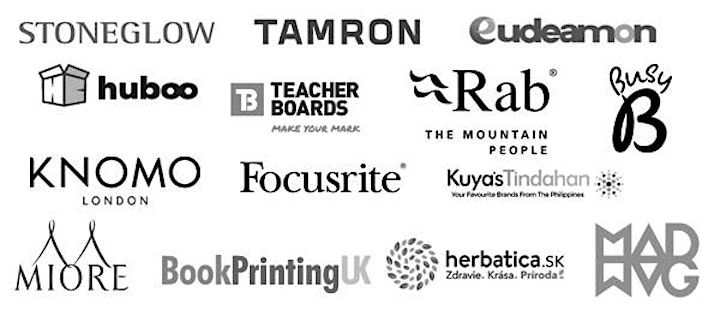 ════════════════════════════════
If you are looking for Amazon Advertising and SEO Service, we can help, find out more >>