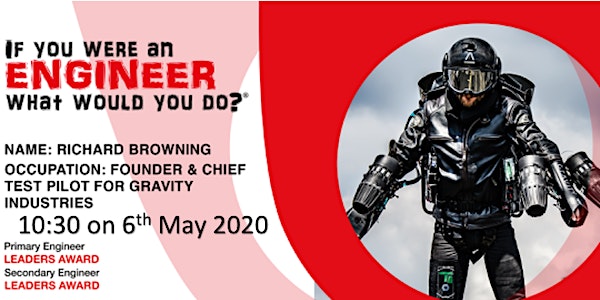 LIVE ONLINE ENGINEER EVENT: Richard Browning, Founder of Gravity Industries
This Live Online Engineer Event features Richard Browning, Founder and Chief Test Pilot for Gravity Industries.
About this event
The Primary Engineer & Secondary Engineer Leaders Award - 'If you were an engineer, what would you do?" competition - will be hosting our popular Live Online Engineer Events throughout the remainder of the academic year so that pupils/students can continue to work on their projects or, for those individual pupils/students that have recently registered, start work on the programme whilst at home during the COVID19 restrictions.
This interview will begin with a 10-15 minute presentation by a professional engineer, they will tell you about what they do and how they got there. The presentation will be followed by a Q&A session where you will have the opportunity to ask the engineer about their life and work. So, before the interview you may want to prepare a few questions!
To register for the competition and participate in the Live Online Engineer Events - please register here: