Live Streaming Ticket -Plant Based Diets and Sustainability - For Hospital...
Sales Have Ended
Ticket sales have ended
Ticket sales have now closed for our Attending Online Live Streaming Ticket. However you still have until Friday 29th to purchase the presentation slides only. See the descriptions below for relevant ticket links and details.
Sales Have Ended
Ticket sales have ended
Ticket sales have now closed for our Attending Online Live Streaming Ticket. However you still have until Friday 29th to purchase the presentation slides only. See the descriptions below for relevant ticket links and details.
Description
This page is for those that are unable to attend our event in person at Leeds Beckett University, but would like to join us for the LIVE streaming of our event on Saturday 30th March from 09.30-2.00pm*
For full event details and information on our speakers, please see our main event page *Timings may be subject to change, please see the agenda for full details.
Please click the "TICKETS" link above on the right, to purchase your ticket to join us online on the day.
Don't miss out: ticket sales close on Tuesday 26th March, after this time you will not be able to purchase a ticket to see this event.


What can I expect?
This is not a ticket to attend the event and you will not be able to enter the event with this ticket. You will however be able to join us live online throughout the whole of our event.
By buying a "ticket" you are purchasing the chance to receive a weblink enabling you to join us at our event, this weblink will be made available to you prior to our event on Saturday 30th March via email. Once ticket sales end attendees will be emailed pre-event information including the presentation slides on the evening of Wednesday 27th October.


What do I need to do?
Please ensure you have added MailChimp to your email safe list and yorkshirebranch@bda.uk.com as this is how you will be emailed the link to join us live on the day. Failure to do this could mean the email is filtered into your junk or trash email folders.

Please ensure the email you supply is one you will have access to on the morning of the event, we recommend you do not use a NHS or work email account otherwise firewalls may prevent our emails from reaching you.

Please review and follow the IT advice below.
The Yorkshire Branch does not accept responsibility if ticket holders fail to follow these steps to ensure they receive their ticket.
---
Agenda: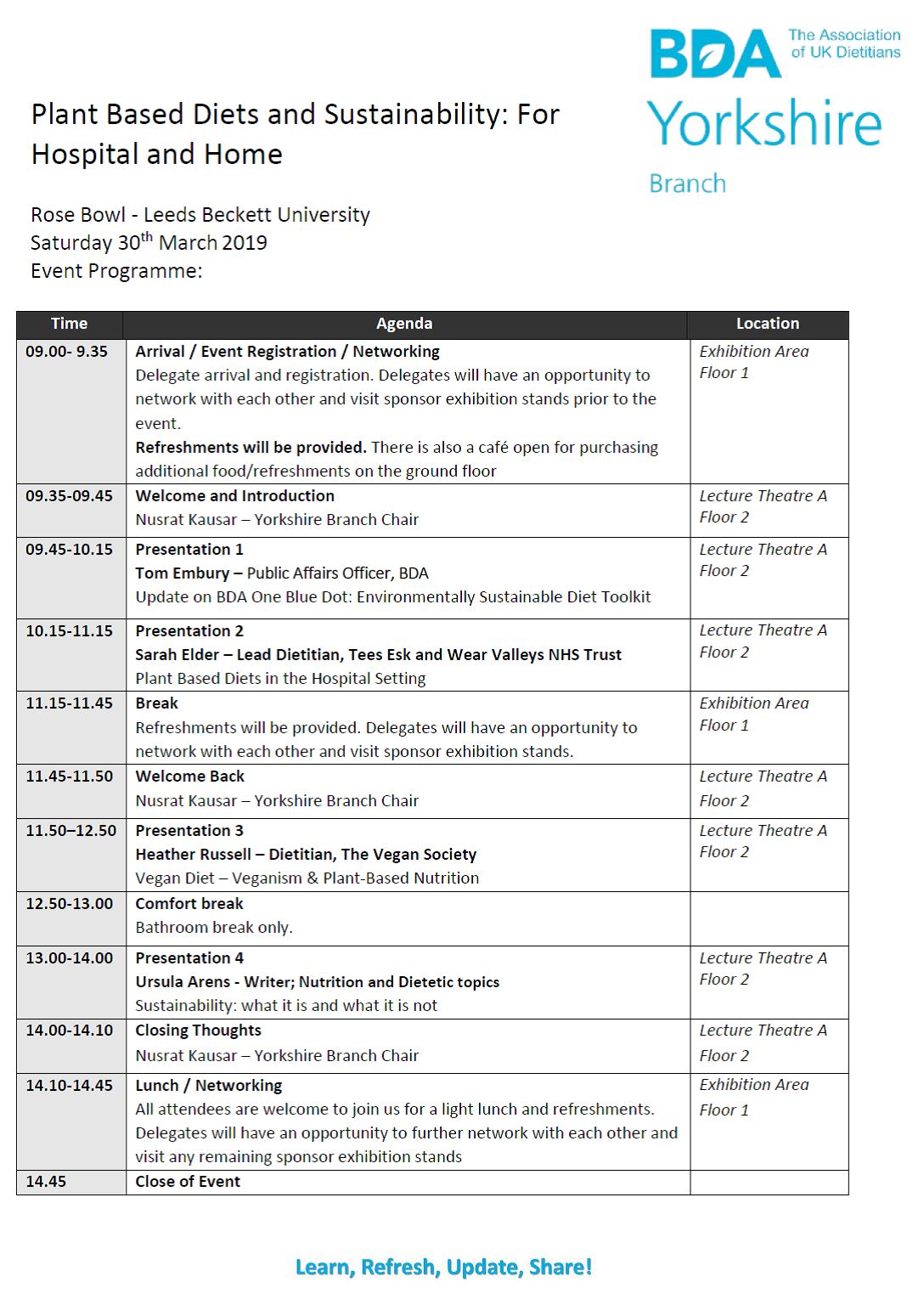 ---
Frequently Asked Questions:
For more information download our guide to LIVE Streaming FAQ's / Troubleshooting document.
Can I interact on the day and ask questions to the speakers?
Whilst we would always encourage you to attend our events to get the maximum benefit, we appreciate that all who wish to may not be able to attend. Just because you can't be there doesn't mean you can't interact with the event. Post your comments to our twitter account @BDAyorkshire and send us your questions for our speakers on event day using #BDAyorks, all from the comfort of your own home.
Please Note - this is not a webinar. It is only a live Stream that allows you to view and hear the event. There is no option for asking questions through the webpage. Please use the twitter handle above to get involved.
Will I be eligible to get a certificate of attendance?
You will be contacted after the event by email to complete our feedback survey. On completion of this survey you will be sent a link to get your certificate of attendance. The survey is open for one month after the event. Attendance certificates cannot be attained after the survey has closed. To make sure you don't miss our email ensure you add yorkshirebranch@bda.uk.com to your email contacts or safe list.

Can I replay the event afterwards / Can I watch the event later when I am free?
We know from past experience that we have been able to playback the live stream for the rest of the day. However because as a branch we do not manage the IT set up of the live stream and this is responsible to Leeds Beckett University we cannot make any guarantees on this. We would recommend you use the weblink for live streaming only and if you do purchase this ticket for playback later, you do this on the risk that it may not be available. We also do not record the event so we cannot send you a copy for you to watch at a later date.
Is IT support available?
Unfortunately we are unable to offer IT web support for this ticket type, however we will ensure the stream is working correctly. Please ensure you have a good internet connection and up to date internet browser, for example Chrome and Internet Explorer are known to work well with this system, but others may include Safari and Firefox. Please also ensure flash plug ins are up to date. If the live stream is found to be faulty refunds will be given, but a refund cannot be given for other reasons not specified in our terms and conditions. You will be sent a live streaming guide in your pre event email, please make sure you have read and understood this and you refer to this in the first instance if you experience any issues.
Terms and Conditions
By purchasing a ticket to this event you are agreeing to use this weblink for sole use only and agree not to stream to audiences or record the live stream. Failure to adhere to this jeopardises the future opportunities of the voluntary Yorkshire Branch committee to maintain sufficient funds to continue holding affordable events for dietitians, students and other scholars. The Yorkshire Branch is entirely self-funded and receives no funding from the British Dietetic Association to assist with these events. Anyone found in breach of these terms is reportable to the British Dietetic Association.
---
By purchasing a ticket you are agreeing to our terms and conditions, for further details please see the

event page.