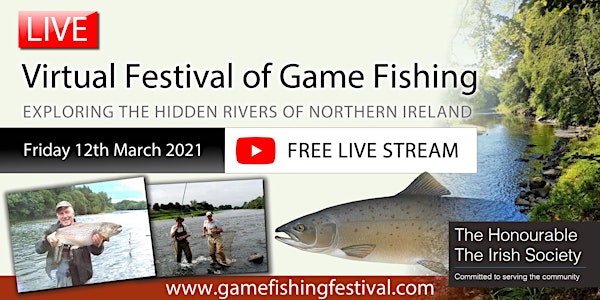 LIVE: Virtual Festival of Game Fishing ~ FREE LIVE STREAM + Prize Draw
Sales Have Ended
Registrations are closed
Thank you! Your ticket has been reserved and we look forward to seeing you on Friday March 12th. * Please feel free to share this link with fishing friends and colleagues.
Don't miss our unique LIVE streamed event on Friday 12th March 2021
About this event
Virtual Festival of Game Fishing
📹 Exploring the Hidden Rivers of Northern Ireland - A unique LIVE streamed event.
We couldn't hold our annual conference 'in person' this year - so we're live streaming the event online instead - Watch live and on-demand from the comfort of your home.
Join us live on Friday 12th March as we explore the hidden rivers of Northern Ireland. Hear from local & international VIP guests as we celebrate our inaugural Virtual Festival of Game Fishing 2021
This event will be live streamed to a local and international audience - watch live online, ask question and share the link with friends and colleagues. Click the REGISTER Button to join us, as we explore:
The Uniqueness of our rivers in Northern Ireland
Where to fish? Where to Stay? We'll showcase the local fishing opportunity and provide a virtual tour of our rivers
What can you catch? Our local rivers offer world-class salmon fishing, and excellent sea trout, brown trout, coarse and pike fishing.
Sessions will cover Salmon Survival at Sea; the Lough Neagh Dollaghan Trout; AFBI's Smolt Tagging; Trout Fishing in the Hidden Rivers of Northern Ireland and the Smart Rivers Initiative.
The Art of Fishing
Hear from our expert panel of keynote speakers as we discuss the art, skill and technique of casting, fly tying + more
Join in and ask questions - we will have interactive Q&A sessions after each session - hosted by Rob Hughes, BT Sport presenter and well-known fishing commentator. Other items of interest include 'life of a ghillie' and tourist angling to promote fishing skills and the region.
Hear from Local Fishing Clubs
We'll have talks from our members, club videos and upcoming events and competitions will be promoted throughout the event
Learn about the Science of Salmon and Trout conservation in our rivers
We'll also have keynote speakers, panel debates and Q&A on Salmon fishing, trout fishing, conservation and the environment.
🏆 Win prizes...
We'll have awards, and competitions running throughout the event
Club Nominees and Awards
Sponsor Prizes + Festival on the Spot Prizes - including exclusive fishing packages & passes
Confirmed Speakers Include:
Marina Gibson, Angler / Instructor, International Federation of Fly Fishers and Director of the Northern Fishing School / MarinaGibsonFishing.com
Dr Robert Rosell, Principal Scientific Officer for Freshwater Fish, AFBI
Andrew McGall, Angler / Loop Ireland Team Member
Catherine Deery / Kieran Deery, Cressabelle Tourist Permit Agent
* More speakers will be announced in the next few days
Register today
* Tickets are FREE, but are limited - registration is required.
Click the REGISTER button to find out more.
Speaker Panel
Stay tuned. Our agenda is being finalised and our speaker panel will be announced in the next few days. Please follow @hon_irish on twitter or Facebook for updates.
Confirmed Speakers and Panelists include:













Frequently Asked Questions
1. When will the event go live?
The event will go live on Friday 12th March 2021 from 12:00 (GMT)
2. Do I need to buy a ticket?
Tickets are free, but are limited and registration is required in advance
3. Will I need to download any software to watch the live stream?
No download is required. We will send you a link 24-48hrs before the event and a reminder 1hr before the event starts on Friday 12th March 2021
4. Can I share the link with family, friends and colleagues?
Yes! Please share the link - we have some fantastic speakers lined up and are looking to reach a local and international audience
5. Is it possible to test the live stream in advance?
Yes – we'll run a test stream before the event starts – you'll be invited to join the stream from 11AM. We will go live 1 hour before conference to test audio and video. Our dedicated support team will also be available via support@switchenwmedia.com if you have any technical queries.
6. How do I register?
Simply click the REGISTER button and don't forget to add your email address. Thanks.
Our Supporters
Media & Sponsorship Opportunities Available
If you would like to sponsor the event please contact: events@irishsociety.co.uk
The Virtual Festival of Game Fishing is kindly supported by: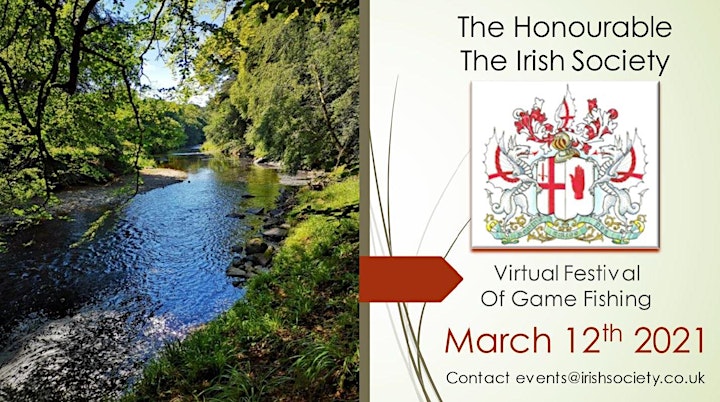 * Video by Andrew McGall at Carnroe on the River Bann
This event is kindly supported by
About The Honourable The Irish Society
The Honourable The Irish Society is an historic property owning charity with extensive fishery ownership in Northern Ireland, particularly on the Lower Bann and Foyle river systems. It uses the income from its fishery and other property assets to give grants to voluntary organisations, projects and groups across Northern Ireland, mainly in the North West and operates on a cross-community basis.
Why we are hosting this exciting event:
The Society normally holds an angling conference/seminar in Coleraine for its local clubs and NI game anglers every other year, but due to the Coronavirus pandemic, its trustees and advisers have decided in 2021 to do something very different.
Our inaugural live-streamed Virtual Festival of Game Fishing on Friday 12th March, will start in the afternoon and continue into the evening, with contributions from fishery scientists, individual anglers, fishing clubs and celebrity figures involved in angling.
There will be live interaction also, with question and answer sessions involving a panel of experts and commentators. Most importantly, we are intending to award several prizes for individuals and clubs on the day, to reward those who contribute most. With the support or our sponsors from commercial, tourist and angling-related businesses we hope to reach a world-wide audience through our combined efforts.
*** Please share this link with fishing friends, colleagues and international anglers ***
http://www.gamefishingfestival.com