Event Information
Location
The Northern School of Art
Via MS Teams
Description
Overview
The Northern School of Art welcomes you to take part in our Live Virtual Open Event, providing an insight into our College-level campus in Middlesbrough.
At Middlesbrough, we offer courses from Level 2 to Level 3 (Diplomas and A-Levels).
We are a creative, collaborative and welcoming community that places our students' learning and safety at the heart of what we do. Students can look forward to working alongside like-minded people with industry-standard kit.
You will learn about our exciting range of courses and the pathways leading towards a career in the creative industries. The Creative Industries have grown every year for more than 20 years and always at a faster rate than the rest of the economy.
Sign-up to this Live Virtual Event to help with your college-making decisions and understand why we are Number 1 for "Learner Satisfaction" in the whole Tees Valley*.
What to expect...
Before the Event
Register your interest using the eventbrite booking link.
We will send you an email closer to the time to with the Live link to take you through to the Live event.
we encourage you to research our website in advance https://northernart.ac.uk. Here you will find a wealth of information about our specialist institution and the courses we offer. Each course page will give you an overview and features student work.
During the Event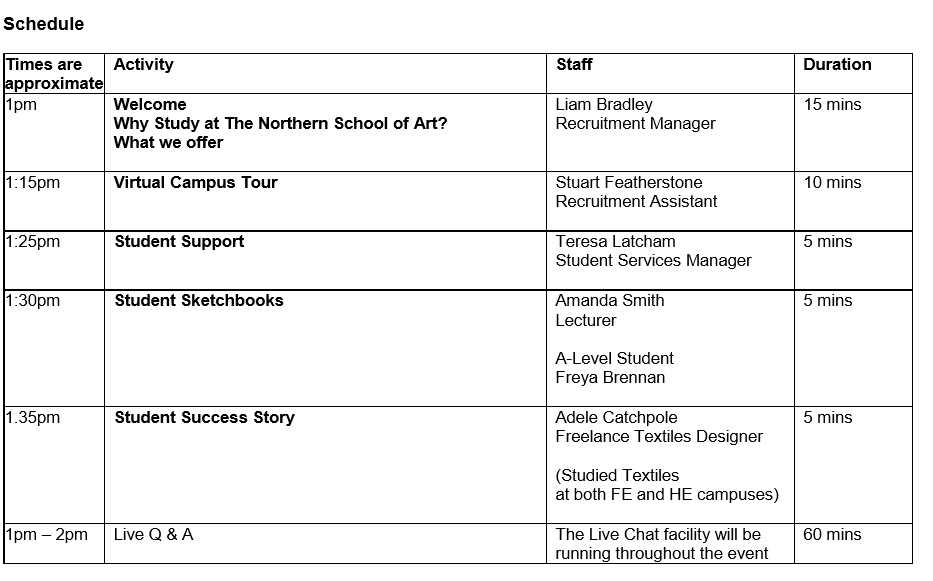 After the Event
We are confident that you will have all your questions answered. If you have registered with your email address, we will use this to keep in touch with you.
If you would like to speak to course staff directly, we can supply you with their contact information on request or arrange for you to speak with them online or on the phone.
We would welcome you to come into the campus in the autumn term to have a look around and get a feel for the place.
We are currently making plans to ensure that the campus is a safe and secure, but still a welcoming environment for you in line with all Government guidelines and social distancing advice.
Visit our website for more information at www.northernart.ac.uk and become part of our lively, gorgeous, creative-rich social media feeds @TheNorthernArt
*The Choices Learner Satisfaction Survey, conducted by the Education Skills Funding Agency (ESFA) 2019, showed the School as the 9th best nationally and number one in the Tees Valley compared to all GFEs and specialist colleges.
Date and time
Location
The Northern School of Art
Via MS Teams