LIVE WEBINAR: Options Trading for Beginners w/ Raj Malhotra & David Perlin...
Event Information
Location
ONLINE
You will be sent the Link and passcode ONE HOUR before the live Webinar
Description

*JOIN ITPM SENOR TRADING MENTORS RAJ MALHOTRA & DAVID PERLIN AT 8PM EST (New York Time) ON TUESDAY SEPTEMBER 10TH FOR THIS WEBINAR. RETAIL TRADERS GLOBALLY WILL BE ABLE TO ACCESS THIS WEBINAR.

*PLEASE REGISTER THE CORRECT TICKET TYPE FOR YOUR ORDER AND ACCURATE CONTACT INFORMATION. IF YOUR DETAILS ARE INCOMPLETE AND / OR SPURIOUS YOU WILL NOT RECEIVE THE LINK TO THE WEBINAR. IF YOUR DETAILS ARE ACCURATE YOU WILL RECIEVE THE WEBINAR LINK 1 HOUR BEFORE THE WEBINAR TO YOUR INBOX. THERE ARE NO REFUNDS FOR THIS EVENT.
Trading Options and knowing how to to trade them properly is extremely important for Retail Traders. This is because through trading Options, Retail Traders get implied leverage to their trade ideas. However, Options are frequently sold by Brokers and Charlatan Educators as a panacea product to Retail Traders who end up getting sucked into overtrading and simply paying the Broker (and the educator) resulting in continuous losses. 75% of listed Options in the U.S. expire worthless and 80% of Retail Options Traders lose money. Coincidence? Not so! Most market participants even professionals don't know how and when to trade Options appropriately and pretty much ALL Retail Traders do not know what they are doing. This is because they simply haven't been taught responsibly and coached by a Professional Options Trader how and when to use Options to their benefit. This is a MAJOR BLINDSPOT for Retail Traders especially in the United States where Options trading is so prevalent. The importance of this can not be overstated!
ON THIS WEBINAR YOU WILL LEARN THE FOLLOWING VALUABLE INFORMATION;-
Webinar Content & Timetable;-
LINK sent to delegates at 7pm EST (New York Time)
8pm EST (New York Time) Start, 9:00pm open questions, 9.30pm Finish.
Misconceptions About Options Trading

Marginal Benefits of Options Trading with Practical Example 1

Risk Rewards Explained Properly

Time Decay, Cost, Liquidity

Timing Options Trades Optimally

Marginal Benefits of Options Trading with Practical Example 2

Volatility

Repeatable Trade Idea Generation Processes
Webinar Speakers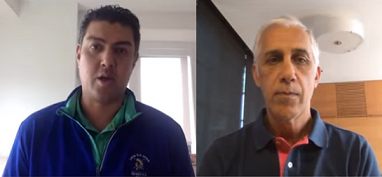 Raj Malhotra - Senior Trading Mentor - Institute of Trading and Portfolio Management
Raj enjoyed a successful thirteen year career as a professional Equity Options trader. Raj graduated with a Bachelor of Science in Economics (BSE) from the Wharton School of Business at the University of Pennsylvania. After graduating, he started his career at BNP Securities in Philadelphia working for the BNP Cooper Neff Hedge Fund. After two years, Raj was asked by the firm to move to New York to trade the S&P 500 Index Options book. S&P 500 options at the time were the most heavily-traded options in the world.
In 2002, he was hired away by Bank of America Securities, embarking on what was to become a successful fast track seven year stint at the firm. In addition to trading index options, Raj was promoted to Head of Institutional Options Trading, trading with and covering the world's largest and most successful Hedge Funds. He was also promoted to Managing Director before the age of 30.
In 2009, Raj left Bank of America Securities to join Nomura Securities in a similar role, helping to spearhead Nomura Securities rollout of their US business, until retirement at the end of 2011.
Raj's role at the Institute involves Mentoring Institute Traders on the official Institute Mentoring Programme after students have graduated from completing the Professional Trading Masterclass (PTM) Video Series and the Professional FOREX Trading Masterclass (PFTM) Video Series, helping them to realise their objectives in becoming consistently profitable long-term and to help build their track records. Raj also helps manage the Institute's global portfolio in allocating capital to profitable students/traders.
Raj currently mentors mostly US and Canadian-based Institute Traders and only has capacity for a few international students each quarter.
David Perlin - Senior Trading Mentor - Institute of Trading and Portfolio Management
David has enjoyed a successful 35-year career on Wall Street on the buy side and the sell side – including as Goldman Sachs' MD and as a Hedge Fund Head Trader – where he had a front-row seat to the historic secular bull market while participating in all of the financial shocks and corrections of the modern financial markets age.
David graduated from New York University (NYU) with combined Business Studies and Finance degrees plus an MBA certification in the late 80s and began his career as a trading clerk on the New York Stock Exchange.
He joined the Program Trading desk at First Boston (predecessor to Credit Suisse) as an active client portfolio seller in the Stock Market Crash of 1987, moving to the US Institutional Desk to begin his sales-trading career where he made his reputation after a classic value investing client became the buyer of choice for financial stocks during the Savings and Loans Crisis of the early 90s. At a young age, David was regularly trading some of the largest institutional blocks of bank stocks on Wall Street.
That early success attracted the attention of several renowned firms, and in 1994 David was recruited by Goldman Sachs to become a Senior Sales Trader in their US Shares business in New York. David was charged with covering some of the largest and most complex institutions that Goldman covered including Hedge Funds, global Investment Management companies and pension funds.
In the late 90s, Goldman Sachs asked him to manage the International Equity Sales and Trading effort in the Americas, where he arrived at the start of the Asian Currency Crisis, continuing to cover large clients in addition to his managerial role. It was from this 'player-coach' position that David developed his advanced mentoring skills. He takes great pride in seeing many of his mentees now leading trading desks on both the buy and sell side today.
In 2000, David was named a Managing Director and led the Goldman Sachs International Equity business to a $200 million revenue year.
In 2004, he retired from Goldman Sachs to help form Keel Capital, a global Long-Short Equity Hedge Fund, where he served as Head Trader and Risk Manager. Keel managed $250 million of institutional assets within a year of formation. Keel returned its capital to its investors in 2007 and David returned to the sell-side for leadership roles at Morgan Stanley and HSBC.
In 2012, he moved with his family to Washington, DC and re-joined Goldman Sachs in their Investment Management Division, advising Ultra High Net Worth families globally on their investable wealth.
In 2017 David left Goldman Sachs to set up his own Investment Management Firm Pearl Investments and joined the Institute of Trading and Portfolio Management as a Senior Trading Mentor. David's role at the Institute involves Mentoring Institute Traders on the official Institute Mentoring Programme helping them to realise their objectives in becoming consistently profitable long-term and to help build their track records. David also helps manage the Institute's global portfolio in allocating capital to profitable students/traders.
ITPM Background
The Institute of Trading and Portfolio Management was established to educate, inform and coach Retail Traders & Investors how to take a more Professional approach to Trading and Investing in the Financial Markets. We deliver the highest level of Trading and Portfolio Management education available to the Retail Trader / Investor globally, utilising teaching methods that everyone can understand and deploy themselves. We manage a global Portfolio ourselves and manage a community of Retail Traders and Investors, that connect with eachother and support eachother. We provide our community with a favourable infrastructure that allows each individual to reach their full potential. Additionally, we invest in our best performing students / traders and we also place some of our best traders into Professional Trading employment with Hedge Funds and Investment Banks.
Typically we have three types of delegates that attend our seminars and then join the Institute;-
1. Delegates currently trading with their own money who have struggled to make consistent Returns on their Capital.
2. Delegates who want to start trading with their own savings and seek a higher level Professional Trading & Investing education Vs what is available elsewhere.
3. Delegates who are looking to enter the Professional world of Trading and Investing via Hedge Funds and Investment Banks.
You do not need any prior experience in Trading and Portfolio Management to attend one of our seminars. All you require is a basic level of common sense and arithmetic ability.
At the Institute you will be taught everything you need to know from basic to more advanced techniques. Our approach is challenging both to a beginner and more experienced traders. The professional trader approach is like nothing you have ever seen before. This is because it is simply not taught to the Retail Trader market and is usually only reserved for professional traders.
For background information on Institute Trading Education Click Here
For more information on ALL upcoming Institute seminars Click Here
To visit the Institute website and experience all that we do Click Here
We look forward to seeing you there !!!
Date and Time
Location
ONLINE
You will be sent the Link and passcode ONE HOUR before the live Webinar
Refund Policy