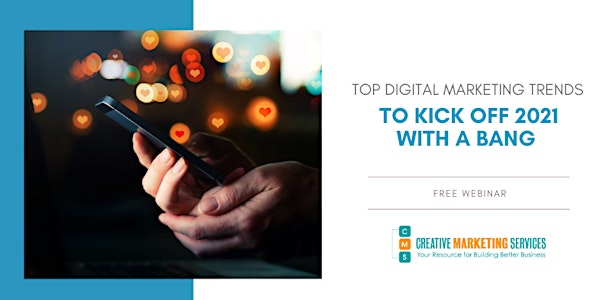 Live Webinar: Top Digital Marketing Trends to Kick Off 2021 with a Bang
Learn how to get an edge over your competition & generate more quality leads.
About this event
2020 has been a challenging time for small businesses and it's predicted that Digital Marketing will continue to see steady growth in 2021. Discover how you can jump on the latest digital marketing trends to get an edge over your competition & generate more quality leads.
In this informative webinar, we'll explore the latest trends and provide some simple ideas for incorporating them into your overall marketing strategy. Our webinar will also cover how to provide a seamless user experience across all channels relevant to your customer's journey by utilizing an omnichannel marketing strategy. Leave with actionable items to help you reach your 2021 business goals!
This webinar will cover:
Omnichannel Marketing Strategy
Website Optimization
Social Media Ads
Google AdWords
SEO
Google Analytics
Cost-effective Resources to Track R.O.I.
Case Studies
Presenter:
Victoria Byrne is the founder of Creative Marketing Services, LLC. She has worked in corporate as well as small business marketing for over 18 years, helping her clients achieve optimal results through a combination of creative and cost-effective marketing initiatives. Victoria is a Certified Constant Contact Solution Provider & All-Star Email Marketing Award Winner and regularly speaks at educational seminars & webinars where she shares tips and advice on a variety of digital marketing methods.
Host:
This webinar is hosted by SCORE Orange County. The Orange County chapter of SCORE, Chapter 114, is comprised of over 100 volunteer mentors who leverage their expertise to help start and grow small businesses. In the recent fiscal year, Orange County SCORE volunteers personally held more than 5,400 sessions with entrepreneurs and educated over 6,600 people in 300 workshops. An independent study concluded that in 2017, Orange County SCORE helped start 359 new businesses and create 1,171 new jobs.