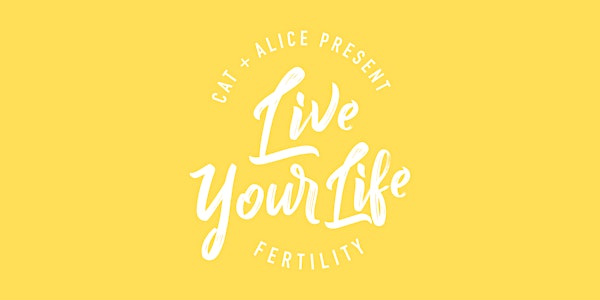 Live Your Life: Fertility
Location
The Listing
27 Bush Lane
London
EC4R 0AA
United Kingdom
Sales Have Ended
Ticket sales have ended
Thanks so much for booking your ticket! We're really looking forward to meeting you! If you have any questions in the meantime please drop us a line at hello@catandalice.com! Much love, Cat + Alice xxx
Trying to conceive can take over your life but we are here to remind you: you are so much more than your fertility journey!
About this event
SUPPORTED BUD FERTILITY SUPPLEMENTS
PRESENT
LIVE YOUR LIFE: FERTILITY
When you're trying to get pregnant and you can't, or you've experienced loss, it's so easy to lose sight of who you are; what brings you joy and how to even communicate with friends or family who don't understand what you're going through.
"I loved the general feel of the day... I've never been to anything quite like it. To be surrounded by people who just Get It was so powerful and uplifting. Thank you so much Cat and Alice, it was incredible ❤"
Live Your Life is a full day event at a beautiful, central London venue to help you connect back to you. It gives you the opportunity to find your way through your own fertility story so you can take empowered action; make conscious decisions but crucially and above all, to actually enjoy your life while you go through one of the hardest experiences in the world.​
This isn't your usual fertility event. Whilst there will be health and wellbeing experts and people talking about their own experiences, as a rule there won't be medical professionals there telling you why fertility treatment works.
The whole day is designed around your life outside treatment (or if you're trying naturally) because we believe the happier you are in life, the stronger you will be to face your journey to become a parent, however it looks. Our line up changes for each event but whoever is there on the day will leave you feeling inspired, uplifted and supported.
"I loved every minute of the day, from the personal welcome we received from Cat and Alice themselves, to the talks, opportunity to chat to other attendees and the delicious lunch. I found it so useful to hear from others going through the same things as me. The whole day really made me feel less alone. Well done on organising it - you did a brilliant job."
Our aim is to inject a bit of positive, warm energy into your life so you end up excited, motivated, supported and ready to get back to living your life in the way you want to live it, whatever is happening in your path to parenthood.
"I was nervous about coming and whether I would fit in. But I was so so desperate to find other people that I could then talk to over insta and I did! I also felt empowered to talk to my employers about putting a fertility policy in place and also thinking of how we could get a support/meet up group going in Guernsey. Thank you so so much for organising - You really are making such a difference!"
What will happen on the day?
- Talks
- Workshops
- Panel Discussion
- Special guests and Q&A
- Insta-Live (not compulsory if you want to stay anonymous!)
- Refreshments
- Fertility-nutritionist approved lunch
- Goody bags sponsored by Fertilibox
- A stunning location - exclusively booked just for us
"I genuinely thought the format was totally perfect it was clear so much thought had gone into it.Having just started stims for my second round it was definitely the right timing for me to hear the information... Cat and Alice did a fab job presenting and hosting the day; felt so at ease and it was enjoyable as well as informative"
Who are Cat + Alice?
With nearly 10 years of infertility experience between us, we are active members of the #ttc (trying to conceive) community on Instagram. We have hosted our own events and thought it was time for a bespoke, full day, to bring to life a digital movement where people are coming together and finding solidarity online.
Alice is a podcaster, (Fertility Life Raft) and runs a campaign: 'Think! What Not to Say'. She is on a mission to empower people through her Insta, FB groups, live videos, 10 day online course and of course with her fertility partner in crime CAT! She is passionate about helping people to reclaim their lives, so often torn apart or unrecognisable because of fertility struggles; and educating the wider world - to help make that happen- after transforming her own experience during 11 rounds of treatment. She is an IVF Mum to a 2-year-old diva called Matilda.
Cat, aka @tryingyears, supports the TTC community whilst experiencing her own journey which has sadly included pregnancy loss. She hosts regular "Instalives", covering both TTC and Pregnancy after infertility support - you can also listen to her podcast Finally Pregnant - and sometimes including guests for her #EveryStoryMatters focus in which she encourages people to share and hear others' stories to help them understand experiences they might face in the future and to help us all better advocate for each other in the wider community, to help break the silence. After 6 years TTC, following her 4th fresh round of IVF Cat is currently getting to know her new daughter, born June 2019.
Notes:
Anyone is welcome, whether you've been trying for 6 months or 6 years; currently pregnant and feeling anxious after a fertility struggle, or if you're already a Mum or Dad (with a child in your arms or not) battling secondary infertility. This is going to be a safe, inclusive, warm space for all of us to better understand each other and connect.
We've chosen to make this event just for women. (We love men. We really do! They need just as much support and we are working on ideas for how to make this happen. In the meantime, this one's for the ladies.)
It will be appropriate for you wherever you are on the journey so if you do get some happy news, or even some very difficult news in the time between buying a ticket and coming to the event, it will still be a relevant and supportive environment for you, with plenty of people who will have been where you are right now.
The venue is wheelchair friendly.
There will be a donation to charities supporting men and women through fertility treatment and pregnancy loss for each ticket sold plus a raffle on the day.
REFUNDS
We know you can't always predict what will happen when you're on a fertility journey, so if you need to, you can get a full money back refund as long as you let us know 7 days before the event.
OUR LAST EVENT SOLD OUT WITHIN HOURS: GRAB YOUR TICKET TODAY!!
"soooooo pleased I snagged a ticket. I have raved about it ever since and seriously hope I can get myself a ticket for future events."
"WHEN'S THE NEXT ONE!!!"