Description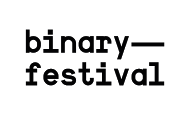 Come and join us on Thursday, 22 March 2018 for the second Liverpool Binary Festival!
Binary Festival is a gathering and celebration of communities of innovators, inventors, leaders, makers and creators of our future. Established in 2016 out of Liverpool's Baltic Triangle, the Liverpool Binary Festival will put the city's exciting, blossoming digital community centre stage.
The packed schedule will include 2 sessions of keynote presentations, a selection of interactive Gatherings to choose from, plus a fab social event to wrap up the day in the style. See below for more info on the Gatherings!
With thanks to our partners, Bruntwood, Baltic Creative and Liverpool City Council. We all look forward to seeing you there.
Herb Kim and the Binary Festival Team
Gatherings
An intelligently Artifical World
Thursday, 22 March: 2:30pm

Hinterlands, Northern Lights, Cains Brewery Village, Liverpool L8 5AF
An Intelligently Artificial World: Join a selection of the BIMA Ai Think Tank as they discuss Solving full stack industry problems using subject-matter expertise, unique data, and Ai to deliver products that help us survive the changes of an ever-changing world.

Join Pete Trainor, Author of the Human Focused Digital book & chair of the BIMA Ai Think Tank, and Lydia Gregory, Co-founder of Feed Forward, an Artificial Intelligence Consultancy, who will both deliver a short keynote, alongside a range of very special industry guests to discuss, debate, debunk and demystify Ai

The Future of Mobile hosted by WE ARE MOBILE
Thursday, 22 March: 2:30pm
Constellations, 35-39 Greenland Street, Liverpool, L1 0BS
Welcome to 'The Future of Mobile' hosted by the team at WE ARE MOBILE, who are launching at Binary Festival with this insightful gathering.
We will explore in part the amazing innovations in the mobile space today and what will be happening in the future with some exclusive insight by some of the biggest brands in the world. Speakers and hosts to be confirmed very soon.
Where There's Tea There's Hope
Thursday, 22 March: 2:30pm
One Fine Day, Old Hall Street, Liverpool, L3 9BS
A brief introduction to the wonderful world of tea. Learn about the different varieties we have from around the globe, our award-winning blends, and the potential health benefits of tea. You will also sample a selection of our extensive collection.
How to Grow Your YouTube Channel
Thursday, 22 March: 2:00pm
Creative space, Baltic creative, 49 Jamaica Street, Liverpool, L1 0AH
Join Christian Hughes, Co-Founder of kids' YouTube Channel Toddler Fun Learning and learn how he grew a simple idea into a channel that has now had over 200 million views worldwide. Ever wondered if you can make a living off YouTube or fancied becoming a professional vlogger? This gathering is for people who want to grow their business or personal YouTube channels and will practically look at how you can harness the power of YouTube for maximum effect.
Damsels and Dragons: Combine Storytelling with PowerPoint Secrets to Create the Ultimate Presentation.
Thursday, 22 March: 2:30pm
The Old Hall, The Cotton Exchange Bldg, Old Hall St, Bixteth St, Liverpool L3 9JR
This Gathering will explore the power of storytelling. Presentations full of dry data can result in the dreaded Death By Powerpoint. But when you know how to frame it into a captivating narrative, people sit up and notice. Attendees will learn how to identify their own key messages and craft them into compelling stories to engage their audience.
Studio School Tours
Thursday, 22 March: Various times from 2:30pm
The Studio School, 41 Greenland St, Liverpool L1 0BS
Join the team for a guided tour of The Studio. Now in its fifth year, the school has already established itself as a popular choice for students across Merseyside who are creative, entrepreneurial and passionate about technology.
XR and Us - How Immersive Tech Will Change Our World
Thursday, 22 March: 3:00pm
Draw & Code, 24 Hardman St, Liverpool L1 9AX
Draw & Code have been working with XR for the best part of a decade - for Binary Festival we are bringing our expert network together to look at the impact this tech will have. With a panel of XR experts in our studio, Skype calls to connect the audience with Silicon Valley pioneers and the opportunity to see this tech for yourself, XR and Us will be an insightful and inspiring gathering to get you thinking about how immersive tech will impact on you.
SOLD OUT: OH Create - with Emily Bartlett -
Thursday, 22 March: 2:00pm
Northern Lights, Cains Brewery Village, Liverpool, L8 5SD
OH will be collaborating with leading local artist, Emily Bartlett to bring you a two-hour session filled with creativity, paint, and play. You'll hear from Emily on what inspires her work and the process she goes through, followed by an interactive workshop where you'll get the chance to put paint to canvas and create your own piece of art. Leave your worries at the door if you think you're 'not creative enough' or you 'can't draw'... It's time to rekindle your love of making.
Wine Tasting Masterclass
Thursday, 22 March: 2:30pm
Fazenda, Exchange Flags, Horton House, Exchange Street East, Liverpool L2 3PG
This gathering will offer an expert wine tasting masterclass, hosted by Julia Coutinho Huf at Fazenda in Liverpool. Julia will introduce their sommeliers who will guide you through a masterclass of how they pair wines with their menus.
Photo credit: Pete Carr
REFUND POLICY
If you're unable to attend Binary Festival 2018 we grant:
* 100% refund minus £10 admin fee until 8 Feb 2018
* No refunds after 9 Feb 2018
* Name changes permitted until 8 Mar 2018