Description
Liverpool City Region's Digital and Creative industries employ over 20,000 people across more than 3500 businesses. Whilst small to medium-sized business are the lifeblood of the entire UK economy, the Digital and Creative industries are particularly dependent on the outcomes of SMEs. Maximising the opportunities available for businesses to grow within the sector is more important than ever at this time of great economic change and the Digital Summit is the foremost opportunity to bring together the key stakeholders involved in this process locally.
This year's Digital Summit will build on the success of the event held in 2017 at Shop Direct, where the best and brightest of Liverpool City Region's Digital and Creative industries came together with other key stakeholders to map out solutions to key challenges within the sector.
We hope that you are able to attend and join us in celebrating the successes we have had to date and to work collaboratively with us in eliminating the barriers which could prevent the businesses of our region from competing on the global technological stage.
Who is the Digital Summit for?
This event is for SMEs within the digital and creative sector in Liverpool City Region. Please note, we will be prioritising places at the event for these delegates.
Please note: we will initially be limiting registrations to two people per company/organisation.
Programme
10:00am Arrival & Registration - Networking, Exhibitor Showcase & Refreshments
10.30am Welcome and Introductions
Welcome Address: Cllr Phil Davies, Portfolio Lead for Inclusive Growth, Economic Development, Digital and Innovation
LCR Digital Summit - An update from 2017: Paul Corcoran, Co-chair, Liverpool City Region Digital & Creative Board
11:00am LCR: Get Activated
Introduced by Professor Paulo Lisboa, Liverpool John Moores University followed by 8 x fast-paced pitches from LCR businesses.
11:45am: Panel Discussions
Growing your Tech Business in the LCR
Financing your Growing Business
12:45pm: Lunch - Networking & Exhibitor Showcase
1:45pm Welcome Back
Liverpool City Region - Our Ambition: Steve Rotheram, Liverpool City Region Metro Mayor
2:00pm LCR - The UK's Leading 5G Testbed
Ann Williams, Commissioning and Contract Manager, Liverpool City Council
2:20pm Narrowband IoT: Opportunities in Liverpool and beyond…
Daniel Winn, Head of IOT in the UK, Vodafone

2:45pm Keynote Address
Priya Lakhani OBE, CEO of CENTURY Tech, the platform for artificial intelligence, machine learning and advanced data science in education
3:15pm In Conversation with FaceBook
Vanessa Bakewell, Entertainment Vertical Lead: Talentism is the new capitalism: Inspiring and retaining our next generation of talent through digital skills, Chaired by Dawn Paine, Co-Founder The Extraordinary Club
3:45pm Audience Poll
4:00pm Summary and Next Steps
4:00pm - 6:00pm Networking and Drinks Reception - sponsored by Barclays Eagle Labs
Technical workshops
We will be running 2 technical workshops and a show and tell session from 9am - 10am before the main event begins. These will provide practical assistance as to how Liverpool City Region's digital and creative companies can get to grips with emerging technology.
You can find out more about the workshops and register to attend by clicking here.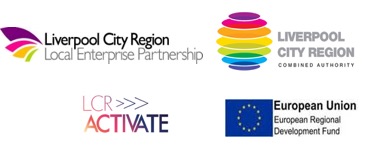 Event Sponsors