Description
Liverpool Loves Business is Back! - Kindly Sponsored by MSB Solicitors
Welcome to this year's edition of Liverpool's largest independent SME conference. There were over 600 of you lovely lot in attendance last year and this has grown to become one of the highlights in the year-long business calendar in the Liverpool City Region - that's all down to you.
And what a fantastic programme we have lined up once again - with an exciting range of keynote speakers like Google Digital Garage, Paul Bibby (MSB) and Gavin Sherratt (Mashbo); quick-fire skill developing sessions from The Sales Dojo & Professional Liverpool and lots of valuable networking opportunties on offer.
You're going to need a good breakfast and a strong cup of coffee to fuel those business brains! So arrive promptly at 9am for some complimentary bacon butties, hot drinks and juices.
---
This year's theme is "Dealing with the Art of Sales" and it does exactly what it says on the tin - we want you to refine your sales ability by taking note of some expert advice in all aspects of winning and retaining business.
Whether you're an entrepreneur just starting up; an experienced business owner growing your operation, or an established industry leader that's been there and done it before - you're never done learning and so we urge you to come along be inspired to seal that next deal in style!
Learn about expanding your networks and building better client and consumer relationships

Find out how to maximise your revenue by being time and work-efficient

Discover tricks and tips for refining a knock-out sales strategy
---
Full 2017 programme...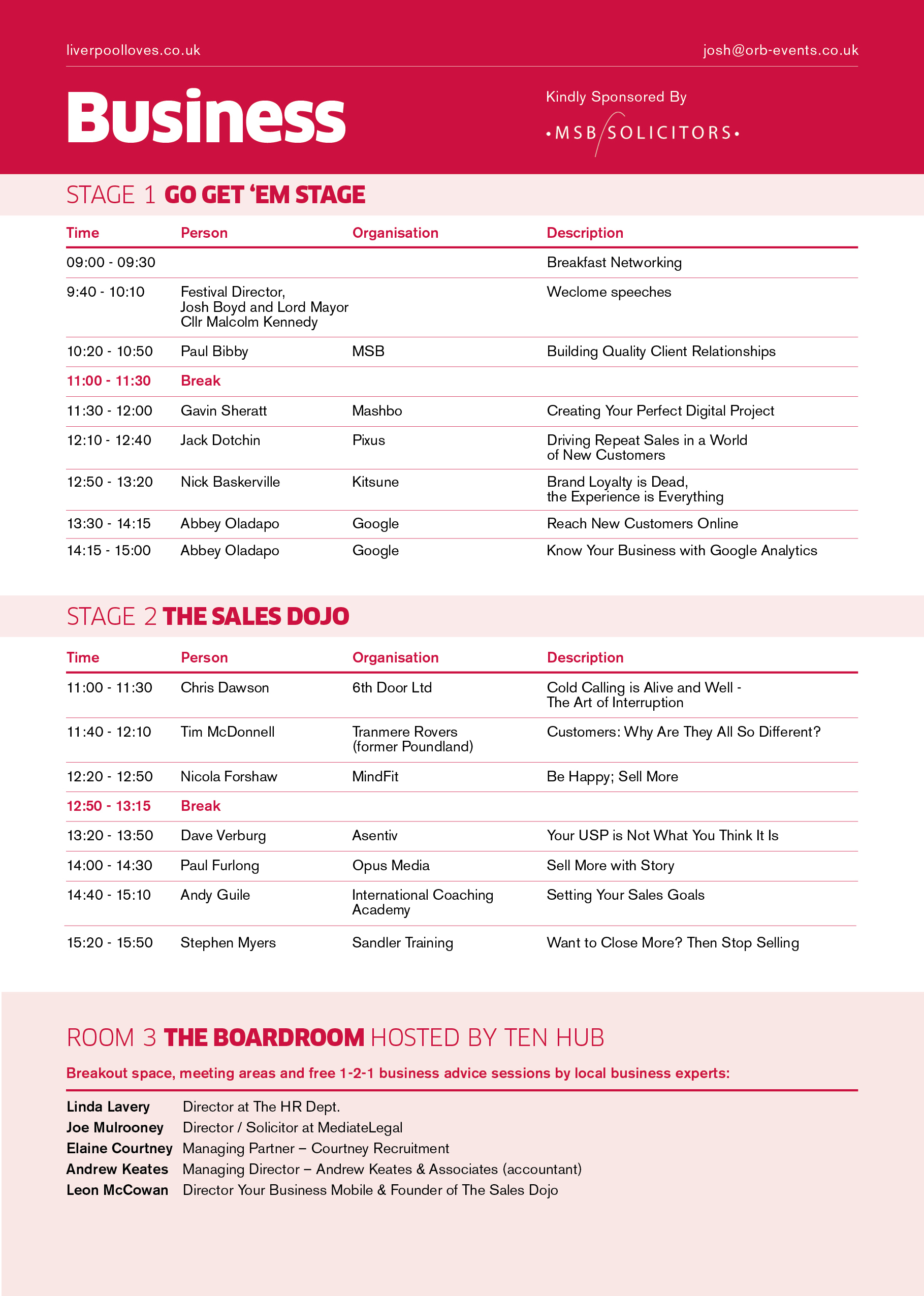 ---
For enquiries about sponsorship or to register your interest in exhibiting at this event please contact info@liverpoolloves.co.uk for more information - or call 0151 707 0965