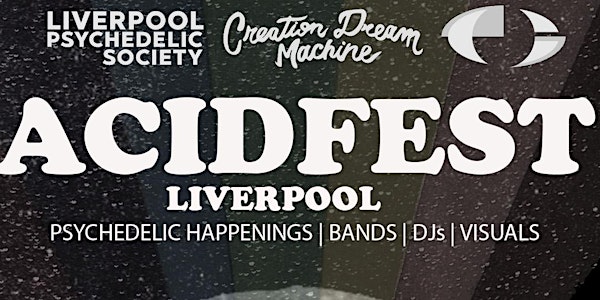 Liverpool Psychedelic Society & Creation Dream Machine ACIDFEST Liverpool
Location
Carnival Brewing Company
Gibraltar Row
Liverpool
L3 7HJ
United Kingdom
Psychedelic music festival in Liverpool, organised by the Liverpool Psychedelic Society and Creation Dream Machine
About this event
ACIDFEST is a 2-day psychedelic happening organised by Liverpool Psychedelic Society (UK) and Creation Dream Machine (from Los Angeles). This is a truly unique get-together of artists featuring live music, DJ sets, film, trippy visuals, jam sessions and photo exhibition.
After launching ACIDFEST in Iceland (May 2022) we now bring it to Liverpool, for two all-dayers packed with great music and psychedelic vibes. Weekend tickets are £15 adv (Sat & Sun admission), or £10 OTD for either day (limited-availability)
SCHEDULE:
SATURDAY 18th JUNE
2pm: DJ set
3pm: Psychedelic Jam Session
3:45pm: Texas Bob Juarez's Sparkle Stars
4:30pm: Dominoes
5:15pm: The Dirt
6pm: Men On The Border
6:45pm: Feral Wheel
7:30pm: Pete Bassman
8:15pm: Bedroom Vacation
9pm: Mincemeat
9:45pm: The Head-Up Displays
10:30pm: Thee Lucifer Sams
11:15pm: Esa Shields
12am-late: DJs (Jimmy Sweet, Howard be Thy Name)
SUNDAY 19th JUNE
12pm: DJ set & Visuals
1pm: psychedelic jam session
2pm: Ivan Thunders solo
2:45pm: The Music of Television Personalities
3:30pm: Birrell or Biscuit
4:15pm: Tablets
5pm: Little Illusion Machine
5:45pm: Dead Animals
6:30pm: Dreampark
7:15pm: Big Smile Revival
8pm: Sawel Underground
8:45pm: Blue Eyed Crows
9:30pm: Torture and The Desert Spiders
PLUS:
Ian Barrett Art & Jurassic Jewellery
Desert Island Dumplings food
Brion Gysin Dream-Machine
Psychedelic Jam Sessions on both days... arrive early!
-------
"We have to create culture, don't watch TV, don't read magazines, don't even listen to NPR. Create your own roadshow. " - Terence McKenna
CREATE YOUR OWN CULTURE