Liverpool Psychedelic Society: Thee Lucifer Sams, SnakesDon'tBelongInAlaska
The Liverpool Psychedelic Society is a series of psych happenings with live music and psychedelic visuals, organised by Thee Lucifer Sams
About this event
Join us for the second of our monthly Liverpool Psychedelic Society residencies at the Dulcimer, in Chorlton.
The Liverpool Psychedelic Society is a series of live music and club night events hosted by Liverpool's Thee Lucifer Sams. It started in Liverpool but has expanded to Manchester, Leeds, London and even other distant places such as Saigon, Vietnam and Tangiers, Morocco, featuring live music, DJ's playlist full of great psych tracks, and film projections and psychedelic visuals creating an unique atmosphere.
For the first event in Chorlton, Thee Lucifer Sams are joined by Snakes Don't Belong In Alaska and Chorlton's XUP.
Expect an evening full of unique psychedelic musical delights. A real psychedelic experience...
LINKS:
https://www.facebook.com/groups/liverpoolpsychedelicsociety
https://www.facebook.com/theelucifersams
https://www.instagram.com/theelucifersams/
https://www.facebook.com/SDBIA
https://www.facebook.com/xupmusic
----
"We have to create culture, don't watch TV, don't read magazines, don't even listen to NPR. Create your own roadshow. " - Terence McKenna
CREATE YOUR OWN CULTURE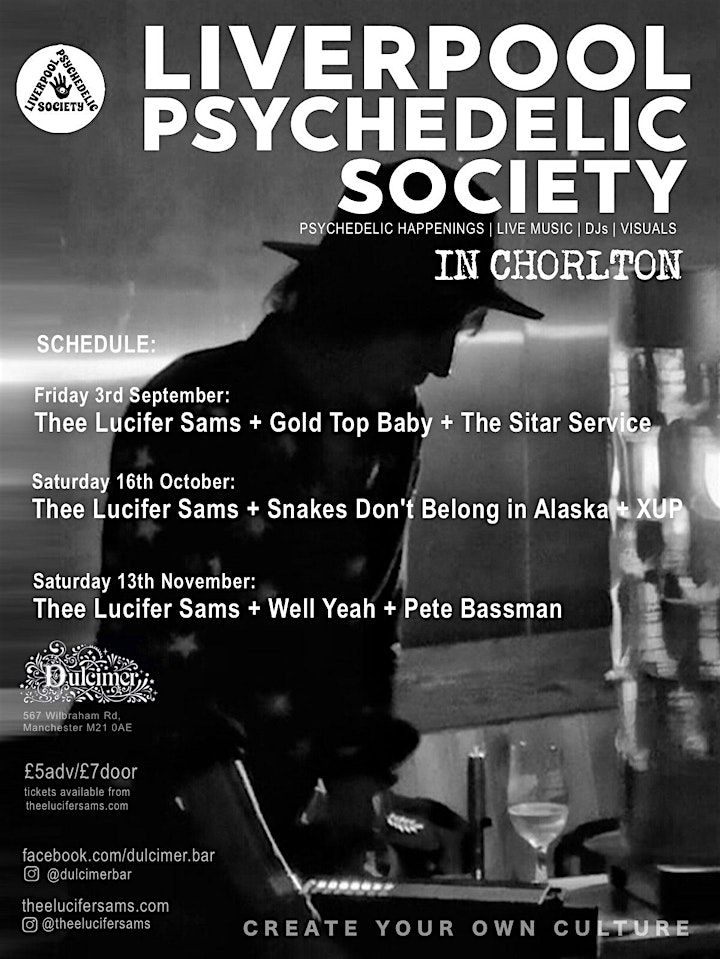 Organiser of Liverpool Psychedelic Society: Thee Lucifer Sams, SnakesDon'tBelongInAlaska