Living Creatively Advanced Course | Expression of interest | Trainers: Sophie Sabbage & Elaine Alpert

Thursday, 7 June 2018 from 18:00 to 18:30 (BST)
Event Details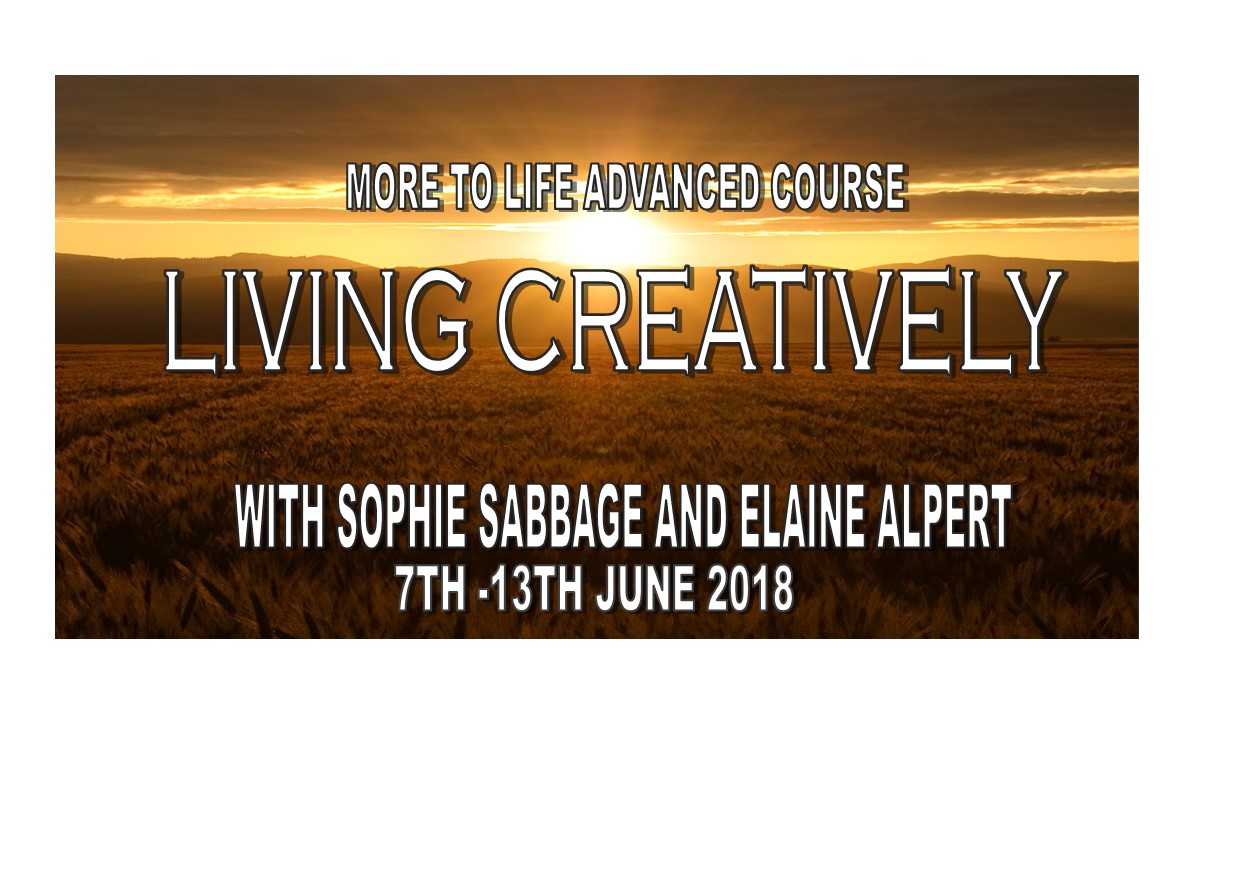 The Asha Centre, Gloucestershire, UK

Thursday 7th - Wednesday 13th June 2018 
(arrive Thursday afternoon and travel home after breakfast on Wednesday) 
Living Creatively… a 5-day More To Life Advanced Course held in the beautiful heart of the Forest of Dean, Gloucestershire, UK.
We'll be working with two deeply skilled Senior Trainers, Sophie Sabbage (UK) and Elaine Alpert (US), engaging wholeheartedly with the creative force of Life Itself.
Have you ever held yourself as not the creative type? Or do you know yourself to be quite creative but wish you could find a way to purposefully channel this powerful energy to reflect more of who you really are?
Is Life nudging you, or even ushering you to respond to its Call?
Living Creatively is an opportunity to unleash what you may only suspect is residing within you—to dismantle sabotaging blocks and open to the ever-morphing creative process, where you are free to play, innovate, and collaborate in inspiring ways.  

We will distinguish creativity from chaos and expand our experience of true creativity in a variety of ways. Together we will work and play in a community of deliberate practice, inspired by energy that seems to flow through us from Someplace Else.
We will have time to connect with each other as we:
Awaken and stretch

our physical bodies each morning

Enjoy delicious meals prepared specially for us

Still the mind

with daily meditative practice

 

Allow ourselves to powerfully source and be sourced
Experience more aliveness and freedom through intentional personal and group work
Learn how to activate the creative process within our daily lives

Return home with clarity, focus and more ease
Join Elaine and Sophie this June for an immersion into your uniquely creative being!  
Please complete the expression of interest form, and one of our team will be in touch with you.

When & Where

The Asha Centre
Gunn Mill House,
Lower Spout Lane, Flaxley,
GL17 0EA Flaxley, Mitcheldean
United Kingdom


Thursday, 7 June 2018 from 18:00 to 18:30 (BST)
Add to my calendar
Organiser
Whether we realise it or not, each of us is part of a social network without limits. We affect others in our families, our neighbourhoods, and our workplace. Many of us have roles that constantly put us in touch with others. And the impact we have on them affects the way they influence the people in their own lives.
The More To Life Programme exists to help you access your best personal qualities on a daily basis: to be more authentic, caring and real, to share and express yourself more fully, and partner more creatively. Above all, it helps you respond to the challenges that confront you in a way that really makes a difference, instead of repeating the automatic behaviour you have come up with so many times in the past.
Its goal is to contribute to the transformation of the world around us, one person at a time, and its process tools are designed to be used by you, in your own life, in any way you want to apply them. Process tools cannot change the world. But people, living their lives at their creative best, can and do.