Description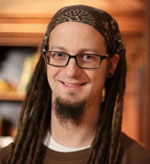 A Red Letter Seminar for the member organisations and associates of the Mosaic Justice Network, and invited fellow-activist friends, with co-founder of Red Letter Christians, Shane Claiborne. The aim is to generate together a distinctively different space to really engage, meaningfully, totally, conversationally, creatively. We will hear from Shane and have the chance to ask questions and interact in a café-style environment. The hope is that we will leave inspired and renewed in our efforts to be shalom-bringing salt and light in our communities and city, for Jesus and justice.
The event is part of a day in Manchester with Shane who is touring a number of cities with Dr Tony Campolo to launch Red Letter Christians UK. Participants are invited to stay on for a Red Letter Action held in nearby Piccadilly Gardens between 3-5pm. 'Redeeming Piccadilly Gardens' will be an afternoon of Christian activism as we seek to gather, pray, and tangibly redeem the space as the hub that welcomes ALL at the centre of our great city. More info and booking here.

In the evening there will be a Red Letter Living event with Tony and Shane that will bring young people together and amplify local voices for Jesus and justice, to call out a new generation of change makers. At 'An Evening of Jesus and Justice' we will gather to launch the Red Letter Christians UK movement, hear stories of local activism, and get inspried by Shane Claiborne. More info and booking here.

Organiser of Living for Jesus and Justice
Connecting Christian Social Action Across Greater Manchester.
We are a collective of organisations working on social action, sharing information and initiating new ideas, solutions and partnerships together.