LIVING GALLERIES - A real-time shared interactive virtual art exhibition, featuring emerging artists across the UK.
About this event
Tickets are now closed, however we have some limited spaces remaining! Please email: events@curate42.com
Living Galleries is a free collaborative exhibition, in a unique 3D virtual art environment, bringing together mostly emerging artists across a multitude of styles, and art lovers from across the world. We have artist representation from the UK, Canada and Australia.
Walk through our unique online art gallery from the comfort of your own home, as you would do in the real world. You will view amazing new pieces, and talk to the artists and guests in real-time using free-roaming video chat. There will also be opportunities to purchase pieces, and meet others who share the same passion for art as you.
Confirmed Artists
Allisyn James
Amanda Ames
Circe Teasdale
Graham Ruddick
Janet Baker
Javier Garcia
John Horsley
Robert Craven
Rob Bonn
Ron Creevey
Sam Barnett
Sharon O'Connell
Are you an artist and want to exhibit your work at Living Galleries? Apply here
Are you a Gallery Owner and want to be invited to Living Galleries Preview? Email: events@curate42.com
Who We Are
We at Curate42 help develop technology and services to navigate the metaverse, interactive digital experiences, and physical digital experiences.
Using our curated VRooms, we generate authentic real life mingling and conversations in a shapeable world.
https://www.curate42.com/virtual-rooms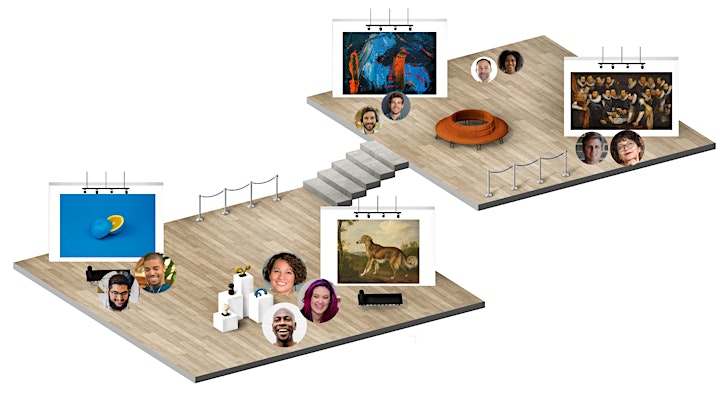 Organiser of Living Galleries - Virtual Interactive Art Exhibition