Living Histories: Conversations About Radical African British Histories
Sales Have Ended
Ticket sales have ended
We look forward to meeting you. Don't bother printing ticket(s). Name(s) will be on the register by door
Sales Have Ended
Ticket sales have ended
We look forward to meeting you. Don't bother printing ticket(s). Name(s) will be on the register by door
Description
Living Histories: Conversations About Radical African British Histories
If you can't point to more than one African-led Civil Rights activism or Black Power movements in Britain, then you should book to attend! Learn quite a bit of the other British history in one afternoon!!

Whilst we look to the US in marking the 50th anniversary of the Black Panther Party, this session focuses attention on the UK. Through videos and first hand accounts, we'll provide a narrative that speaks to Britain's experience from the 1960s, covering the Bristol Bus Boycott, Black Power, Civil Rights Activism, Supplementary School and Parent Movements, Black Peoples' Day Of Action, Anti-Sus Law campaign, Radical Groups such as the Black Panther Movement, and services such as the Black People's Information Centre, Oval 4 and Mangrove 9 court cases and campaigns, Ras Seymour Maclean's Book Liberation, Reggae Music as a means of resistance, etc.
More information or.to book: www.bitly.com/RadABHis
After the recent Living Histories session with former Black Panther Movement member and doctor Altheia Jones-Lecointe, history consultant Kwaku will be in conversation with activists, teasing out the little-known experiences of those who've been part of the African British radical history narrative.
More details to follow. You can click to be kept informed of developments
Please note: there is a £5 non-refundable charge (£8 at the door, subject to availability)

This event will be video-ed and and photographs taken - attending implies giving permission to be recorded or photographed
No videoing allowedc with prior permission by the organisers
There will be a small selection of books & DVDs on sale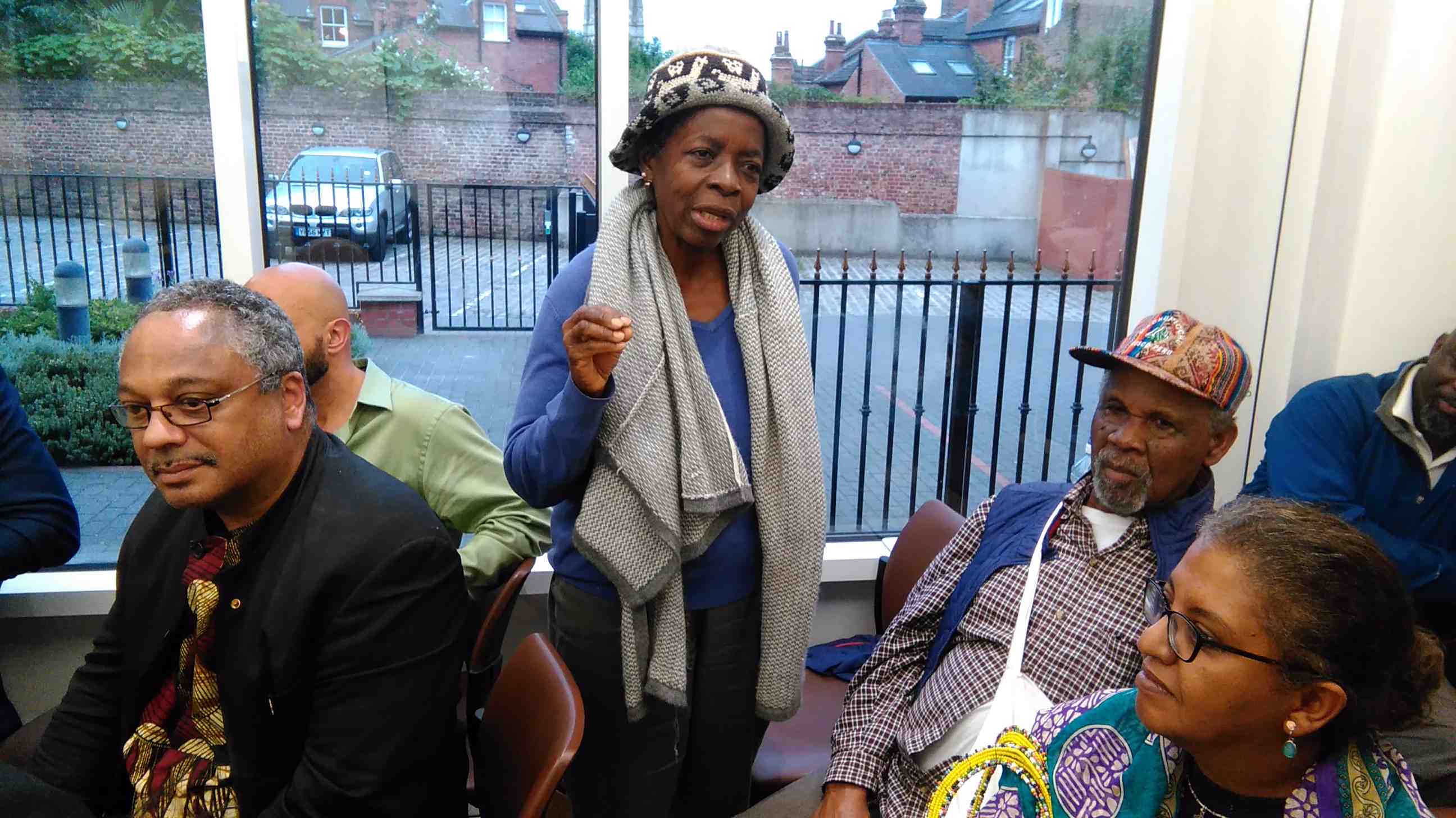 Altheia Jones-Lecointe centre, with Marc Wadsworth left and Eddie Lecointe right, makes point at AHR/BTWSC organised pan-African event at consular section of the Ghana High Commission