Event Information
Location
Room 9.60
Level 9 - Worsley Building
University of Leeds
Leeds, West Yorkshire LS2 9JT
Description
Living in Leeds - how can we use big data to improve services and accelerate research in healthcare for patient benefit? Our ambition in Leeds is to create a comprehensive and linked data set in for health and care. However, there are significant issues of informed consent and public trust that we need to properly address in order to make this a reality. During this event we will hear from big data experts about the benefits of data analytics and proposals for how we might engage citizens in enabling impact in our city. Phil Waywell will introduce us to the capabilities and expertise within Leeds Institute for Data Analytics (LIDA). Frank Wood (Chief Analyst for Leeds CCG) will provide an example of how linked data sets have been used in Leeds to compare population health outcomes. Dr Geoff Hall, Senior Lecturer of Medical Oncology at University of Leeds & Clinical Director at Leeds Institute of Data Analytics, and Kieran Zucker, Honorary Clinical Oncology Specialist Registrar at Leeds Teaching Hospitals Trust, will talk through groundbreaking work to improve outcomes for cancer patients through linking primary care and hospital records.Chris Carrigan, Senior Research Fellow in the School of Medicine - University of Leeds, will tell us about the Use My Data patient involvement group and lead a discussion about possible models for informed consent in sharing data. This discussion will inform the city's approach to consent and we hope will be the start of an ongoing conversation with patients and citizens.
Speakers:
Nichola Stephens
Nichola leads on Information Management and Technology for Health and Care for the Clinical Commissioning Group, GP Practices and Leeds City Council and has a wide reaching role that helps to ensure integration in both technology used but in data that is analysed to provide intelligence to leaders and commissioners in the City. Nichola manages a team of 35 people who provide cutting edge expertise in linking data sets that create insight and information that has not been seen before, helping the city understand its key priorities going forward. With over 14 years' experience in health and care, Nichola has also ensured that all data used is secure and meets the stringent Information Governance rules and data protection regulation."
Frank Wood
Frank Wood is Chief Analyst in the Leeds Health & Care Hub, leading the provision of strategic
analysis for healthcare commissioners in Leeds. Frank has worked in intelligence roles for over 15
years. He began his analytical career in the private sector as a commercial marketing analyst,
switching into healthcare intelligence in 2004.
During a broad ranging career he has led the development of healthcare intelligence in regional and
national teams, including a personal specialism in health equity and health needs analysis. Frank
currently leads teams delivering intelligence on public health, risk stratification, service evaluation
and population health management.
Dr Efrosini Setakis

Dr Efrosini Setakis is a senior data scientist at NHS Digital, utilising data collected across the NHS, to improve healthcare. She has over 10 years experience of analysing (big) healthcare data. During her career Efrosini has experience using data collected to develop tools to inform direct patient care as well as broader population trends. In recent years she has become an advocate for linkage of administrative data within and across government sectors.
A light lunch will be available after the event: Turn left upon leaving Room 9.60, and head straight down the corridor until you reach the double lifts on your right hand side. Take these lifts to Level 11. Once you reach Level 11 turn right from the lifts and walk to the end of the corridor where you'll find the break out area.
This event is brought to you in partnership with Leeds City Council and NHS Digital.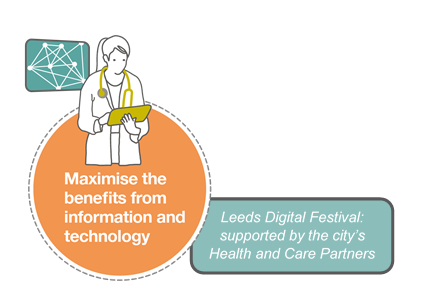 Our city's Health and Wellbeing Strategy 2016-2021 sets out a clear vision that 'Leeds will be a healthy and caring city for all ages, where people who are the poorest improve their health the fastest'. This includes maximising the benefits from information and technology as a key priority. The health and wellbeing strand of the Digital Festival is a celebration of the diverse and innovative work taking place to help us achieve our shared, bold ambition for Leeds to be the best city for health and wellbeing.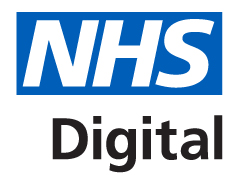 Based here in Leeds, NHS Digital is harnessing the power of technology and data to improve the use of health and care resources and make lives better.
As the national IT partner to the health and social care system, we provide a range of services and expertise including infrastructure that keeps services working 24/7, data security services, more than 200 official statistical publications and vital information that helps patients, doctors and nurses every single day.
We are one of the largest employers in not only this city, but nationally as a leading organisation for technologists, analysts and specialists from a spectrum of fields, from communications to finance, who want to make a difference.
We will be taking part and hosting events throughout the festival so come along and find out about what we do, why it matters and how you can get involved.
Date and Time
Location
Room 9.60
Level 9 - Worsley Building
University of Leeds
Leeds, West Yorkshire LS2 9JT