During this online event we remember those who have died, reflect on our collective loss, and share messages of hope and new light.
About this Event
On 23rd March, Marie Curie is organising a National Day of Reflection. An invitation to come together, to reflect on our collective loss, support those who've been bereaved, and hope for a brighter future.
This online event provides a space for everyone who is interested to remember people who have died, share grief and find messages of hope and light.
There'll be candles (bring one if you wish), music and shared experiences of loss, love and hope.
The evening is hosted by independent celebrants Tracy Ward, Piers Lane, Jo Napthine, Maxine Mitchell and Rosalie Kuyvenhoven.
Everyone is welcome.
Registration is free. Login details and more information will be send to you after registration as well as closer to the date.
If you have any questions, please contact Rosalie Kuyvenhoven: rosalie@ritualstoday.co.uk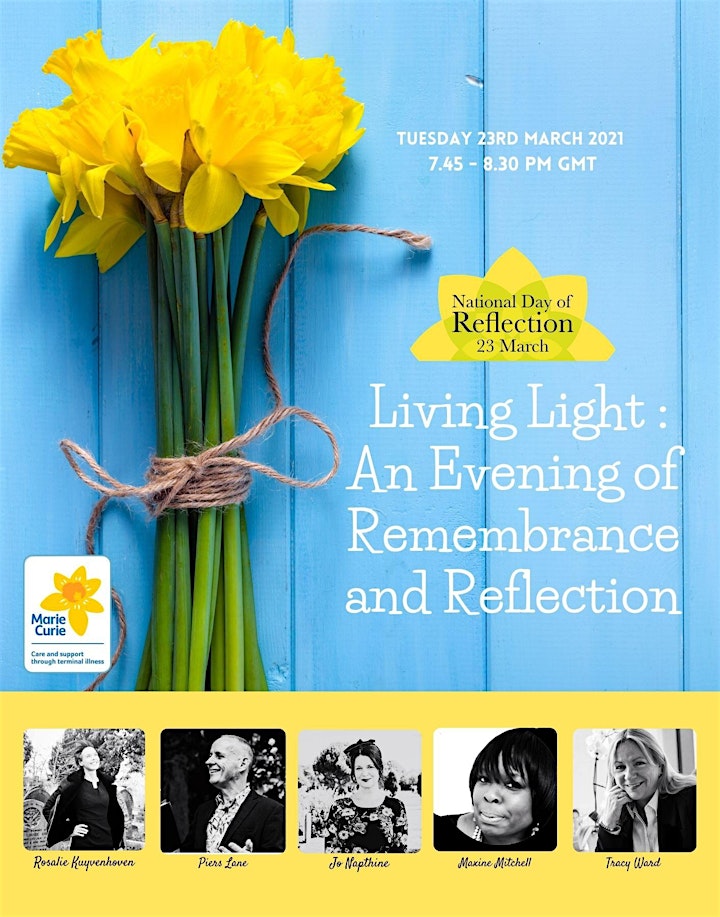 About the organisers:
Rosalie Kuyvenhoven
Rosalie is an award-winning celebrant, Death Cafe host and grief trainer. She encourages conversations about end-of-life and funeral planning and creates meaningful ceremonies and rituals for any life event.
'If you watch closely, there's poetry in everything.'
www.ritualstoday.co.uk
Piers Lane
Based in gorgeous West Yorkshire, Piers uses poetry, storytelling and humour in his work as a Celebrant. He's the founder of a growing network of bereavement support groups called Love & Loss; more on his website:
www.pierslanecelebrant.eu/loveandloss 
Jo Napthine
Jo is a funeral celebrant and fulltime mum to 3 boys. She has been a professional actor for 25 years specialising in musical theatre. Working across London Jo is passionate about creating unique and personal ceremonies tailored specifically to each family.
www.jonapthine.com
Maxine Mitchell
As a trained funeral celebrant and founder of Bronze Ash Funerals Maxine has a passion for the living and for the dead. She works with grieving families in giving their loved ones a wonderful funeral that enhances the life that they lived.
www.facebook.com/maxine.mitchell.58173
www.bronzeashfunerals.co.uk
Tracy Ward – Simply Beautiful Ceremonies
Working as a bespoke funeral celebrant, Tracy tailors the rituals of death for the bereaved. She is a Death Café host and researcher with the University of Glasgow writing about, the role of the funeral celebrant in contemporary deathwork and the impact of COVID-19 on funerals.
www.facebook.com/tracywardcelebrantfunerals
"Spoiler alert: We will all die in the end" (Mrs Death Misses Death by Salena Godden)