Description
Find out how you can produce all the fruit, vegetables, meat, fish and eggs your family needs. This course is based on Sally's book, Living on one acre or less and shows you how you can become more self-reliant even if you don't own acres of land.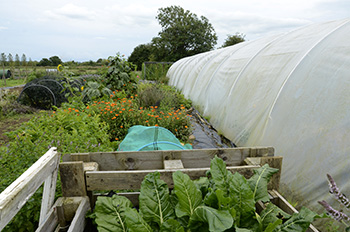 Our one acre plot shows just what can be done with a small area and has pig and poultry pens, large vegetable and herb growing area, polytunnel, fruit trees, edible hedgerow, perennial vegetables, a grow-your-own spices area, compost bins, bees and more. Sally likes to grow unusual veg, so expect to see quinoa, oca, ulluco, yakon, skirret, salsify and butterbeans to name but a few. You will also see our productive walled garden which has a small orchard, kitchen garden with dipping pond, cutting flowers, and herb garden aslong with composting areas.

Sally will show you how you can plan your own mini farm to keep livestock such as chickens (both layers and meat), ducks, turkeys, pigs, even sheep and goats, and become self sufficient in vegetables. The practical planning session looks at how much you can fit into the space and highlights the key points you have to consider such as access, zoning, aspect etc. Important principles such as soil management, fertility, crop rotation, companion planting will be covered together with the basics of keeping livestock, fencing and water harvesting. She will cover all the paperwork you need to keep animals, such as holding and herd numbers, movement licenses, and cover issues such as keeping animals in urban areas.
This course is run several times during the year. The content is varied to tie in with the season. The spring dates give you a chance to look at the vegetable plots early in the season while the summer / autumn dates enable you to appreciate the vegetable gardens and polytunnel at peak productivity and see the pigs which will be ready to go.
By May the veg beds will be full of the first plantings, the polytunnel planted up with salads, tomatoes and cucumbers, the hot bed full of early veg and the piglets will have arrived. We may have some ducklings too.

Courses later in the year give participants the chance to see the vegetable gardens and polytunnel in full production, the pigs will be at porker weight and ready for slaughter and there will be some meat birds and possibly turkeys around. Part of the day will look at planning for winter crops and the next year. To read more about our mini farm, follow our blog or visit our FaceBook page
Admin
The numbers on these days are limited to 10 people so that everybody can see what is going on and ask questions. The price includes all tuition, course notes, lunch and refreshments during the day. The day starts at 10 am, with arrival from 9.45 am. There is a final Q and A session over afternoon tea and cake and the course ends at about 5 pm.
We offer a discount ticket (second person ticket) for the second and subsequent person booked at the same time.

Cancellation
If you have to cancel any course booking more than 14 days prior to the course, we will transfer you to another date or course of the same value. In the event of cancellation within 14 days of a course date, we will be unable to transfer your booking, but someone else may attend in your place.
1.0.0.20
1.0.0.20
1.0.0.20
1.0.0.20
1.0.0.20
1.0.0.20
1.0.0.20