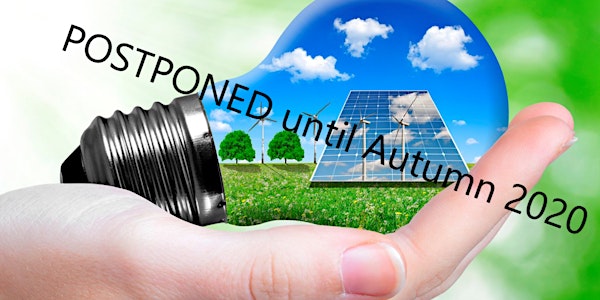 Living Sustainably in a Modern World - POSTPONED until Autumn 2020
A day of talks, workshops and stalls to discuss and debate how we can live sustainably in a modern world.
About this event
Speakers:
Keynote address:
How can Plymouth achieve net zero by 2030?
Luke Pollard MP, Shadow Environment Secretary More About
Why doing nothing is not an option - Professor John Spicer , Marine Zoology, School of Biological and Marine Sciences, University of Plymouth - Mor e About
The truth about plastic - Jackie Young , Co-ordinator of Environment Plymouth More About
The High-Tech fix has unintended consequences? - Professor John Summerscales, Composites Engineering, University of Plymouth. He is a Chartered Engineer, a Chartered Environmentalist and a Chartered Scientist. More About
Workshops:
Fast fashion - Heather Martin, Senior Lecturer, Plymouth College of Art and Design
Sustainable food - Tess Wilmott, Dig for Devonport
Recycling in Plymouth - with Jackie Young and Jane Ford
Transport and Travel - with Plymotion
Ethical finance - Caroline Blackler
Trials, Tribulations and Triumphs of Sustainable Living - with the Bullard family
Stalls:
Pollenize CIC - a social enterprise that brings together the power of community and technology to reverse pollinator decline. Accelerating pollinator awareness by introducing apiaries stocked with Native European Dark Honey Bees to high profile buildings in the centre of urban communities. More About
EcoBlitz - A local Eco-cleaning business with supplies and expertise around home cleaning products - More
Clean Our Patch - Community litter pickers bringing people together to create a cleaner and safer environment. More
Co-Cars - Co-cars is the hire-by-the-hour car club for Exeter and the wider South West, for people, communities and organisations. More
Borrow Don't Buy - A library of things in Plymouth. Maybe you're having friends over and you'd like a projector to watch a film on? Or you've got errands to run and could do with an electric bike to get around town? These are the sorts of things you can find at Borrow Don't Buy! More
Please note the day is developing and keep watching for more exciting items and stalls. If you want to be involved please do get in contact: jane@sustainablyyou.co.uk
Your tickets includes lunch and all refreshments. All diets will be catered for however if you are unsure please get in touch.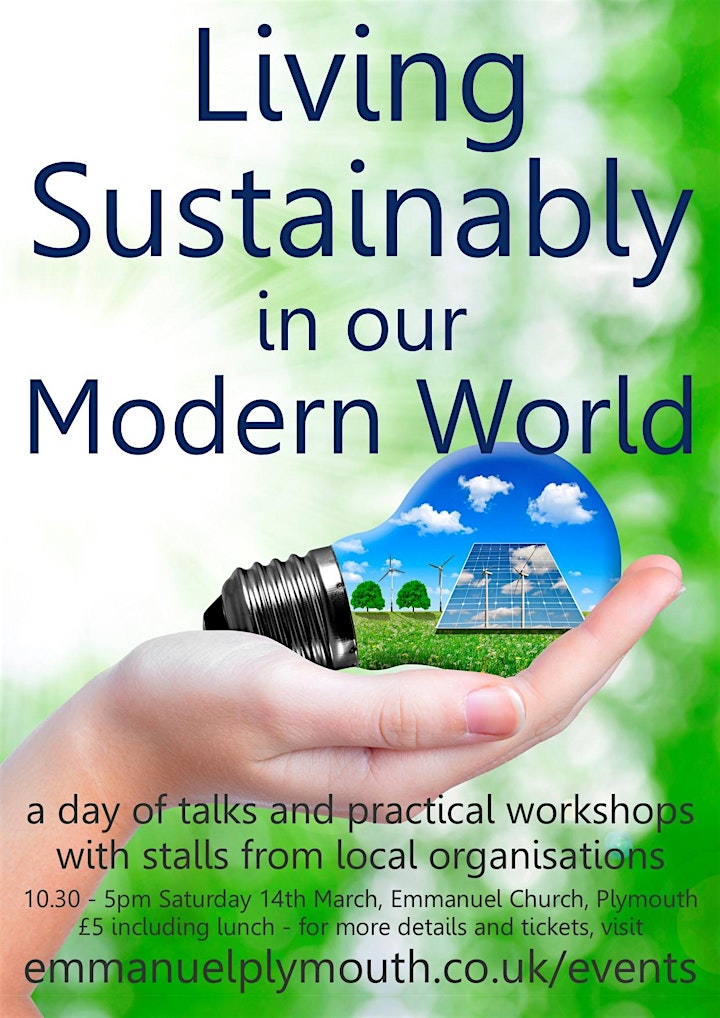 POSTPONED until Autumn 2020
Organiser of Living Sustainably in a Modern World - POSTPONED until Autumn 2020