Living the Christ Story in the 21st C.
Description
Welcome to the booking page for 'Living the Christ Story in the 21st century' - a day conversation re-imagining what mission might look like at this time.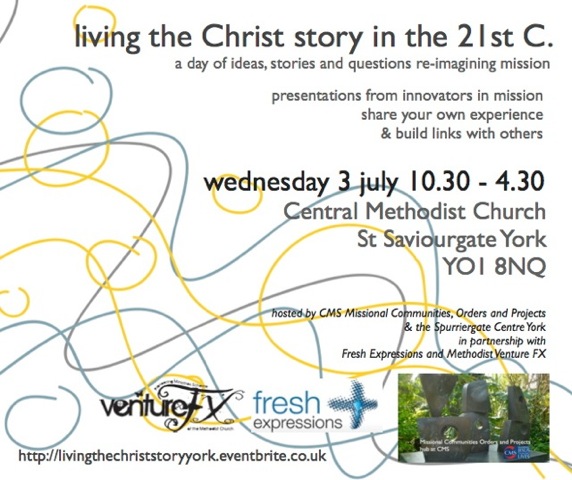 This day will be a gathering of innovators and would-be innovators in mission in the North of England to encourage each other, make links and share stories, insights and questions.
The day is organised by CMS Missional Communities Orders and Projects, co-hosted by the Spurriergate Centre in York and in partnership with Fresh Expressions and Methodist Venture FX.
Thanks to the generosity of the Spurriergate Centre and Central Methodist Church York there's no charge for the day (donations for coffee would be appreciated).
We think that this will be an inspiring day - a great opportunity to sense together where the Missio Dei* may be calling us, to share what you are doing, to inspire and to be inspired - and we hope that you can join us!
*Missio Dei: the mission of God, the mission is God's mission
Ian Adams
Missional Communities, Orders and Projects hub at CMS
ian.adams@cms-uk.org
facebook.com/groups/missionalcommunitiesandprojects
twitter.com/missional_hub
07889906983
Organiser of Living the Christ Story in the 21st C.