Event Information
Location
High Leigh Conference Centre
Lord Street
Hoddesdon
EN11 8SG
United Kingdom
This conference is all about coming back to have a deeper intimacy with the Lord, experiencing him in a fresh and incredible new way.
About this event
Adult Ticket : £20
Child Ticket (ages 3-13): £10 (this includes lunch and activities during the day - SINGLE PARENTS CHILDREN ONLY)
Registration starts at 9:30am
** LUNCH WILL BE PROVIDES ASWELL AS TEA AND COFFEE THROUGHOUT THE DAY**
There will be childcare provided for children of single parents. Please note that there are limited spaces.
There is a Bursary fund for those on low income please contact the Organiser Caroline Chalkley so that you can fill out a form (freshstart@newwlifebible.net)
Guest Speakers
Pastor Caroline Chalkley
Caroline is a Single Parent Pastor at New Life Bible Church London. She was a single parent herself for many years. Caroline's hope is that single parents would find their hope and identity in Christ in their season of parenting alone. Caroline has seen her own life transformed from brokeness, addiction, domestic abuse to wholeness. She wants to extend that same hope she received from Christ to other single parents. So, they can see that their lives are made for purpose and a "fresh start" in God. Caroline's heart is to empower women for purpose and to draw close to the presence of the Lord through the power of worship. In this place, the Lord has healed her heart from the past which the Lord can also do for you.
Minister Andrea Johnson
A women that has been privileged to experience the grace and love of God. Her mandate is to inspire, teach and develop the whole You. All the parts of you that may have been bruised, hurt, ignored, abused, neglected or even overlooked………An ordained Minister flowing in the gifts of teaching and prophesy, serving at her local church. Her safe place is in worship and prayer. There is more to you than meets the eye it's time to explore and discover the WHOLE YOU !!
Alex Devlin
My hearts desire is to know the heart of God and see His Kingdom come on earth as it is in heaven. I am so delighted to be part of this 'Living Water' conference. My background is in teaching, the prophetic and the multiple creative expression that God has placed in all people.
Usha Oliver
Usha Oliver is uniquely anointed with a profound, passionate love for the Lord Jesus Christ and a fervent desire to use the gifts the Lord has blessed her with, to impart and bless others.
Her passion to see God's people to grow in their gifting, her prophetic gifts discern life changing encouragement and exhortation for individuals, and being a willing vessel to herald God's voice to His people. This is accorded for their precision accuracy, humour and transformational power. The scripture the Lord gave Usha was Isiah 61 and Mark 16, where supernatural demonstrations of miracles, physical and emotional healings, and deliverances, signs and wonders, follow Usha's prophetic ministry wherever she goes. Her whole raison d'être, is to be a light in this world and to glorify the Lord Jesus Christ in everything she does.
Ralph Osam-Duodu
Pastor Ralph is currently based at Harvest Church London, where he serves under Senior Pastors Paul & Jo Naughton, with his wife Roselyne and their daughter Esther.
At Harvest Church, Ralph is currently a Pastor and Worship Leader, with a strong desire to see the tangible presence of God in worship. He is also one of the teachers at the Life Changers Bible Academy, as well as serving in a number of roles within his local church.
He was involved in Children's Ministry, as well as being a Youth Leader for a number of years, where he instilled the Word of God into the lives of many, who have since gone on to have their own ministries.
He is a man of great faith and a profound teacher of the Word of God and expounds the Word with truth and clarity
Pastor Ralph is passionate about seeing God's people walk in dominion and victory in every sphere of their lives through the leading of the Spirit of God and the Word of God.
Anne Funke Ayoola
A lover of God, a christian over many years, with a living and active faith in the Lord Jesus Christ.
A member of Streatham Baptist Church for just over 20 years. Coordinator of the Parenting Alone ('Not Alone') Ministry to encourage and support as many who are walking this path.
and co-coordinated a conference for single-parents/ parenting alone: 'Journeying Together' about 4years ago.
In the past, I have also coordinated Women conferences that had attracted women from all walks of life, denominations and nationalities.
I believe in the power of prayer and I am still convinced that with God nothing shall be impossible.
I use my prophetic gifting to encourage women and the body of Christ.
A qualified Maths teacher, and a mother to a grown up son.
Finally, my encouragement to us all is that nothing can seperate us from the love of God (Rom 8: 38 - 39)
+ An Anointed Worship Team Lead by Bev Spencer
We look forward to hosting you at our event.
If you have any further quires please email : freshstart@newwlifebible.net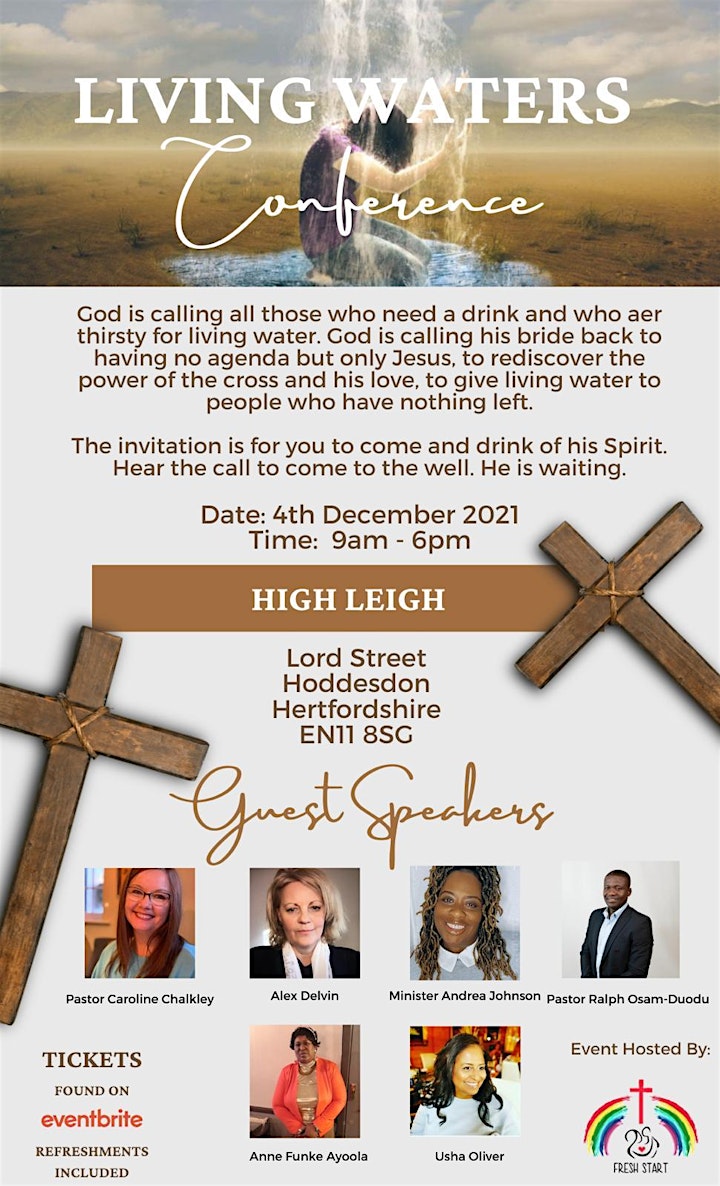 Date and time
Location
High Leigh Conference Centre
Lord Street
Hoddesdon
EN11 8SG
United Kingdom
Refund policy