Description
This event costs £5.
We ask for a £10 deposit, which is refunded via eventbrite by SKC the day after you have attended the event.
This event brings people together across Kent for:
Networking breakfast and lunch
Seminars for practical tips and tools
Panellists sharing what works in terms of fundraising, volunteering and community engagement
1-2-1 advice sessions with Funding For All, Kent Community Foundation, Employer Supported Volunteering, Building Communities
Sharing best practice table discussions and Q & A
Speakers:
Kent Community Foundation, Funding For All, National Lottery Community Fund, BBC Radio Kent, KM Charity Team, Oasis Domestic Abuse Service, Ellenor, Headstart Kent, Rural Kent Coffee Caravan, Kent Arts and Wellbeing, Stronger Kent Communities projects - Revamp, Fresh Perspectives, Building Communities and Employer Supported Volunteering.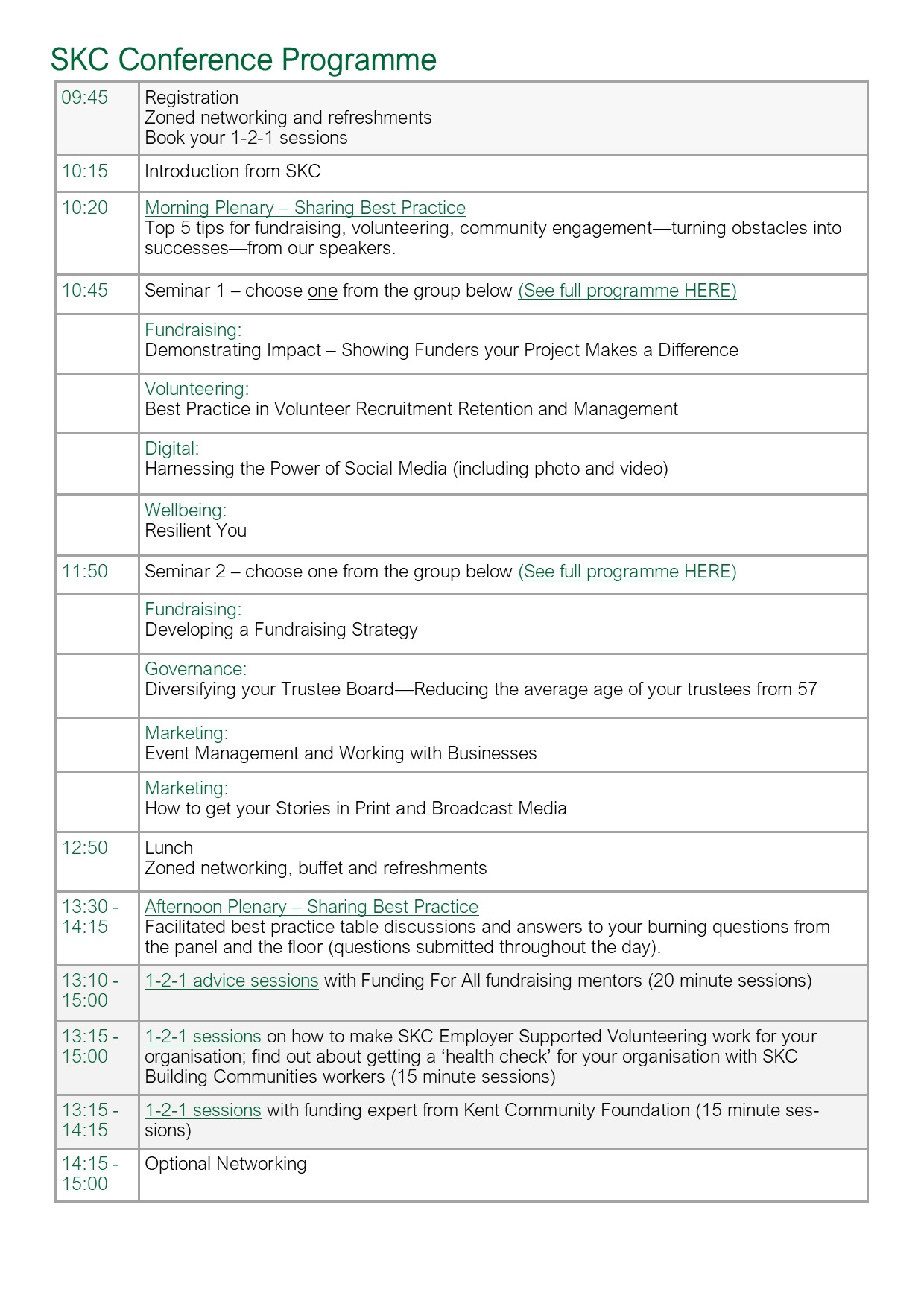 Who should book?
CEOs, trustees, staff, volunteers and supporters of Kent community groups, voluntary organisations, charities and social enterprises linked in some way to our themes:
Y

outh

Age 50 plus

Family

Health
This is everything from dementia cafes and independent living schemes to befriending and mentoring and appropriate adult services, to mental health, bereavement, disability and cancer support groups, health and wellbeing activities, health advocacy groups, loneliness prevention, projects to help people overcome obstacles, reach their full potential and live life as fully as possible.
Recommendation:
It's well worth a few people coming from one organisation to attend different sessions and share notes - especially if you sign up to 1-2-1 sessions in the afternoon and so miss part of the table discussions and panel Q&A. Questions are submitted throughout the day.
Cost:
£5
This is to cover eventbrite booking fees plus a contribution towards lunch. We ask for a £10 deposit, which is refunded via eventbrite by SKC after you have attended the event**
Important:
**You must register at the SKC Welcome desk so we refund your deposit. If you do arrive late in the day, please ask for event organiser Emma Cooney and make sure you speak to her before you go so she can register you. This has worked very well so far.
What time does it start?
9:45 - 10:15 registration. Tea, coffee, fruit and pastries and networking breakfast
10:15 Sessions start
What time does it end?
14:15
14:15 - 15:00 optional networking
1-2-1 sessions with mentors until 15:00