Living with Gratitude | Half Day Course with Guest Teacher, Gen Kelsang Nyi...
Description
Living with Gratitude with Guest Teacher, Gen Kelsang Nyingpo
Saturday 22 September
10am – 1pm – Fee: £20

Grateful people are happy people! We are so accustomed to focusing on the negative and on how we wish things were different that we can fail to appreciate the enormous amount of benefit we receive form others. This inspiring course will explore how by living with an awareness of the kindness of others, we can maintain a warm heart and a feeling of being close to everyone.

This special way of looking at the world will bring an inner happiness and contentment as well as serve as the basis for more stable and loving relationships. Eventually through continuing to develop this mind further we can go on to accomplish a deep inner realisation of love that will enable us to become someone of inconceivable benefit to others.

ABOUT THE TEACHER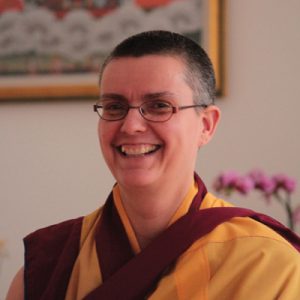 Gen Kelsang Nyingpo is the Resident Teacher at KMC Reading. She is a well-loved and respected Teacher with a wealth of experience having been ordained as a Buddhist nun for over 20 years and taught for many years internationally.
Gen Nyingpo is a kind and and down to earth teacher. She has a good sense of humour and understands how people of this modern world need help and support through meditation and Buddha's teachings.
What will each session consist of?
Each session will include a combination of teachings and guided meditations with an opportunity to ask questions at the end and socialize with like-minded people during the break time.
Do I need to bring anything or wear anything special?
No. All sessions will take place on chairs but there are optional cushions if you prefer to sit cross-legged. You don't need to bring anything else with you, but some people like to take notes during the session, so feel free to bring a paper and pen.

What if I'm new to this?
Everyone is welcome to participate in this course and will benefit both new and experienced people alike. Our reception staff will happily recommend some follow on reading or classes after the course if you are interested.

More questions?
Contact info@kmclondon.org and someone will happily help you with your query.