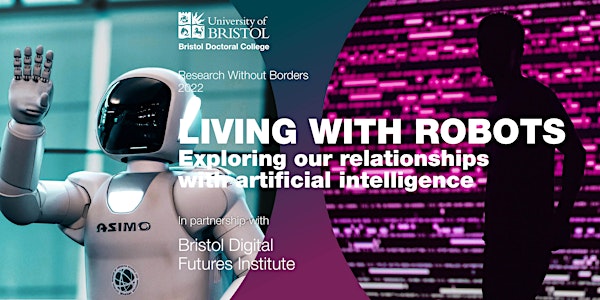 Living with Robots: Exploring our relationship with artificial intelligence
Location
Watershed, Room 3
1 Canon's Road
Bristol
BS1 5TX
United Kingdom
Join our researchers for a lively and interactive discussion about our relationship with thinking robots and what it says about us.
About this event
As robotics technology advances, what are the social and cultural implications for a future shared with intelligent robots that can think for themselves?
Join us for this interactive event, where the next generation of robotics researchers from the University of Bristol will discuss questions such as: what do we expect from robots? What do they tell us about ourselves? What are the dangers and pitfalls in our current relationships with artificial intelligence? Can robots do social good or are they reinforcing negative stereotypes? And what does responsible robot design look like in the future?
Free wine, soft drinks and nibbles will be included with your ticket.
This event is being organised by the Bristol Digital Futures Institute in partnership with the Bristol Doctoral College at the University of Bristol as part of our Research Without Borders 2022 series.
Covid policy
Our event capacity has returned to normal and seating will not be socially distanced. In the interest of audience and staff safety we are grateful if you would continue to wear a mask if possible and make space when moving around the venue. Please stay home if you're experiencing any symptoms of COVID-19 or if you've recently been in contact with someone who has the virus.