FREE wellbeing festival bringing together some of the leading names in holistic, psychic, environmental and wellbeing from around the UK
About this event
Welcome to LivingWell 2021, Shropshire's premier FREE wellbeing festival bringing together some of the leading names in the holistic, psychic, environmental and wellbeing from around the UK and overseas.
Over 100 exhibitors will come together to educate, enlighten and engage you in a variety of stands and there will be over 30 speakers and workshop leaders for all age groups including children.
Exhibitors will be placed around the park in their own gazebos or in the main marquees. If you would like to exhibit, please contact us via livingwell2021@gmail.com and we will be happy to send you the details.
Our sponsors include Shropshire Carpets, DAVGAR Music, Mystique, Healers & Therapists News and new sponsors will be added regularly.
This event is being held in The Quarry, Shrewsbury's 29 acre beautiful town centre park which is home to wonderful events such as Shrewsbury Garden Festival and The Shrewsbury Food Festival. Within a few minutes walking distance of the Frankwell Car Park.
Organised by JJ Events, a collaboration between Jane Lightfoot and June Meagher.
Jane Lightfoot is a psychic medium who reads for people globally and who has run events around the UK for many years, specialising in psychic and wellbeing events. Jane ran the successful Psychic & Holistic event in The Quarry in 2018. Jane is the owner of the holistic centre Mystique in Harlescott, Shrewsbury.
June Meagher or AAMARHealing.co.uk & JuneMeagher.com has organised events globally as well as nationally including the annual Exhibition of Healing & Complementary Therapies, Shropshire's longest running free holistic event attracting up to 2,000 visitors.
June is a past Board Member of The Healing Trust (the UK's largest organisation for Healers) and runs Healers & Therapists News with over 18,000 members.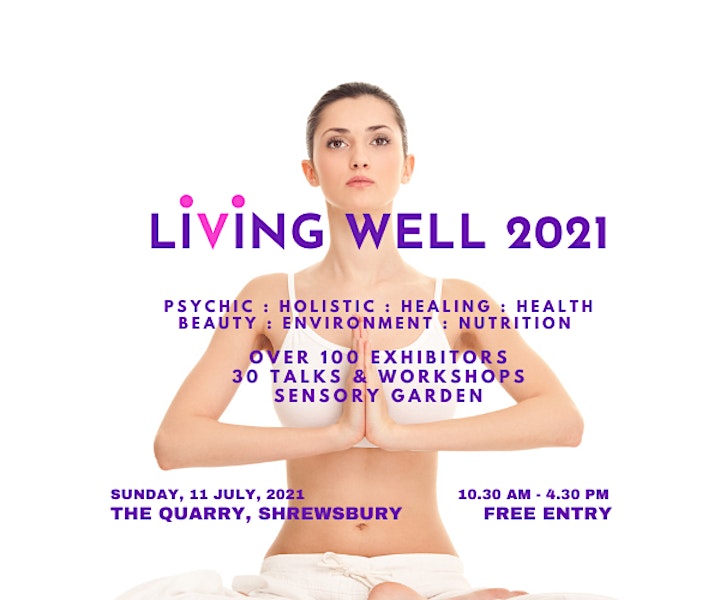 Organiser of LivingWell 2021
I have been helping businesses get their message out for over 30 years and I love it!
I have held senior marketing, PR and sales roles in the arts, retail, facilities management, publishing, restaurant, fleet, local government, well-being, telecommunications and IT sectors.  I set up junemeagher.com in 2020 as a social enterprise to help companies and individuals who may be great at what they do but do not have enough marketing, PR or event experience to drive them forward.
I worked on the Virgin Music online project way back in 1996/97.  Before that I held senior positions in London for companies like Ninjin Ltd and Kuperard before moving to the Highlands.
I then moved to Shropshire and became Marketing Manager for Total Communications, a mobile phone company and worked with the Director to set up their first call centre.
After that, whilst, Marketing Manager for Jones Lang Lasalle's Darwin, Pride Hill & Riverside Shopping Centres in Shrewsbury, I helped put on over 300 events per year from professional fashions shows to poetry exhibitions and created various campaigns to drive footfall figures up and engage with shoppers and store staff. 
For 18 years I have run very successful (and fun) wellbeing events in Oswestry & Shrewsbury with over 120 exhibitors and 25 speakers, the last event attracted nearly 2,000 visitors.  Under my social enterprise AAMARHealing, and Healers & Therapist News, these events have promoted the work of hundreds of wellbeing professionals throughout the UK and raised lots of money for various charities. There are four events planned for Oswestry in 2020.   Healers & Therapists News Group on LinkedIn has around 18,000 followers globally.                 
As Head of Sales & Marketing then Client Relationship Director at CW Research Ltd (Chemical Watch) I worked with a great team to increase readership to over 100,000 per month and put on Regulatory events around Europe and the US as well as a series of global webinars attracting hundreds of regulatory professionals from the Chemicals Industry on REACH and other regulatory legislation.
I worked with Shropshire Council to put on their first TECHSevern event in 2018 which was born out of TECHSeed in 2017 and this attracted over 600 visitors from around the UK.  
I studied Business & Marketing back in the 1970's and then went on to study Digital Marketing 9 years ago through the CIM approved, Cambridge College of Marketing and also have certificates in Yoast SEO, ABM Strategist and Google Digital Garage.  I have also studied with Target Internet, another CIM approved marketing training provider.  I also gained my PGCE certificate in teaching in 2018.
I am also a newly appointed Director of Tan-Y-Garth Hall Retreats Ltd, one of the first yoga centres in the UK and was a founding director of Sound4Healing, a charity set up to fund research into Sound Healing which sat alongside the UK College of Sound Healing.  I was a past Board Director for the Healing Trust.  
For further details and testimonials please visit my website www.junemeagher.com or if you want to contact me to discuss this workshop please call me on 07446 298661 or email june@junemeagher.com