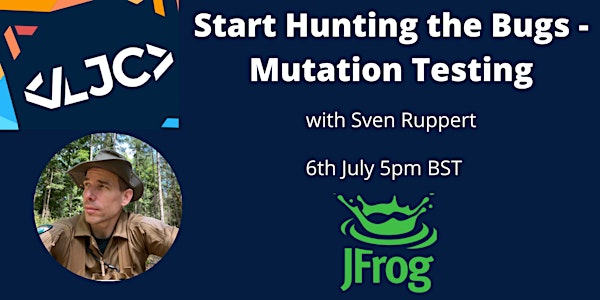 LJC: Start Hunting the Bugs - Mutation Testing with Sven Ruppert
Join us as Sven Ruppert delivers his presentation Start Hunting the Bugs - Mutation Testing
About this event
JUnit is a well-known tool for java developers in the area of TDD. Here it has become accepted, that CodeCoverage can be measured. In this case we distinguish between coverage on the level of classes, methods and rows. The goal is to get the CodeCoverage as high as possible on the row level, but not higher than necessary. What exactly does it mean? A CodeCoverage of appr. 75% on the row level is very good and can already provide a basis. But what does this figure say?
In this talk we will deal with the term Mutation Testing and show the practical ways of use. How can the coverage be defined and what can be achieved? How can it be integrated into an existing project and what should be considered while running a test? Can we use it for UI´s?
Speaker Bio
Sven Ruppert
Developer Advocate at JFrog
Sven spent almost 20 years as a consultant worldwide in automotive, aerospace, insurance, banking, UN and WorldBank before joining JFrog as a developer advocate. Sven has been giving lectures at international conferences and regularly publishing online and in classic magazines and books for nearly ten years. As a developer advocate for JFrog, Sven deals with DevSecOps, cybersecurity and cyberdefense, and traditional developer topics such as Core Java/Kotlin, mutation, and distributed unit testing.
This event is organised by RecWorks on behalf of the London Java Community.
The London Java Community is sponsored by JFrog
You can see our latest jobs here
You can see our privacy policy here
Continue the conversation at our Slack Group: https://londonjavacommunity.slack.com
Sign up here if you're not a member: https://bcrw.typeform.com/to/IIyQxd