Event Information
Refund policy
Refunds up to 7 days before event
Eventbrite's fee is nonrefundable.
Join the London Java Community for our Virtual unConference on Saturday 27th November 2021
About this event
About the LJC unConference.
The London Java Community (LJC) hosts an 'unConference' every year that allows developers to come together for a full day of discussions, sharing experiences, learning and spending time with our peers in the industry. This is the 14th unConference we've hosted and it's most certainly the premier event of our user group. We're hosting the event virtually again.
What is an unConference?
An unConference is a loosely structured, participant-driven meeting. It does not follow the traditional conference program structure. You decide what to discuss and which topics are most important/relevant for you. The unConference starts with an empty schedule. No topics are mandated, no separations are made between "speakers" and "audience". All participants work out a schedule by suggesting, planning, holding and evaluating sessions, collaboratively.
Since this is a virtual event we can invite speakers from around the world to participate and this time we will be using Airmeet. This will make the unConference a little different from last time, but hey - let's get as much benefit from being virtual as we can.
Step 1 :
Sign up and share your ideas. Starting immediately, you can sign up for a ticket and we'll send you instructions for accessing the unConference on Airmeet. Content is decided by you so don't be shy. Add your ideas and questions using this Dory link and vote for the ones you like that have already been posted - https://www.dory.app/c/recworks.co.uk/999888a9_ljc-unconference-2021---please-submit-your-questions-ideas-and-vote-for-your-favourite
Step 2:
Make sure you can use the virtual platform before the event: Before the event we're going to run sessions to let you all try out the virtual platform. We've chosen Airmeet, which you may already be familiar with. Even so we'd like all participants to come to at least one session to make sure you can connect etc. We'll email you with details.
Step 3:
Lift off: We start at 12 noon on Saturday 27th Nov and will spend the whole day having fun and learning new things. We'll wrap up when the last person leaves.
Join the unConference conversation in our Slack group: https://londonjavacommunity.slack.com/archives/C02KK6339B4/p1635520891001300
Sign up here if you're not a member: https://bcrw.typeform.com/to/IIyQxd
This event is organised by RecWorks on behalf of the London Java Community.
You can see our latest jobs here
You can see our privacy policy here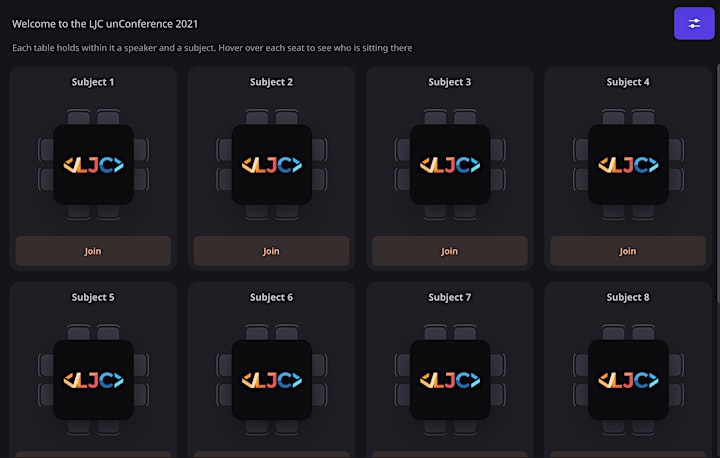 Date and time
Location
Refund policy
Refunds up to 7 days before event
Eventbrite's fee is nonrefundable.