Event Information
Refund Policy
Contact the organiser to request a refund.
Eventbrite's fee is nonrefundable.
About this Event
Wahooooo adventurers! What a travel-treat I have for you to keep the summer sizzlin'.
My latest book about a 6-month journey by bicycle through South America is ready for release into the world, and I would LOVE you to join in the celebrations with a virtual South American themed paaar-tay.
If you've arrived at this page and don't know who the Dickens I am, you can read all about me and my adventures here.
Previous book launch parties have been such a wonderful affair, it's a shame I can't do this one in person, but what a bonus that you can now come along wherever you are around the world. And the kids can listen in too. Double bonus.
IF YOU'D LIKE TO GET A SPECIAL BOOK:
I'm VERY excited to say that there's a chance to get yourself a signed, personalised LLAMITED EDITION copy of the book posted to your home in time for the event. There's a llamited number of these books available and once they're gone, they're gone.
If you just want one book + entry - nab a LLAMA SPECIAL ticket.
If you'd like to buy more than one book, you can add those on to your ticket by clicking on the 'extra books' tab.
IF YOU'D JUST LIKE TO TUNE IN:
You can just buy a LLAMA BASIC ticket for attendance only. If you're a whole family and want to tune in, fabulous - just one ticket will do.
WHAT'S THE BOOK ABOUT?
I'm so glad you asked. Scroll to the bottom of the page for the book blurb.
HOW WILL WE TUNE IN TO THE LLAMA-TASTIC EVENT?
The evening will be run on a Zoom webinar. You'll get a link in your confirmation email to the Zoom event, along with some instructions on how to use the platform, if you haven't before.
WHAT'S HAPPENING, EXACTLY?
On the night, I'll be sharing some of my favourite extracts from the book, as well as dishing out behind the scenes stories and having a natter to the other starring member of the adventure-memoir cast, my cycling buddy Faye (just so she can tell you what my adventure pasta farts smelled like).
There'll also be a chance for you to ask me some questions about adventure, cycling or South America in general.
THEME:
I would love us all to feel like we've escaped to South America for the night, so we can really kick the Covid-19 lockdown madness in the PANTS and have ourselves a mini adventure!
In the lead up to the day, I'll be sending out some traditional South American recipes, so that you can whip yourselves up some traditional food and pour out a cheeky cocktail too.
Any questions about the evening - just email hello@annamcnuff.com and Abby the logistics Queen will get back to you as soon as possible.
See you in South America.
Hasta Luego, amigos!
Anna xx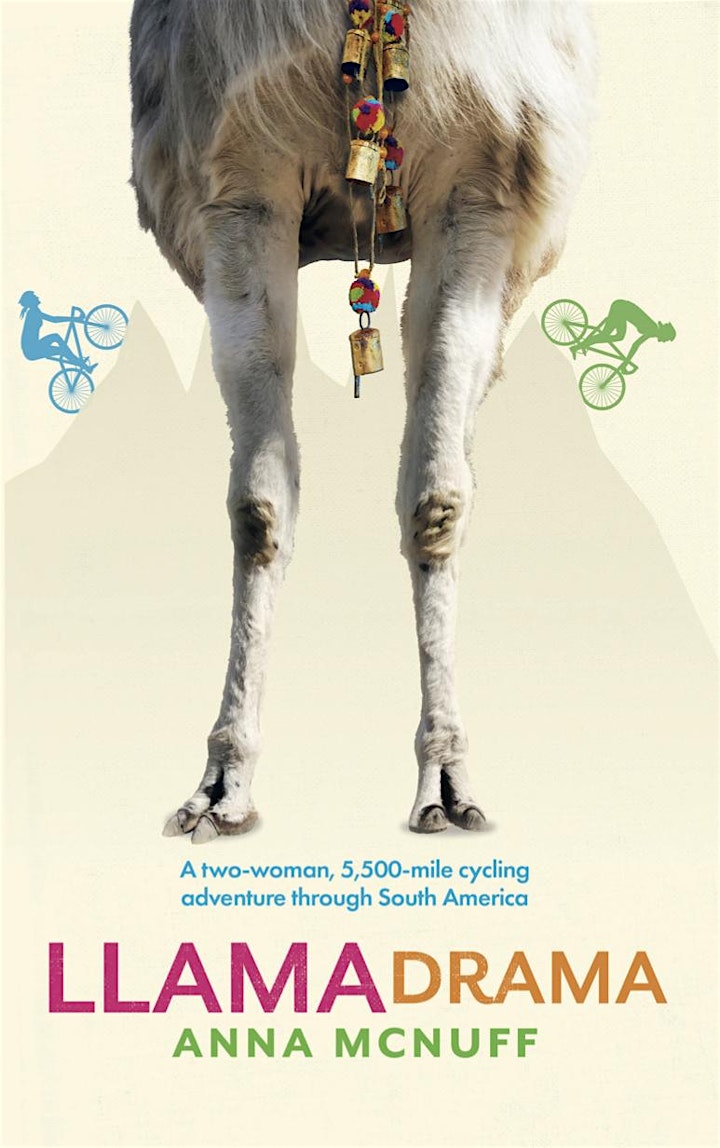 Why take the shortest, most direct route through life, when you could choose the wiggliest, most mountainous one possible?
Armed with a limited grasp of Spanish and determined to meet as many llamas as possible, Anna and her friend Faye set off on a 6-month journey along the spine of the largest mountain range in the world - the Andes.
Beginning in the bustling city of La Paz, the duo pedal south - through dense jungle, across pristine white salt flats and past towering volcanoes, following the path of thundering glacial rivers to the snow-tipped peaks of Patagonia.
Sleeping wild in their tents most nights, they endure 50-mph crosswinds and catastrophic crashes, and go head to head with one very determined saddle sore called Sally. By the time they make it to the southernmost tip of the continent, they have cycled 5,500 miles and ascended over 100,000 metres through the mighty Andes - equivalent to 11 times the height of Everest.
Told from the seat of Anna's bicycle, Llama Drama is a witty and compelling account of life at its rawest and most rich. For anyone who has ever wanted to journey through the stunning natural landscapes of South America - this story is for you.
Date and Time
Location
Refund Policy
Contact the organiser to request a refund.
Eventbrite's fee is nonrefundable.