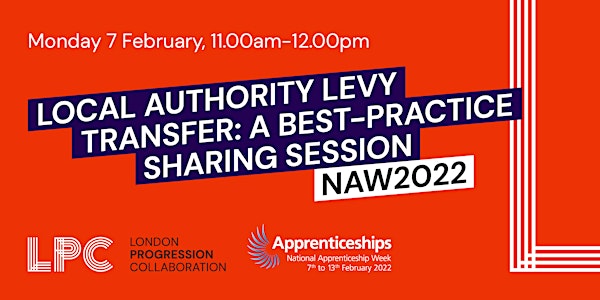 Local Authority levy transfer: a best-practice sharing session
We're discussing apprenticeship levy transfer for local authorities: the barriers, solutions and impact for local businesses and residents
About this event
The apprenticeship levy poses both challenges and opportunities for local authorities, especially when it comes to unspent levy funds.
Join us to explore some of the challenges faced by local authorities in transferring unspent funds, share learnings from local authorities who have overcome these challenges, and hear about the impact transferred funds can make to local businesses and residents.
Panel includes:
Rob Singh - Senior Account Manager, London Progression Collaboration (chair)
Victoria Isaacs - Economic Development Skills and Work Manager, London Borough of Harrow
Elizabeth Rojas - Principal Employment and Skills Officer, London Borough of Lambeth
Hamish Mackay - Senior Manager, LIFT, London Borough of Islington
Joanne Maunton - Employment and Training Officer, London Borough of Camden
In the session, Rob Singh from the London Progression Collaboration will be discussing some of the common barriers to engaging in levy transfer that local authorities that we have worked with have faced and some of the interesting ways that the different administrations have overcome them. Rob will be joined by colleagues from Islington Council, Lambeth Council and Harrow Council, who will share their experiences.
The desired outcome of this session is for the audience to leave the call armed with ideas and inspiration to enable them to support local businesses to create apprenticeship opportunities in their area.
Who should attend this event?
Staff from local authorities across the UK who work in departments with an interest in apprenticeships, local business, economic development, education, employment, and tackling disadvantage.
About the London Progression Collaboration
This event is hosted by the London Progression Collaboration, a not-for-profit initiative supporting employers in London to create new apprenticeship opportunities for low-paid Londoners. To find out more about our work, visit www.thelpc.uk.