Local London Guiding Day 2020: London on the Move virtual tour
Soho virtual tour: London on the Move
About this event

The Spirit of Soho
Take a virtual tour through Soho that will bring to life the streets and the stories of the people who have lived here over the centuries. The ever-changing tapestry of life in Soho has seen it transformed from home of the aristocracy and workplace for artists, craftsmen and women, and immigrants to London's centre for entertainment. Join us to discover more about Soho's colourful past and present.
Our final session is at 3pm today – we are taking bookings until 11.45am
Duration: 30-40 minutes
This event will take place online via Zoom. You will be emailed a link to the meeting and meeting details shortly after bookings close
To follow the tour with friends and family on the same device, you only need to register for one place. However, please book more than one place, if you intend to watch on multiple devices.
This virtual tour is part of London on the Move, an event co-ordinated by four London guiding associations as part of Local London Guiding Day on October 10. This year's other virtual tours, which will be run via Zoom, include:
Ebb and Flow (City of London Guides Association)
Start times: 10am and 2pm
New Beginnings (Clerkenwell and Islington Guides Association)
Start times: 12pm and 4pm
From Steam Engines to Search Engines (Camden Tour Guides Association)
Start times: 1pm and 5pm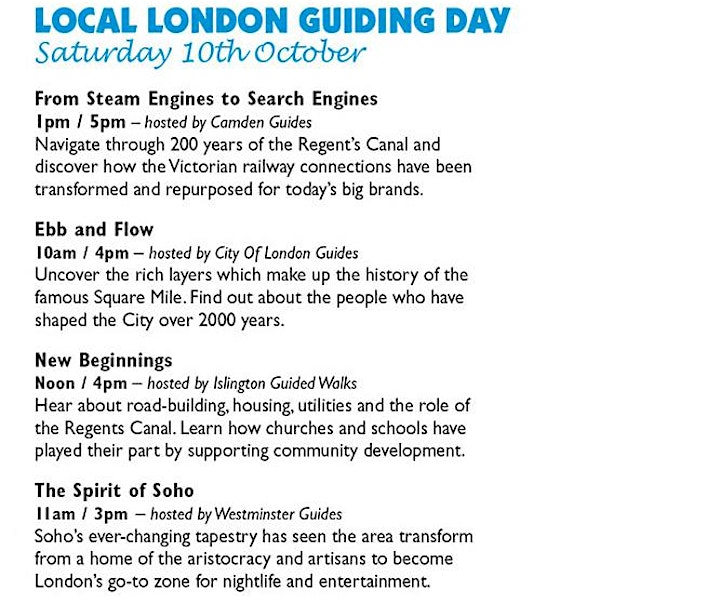 Organiser of Local London Guiding Day 2020: London on the Move virtual tour