Location
Wat Tyler Green Centre
Pitsea Hall Lane
Basildon
Essex
SS16 4UH
United Kingdom
Description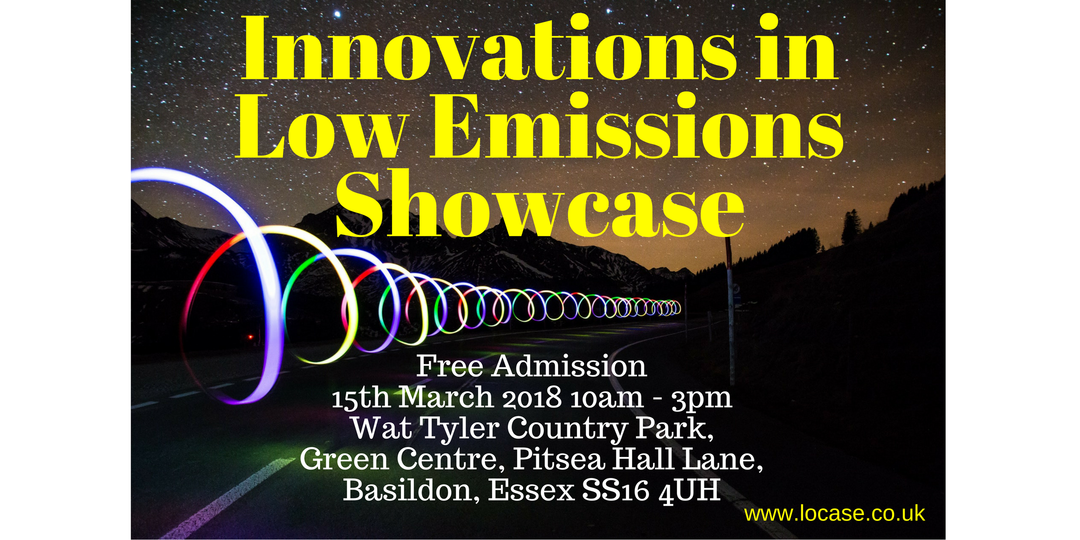 Register for FREE to recieve your delegate/visitor tickets today!
This one off event has limited spaces and is not to be missed! Discover, explore and enjoy all things low carbon from electric cars and vans, to electric bikes and engine emission improvement products.
Hear directly from members of the LoCASE team about how you could recieve a FREE energy audit to evaluate your businesses energy spend, as well as the amazing grant funding opportunities worth up to £10,000 available to businesses in the South East.
Come along to take a look & discover the recent advances that have been made in the fast growing and exciting low carbon sector… It might just inspire you!
Networking & Presentation Agenda
There will be free networking and free presentations throughout the day including speakers from:
11:10 - Presentation Annoucement
11:15 - Alpine Taxis - Make a difference now!
12:00 – Birkett Long Solicitors, Implementing Energy Efficiency Measures in your business
12:30 - Break
13:30 - Anderson EV – The benefits of adopting EV vehicles in your business
14:15 - LoCASE Team – From Strength to Strength... Funding for your Business
15:00 - Basildon Growth Club - FREE Networking opportunity

STEM Silver Workshop
Register for the STEM Silver (Steps To Environmental Management) workshop being held on the day. This is for you if you have already completed the STEM Level Blue or equivalent...Your next step towards STEM Gold!
To register your interest in this session please select the STEM Silver ticket.
List of Exhibitors
We have an exciting line up of exhibitors from various businesses that you won't want to miss out on!
Please see a list of just some of our exhibitors below:
BION/EFTS
Nissan (Glyn Hopkin)
BEST Gorwth Hub
SEBB
NWES
Basildon Growth Club (Free Networking from 3pm)
Opportunities South East
FSB
Bizphit
Birkett Long Solicitors
Blattella
Enterprise Europe Network
Plus! Many more...
We will use your information to provide the service requested. We may share your personal data between our services and with partner organisations, such as government bodies and the police. We will do so when it is of benefit to you, or required by law, or to prevent or detect fraud. To find out more, go to thurrock.gov.uk/privacy. Get free internet access at libraries and community hubs.