Description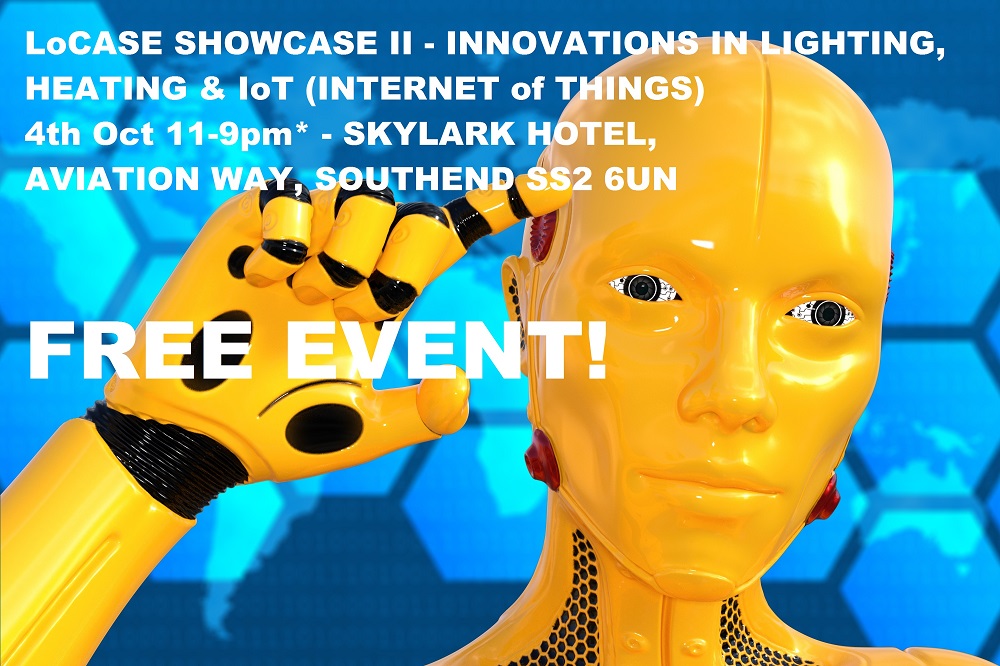 REGISTER FOR FREE TO RECEIVE YOUR VISITOR TICKETS TODAY!
OVER 55 EXHIBITORS ALREADY CONFIRMED!

INCREDIBLE IOT DISPLAYS – INCLUDING VR, AI & ROBOTICS!

BUSINESSES & PUBLIC ALIKE WELCOME!

3 FREE GOOGLE GARAGE WORKSHOPS!
This amazing FREE, one off event is not to be missed! Discover, explore & experience the latest in lighting, heating & of course the INTERNET OF THINGS!
From VR, AI & Robotics to Cyber Crime, Hives, Hubs, 3D Printing & So Much More! Come along, take a look & discover the incredible advances being made in these fast growing & exciting sectors…It might just inspire you!
MAIN EXHIBITION ROOM
DEDICATED INTERNET OF THINGS ROOM
FUNDING FOR BUSINESS ROOM
FREE AFTER SHOWCASE PARTY WITH AWARD WINNING TECH CITY ON SEA!
GOOGLE GARAGE will also be offering 3 FREE WORKSHOPS – From Digital Advertising & Social Media Strategy to Self Promotion Skills – Can your SME afford to miss this free opportunity? Registration details below.
Plus! If your business is looking to expand & grow, you can visit the LoCASE stand in the dedicated 'Funding for Business' room. You will find all of our funding partners from around the region there, ready to offer free advice and help for your SME. With grant funding of up to £20,000 available, now including FUNDING FOR ELECTRIC BUSINESS VEHICLES (on top of the government Plug-In Grant), it will be well worth a visit!
ALL AMAZING, ALL INCREDIBLE, ALL FREE!
REGISTER FOR YOUR TICKET TODAY!
SHOWCASE AGENDA
11:00 – SHOWCASE OPENS (first Google workshop starts).
12.00 – Second Google workshop starts.
13.30 – Third Google workshop starts.
16.00 – SHOWCASE ENDS & 'Bridging the Innovations Gap' networking opportunity (exclusively for exhibitors) starts.
18.00 – 'Bridging the Innovations Gap' ends & the incredible 'AFTER SHOWCASE PARTY with Tech City-on-Sea starts.
21:00 – Tech City-on-Sea: Disrupting Essex networking event ends.
LIST OF EXHIBITORS
For a full list of exhibitors please contact Rachel at business@thurrock.gov.uk who will also be able to help answer any questions you may have regarding the showcase.
FREE GOOGLE GARAGE WORKSHOPS
Google Garage will be delivering 3 x 45 minute workshops throughout the showcase. These will cover a range of topics to help you and your business grow. If you would like to register for FREE on any of the workshops below (you can register for all 3 if you wish), please select the relevant ticket option when registering for your showcase ticket. Places are limited to 30 delegates per workshop. You do not need to register for a general admission ticket if you have registered for a workshop.
1. Introduction to Digital Advertising - 11.00 am: Learn how to set up online advertising campaigns, while increasing your businesses visibility and engagement with customers across digital and social platforms.
2. Social Media Strategy - 12.00 pm: Learn how to build a plan to engage an audience or find new customers online through social media strategy and best practise.
3. Self-Promotion Skills #IamRemarkable - 13.30 pm: #IamRemarkable strives to empower women and underrepresented groups to speak openly about their accomplishments in the workplace and beyond, thereby breaking modesty norms and glass ceilings.
PREMIUM LIGHT PRO FREE WORKSHOP
PREMIUM LIGHT PRO are delivering a KnoLEDge Workshop during the event on 'How to upgrade to energy-efficient lighting systems for the public and private sector. If you want to come along to this workshop please follow the link below:
https://www.ticketsource.co.uk/energy-saving-trust
AFTER SHOWCASE PARTY WITH THE AWARD WINNING TECH CITY ON SEA
The FREE networking event runs from 6-9pm - Tech City-on-Sea: Disrupting Essex - THE NETWORKING EVENT for Essex based tech companies, start-ups and freelancers (and anyone else interested in this amazing sector)…With more tech than you can shake an LED at!
THIS IS THE PERFECT 'AFTER SHOWCASE PARTY' …DID WE MENTION THE FREE PIZZA & BEER? Register for your FREE ticket via the link below:
https://www.eventbrite.co.uk/e/tech-city-on-sea-disrupting-essex-tickets-48405077891
---
We will use your information to provide the service requested. We may share your personal data between our services and with partner organisations, such as government bodies and the police. We will do so when it is of benefit to you, or required by law, or to prevent or detect fraud. To find out more, go to Thurrock.gov.uk/privacy. Get free internet access at libraries and community hubs.
Organiser of LoCASE Showcase II - Innovations in Lighting, Heating & the Internet of Things
LoCASE is a successful business support programme offering information, advice and grants to businesses in the South East Local Enterprise Partnership (SELEP) region, which includes Essex, Southend, Thurrock, Kent, Medway and East Sussex.
The programme builds upon two highly successful projects delivered across the region over the past 6 years, Low Carbon Business and Low Carbon Plus, and brings together three key support stands to encourage growth and innovation in the low carbon sector and promote energy efficiency for small and medium sized enterprises (SMEs).
The main aims of the programme are to stimulate the local economy, support growth in the low carbon sector, encourage businesses to cut their costs by reducing their energy consumption, and lower carbon emissions by over 6500 Tonnes across the SELEP region.
Eligible businesses can apply for match funded grant of up to £10,000, which can be used to cover the cost of buying new plant and machinery, IT and software, consultancy costs, and to help them implement energy efficiency measures for their business, such as new heating and lighting systems.
The LoCASE project is funded by the European Regional Development Fund 2014-2020. This is a partnership between Kent County Council, East Sussex County Council, Essex County Council, Southend-on-Sea Borough Council, Thurrock Council and the University of Brighton.